Jennifer Aniston Salad
by KetoFocus.com
Jennifer Aniston's go-to lettuce-less salad boasts a nutritious blend of assorted vegetables, crunchy nuts, and hearty plant-based proteins to deliver a high-protein, low-carb meal that you can make in minutes.
Want to look like Jennifer Aniston? Just eat this meal everyday for lunch.
Okay, okay. Maybe Jennifer Aniston's salad won't guarantee you will get a body like hers. I'm sure that has more to do with the years of Pilates, yoga and Pvolve training she has done. But, this salad is the complete meal – loaded with plant-based proteins, a variety of nutritious vegetables and healthy fats. Every bite is packed with so much flavor!! Who know eating healthy could also TASTE SO GOOD!!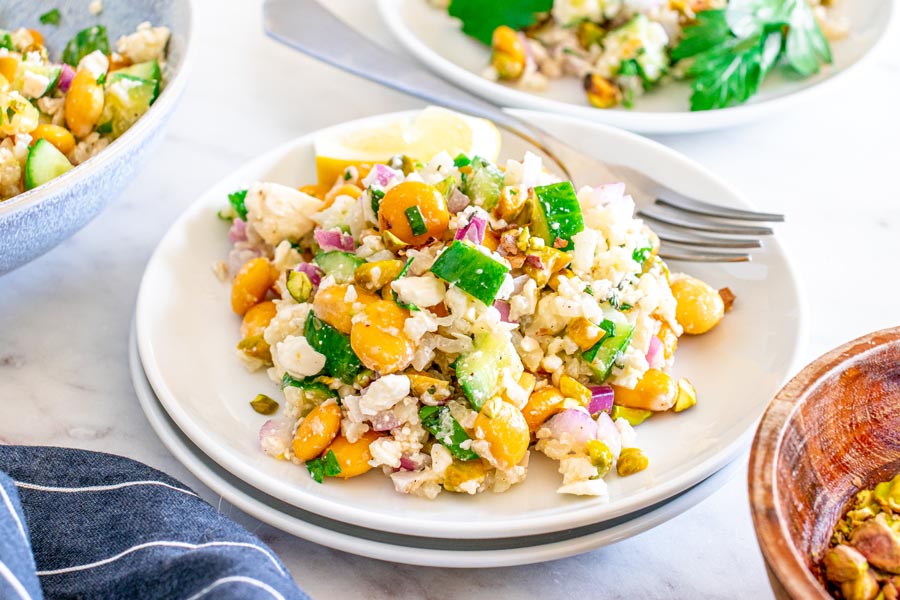 What is the Jennifer Aniston salad?
This isn't your typical salad. It's not filled with lettuce as a base like a chef salad. The Jennifer Aniston salad doesn't even contain lettuce. It's a Tik-Tok salad trend inspired by a meal that the actress ate regularly on the set of Friends. It consists of cooked quinoa or bulgur wheat, chickpeas, cucumbers, onion, pistachios, feta cheese, parsley and mint tossed in a lemon vinaigrette dressing (made from olive oil and lemon juice).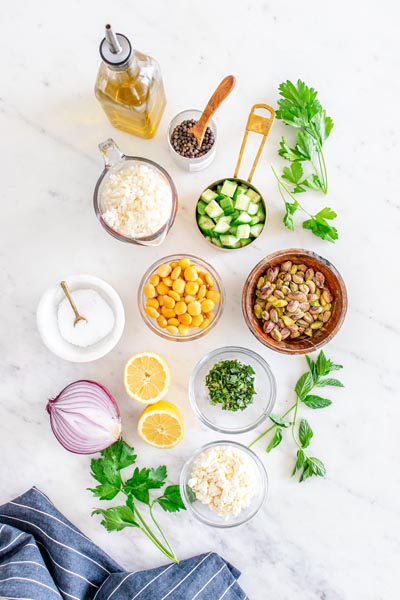 How to make the Jennifer Aniston salad low carb
This easy, high-protein salad showcases a delightful mix of textures and flavors.
Cauliflower rice – Instead of lettuce, Jennifer uses bulgur wheat or quinoa as base. Quinoa is high in protein but contains a lot of carbohydrates, so this Jennifer Aniston salad recipe replaces the quinoa with cauliflower rice as a low carb option. Not a fan of cauliflower??? To get rid of the cauliflower smell & flavor, a special cooking technique is used.
Lupini beans – Typically found in this filling salad are chickpeas. Chickpeas are a good plant-based protein often used in vegan and vegetarian meals; however, they are also loaded with carbs. Instead, lupini beans are used in place. The lupin bean has a similar flavor and texture to chickpeas (aka garbanzo beans), but the carbohydrates are mostly from fiber making it an excellent low carb option.
Not all of the ingredients in Jen's salad are off limits, there are quite of few that are still included in this recipe.
Pistachios – Contributes a nutty flavor and a satisfying crunch.
Feta cheese – Brings a tangy and creamy contrast.
Cucumber slices
Red onion
Fresh herbs – Aromatic mint and parsley give a refreshing twist to the salad.
This dish is not just a reflection to Aniston's wholesome eating habits, but also a look at what a well-balanced and flavorful meal should be.
Subscribe to the KetoFocus YouTube Channel
With 100s of videos and millions of views, Ketofocus is one of the most popular Keto channels on YouTube.
Jennifer Aniston Salad Ingredients
1 1/2 cups frozen cauliflower rice
1 1/2 tablespoons extra virgin olive oil
1 cup chopped cucumber
2 tablespoons diced red onion
2 tablespoons chopped roasted & salted pistachios
1/2 cup lupini beans
1/4 cup crumbled feta cheese
2 tablespoons chopped parsley
1 tablespoon chopped mint
1 teaspoon lemon juice
1/4 teaspoon freshly cracked black pepper
Jennifer Aniston Salad Directions
Heat a small skillet over medium-high heat. Add frozen cauliflower rice. Cook for 5-6 minutes, stirring occasionally until almost all of the visible moisture is out of the cauliflower. Add olive oil and a pinch of salt. Stir to combine. Remove from heat to cool.

Ingredients

1 1/2 cups cauliflower rice
1 1/2 tablespoons olive oil
pinch of salt

Quick Tip
Preparing the cauliflower rice in this manner helps to eliminate the unpleasant smell and flavor from the cauliflower.

Combine salad ingredients

In a large bowl, gently toss together the cooked cauliflower rice, chopped cucumber, red onion, pistachios, lupini beans, feta cheese, fresh parsley, fresh mint, lemon juice and pepper. Season with additional salt if needed.