Air Fryer Avocado Bacon Wrap
by KetoFocus.com
When you combine two favorite keto foods with amazing flavor - avocado and bacon, you get a flavor explosion! Creamy avocado is wrapped in bacon and air fried to get a crispy, crunchy exterior.
Keto Bacon Wrapped Avocado Slices in the Air Fryer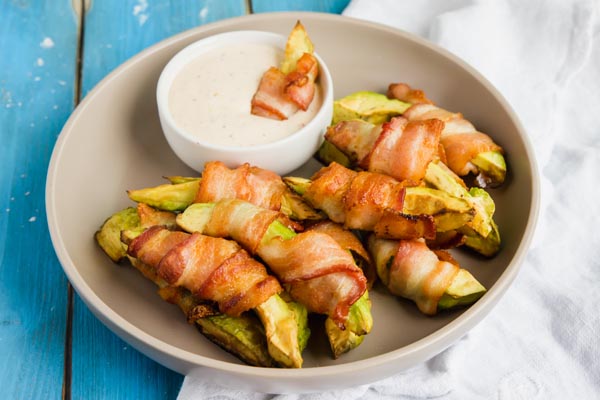 When I first heard of an air fryer, I knew I had to cook bacon in it.
Air fryers are known for producing crispy food while maintaining a juicy interior. Wrapping avocado slices with bacon an frying them in the air fryer is a genius foodie move. Mostly because anything wrapped in bacon is stellar. The outside bacon layer is crispy and crunchy. But the avocado slice is creamy and your teeth will sink right in.
These bacon avocado fries are too good to not be shared with your friends in family. Serve them at a potluck or BBQ. They also make a good game day appetizer.
Bacon wrapped avocado also makes the best savory fat bomb recipe if you are looking to increase you fat content for the day. Two slices have 12.5 grams of fat and only 0.7 carbs!!
Subscribe to the KetoFocus YouTube Channel
With 100s of videos and millions of views, Ketofocus is one of the most popular Keto channels on YouTube.
Avocado Bacon Wrap Ingredients
2 whole avocados
1 package of bacon, 16 slices
Air Fryer Avocado Bacon Wrap Directions
Slice you avocado in half. Remove the pit and peel off the peel. Slice each avocado half into 4 slices. For two avocados, you will have 16 avocado slices.

Wrap each avocado slice with one slice of bacon. Try to wrap the entire length of the avocado slice.

Place each bacon wrapped avocado slice inside the air fryer basket leaving space in between for air circulation and even cooking. You may have to work in batches depending on the size of your air fryer.

Bake in the air fryer at 400 degrees for 6-8 minutes. Remove and serve with ranch.