Taco Salad
by KetoFocus.com
This healthy taco salad recipe is the perfect easy weeknight dinner. Drizzle sour cream and salsa over the top for a spicy and tangy finish to this Mexican classic..
Taco salad is filled with ground beef, homemade taco seasoning and is the perfect pairing with tortilla chips. For a Mexican-themed dinner or Taco Tuesday, top it with tomatoes, avocados, onions, cheese, and cilantro.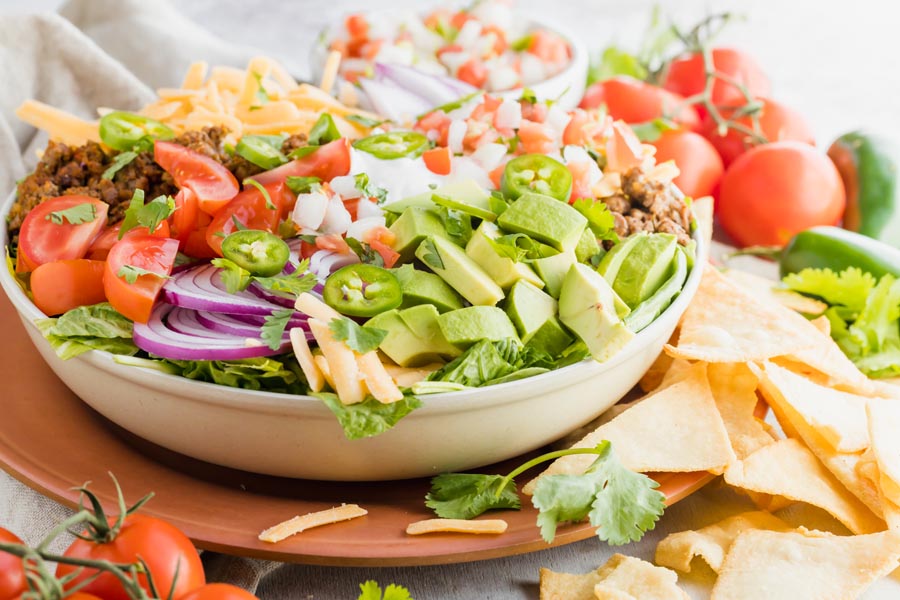 Easily add this dish to your menu for the week and meal prep at the beginning so you can have it ready to make a quick weeknight dinner. It's one of those salads that you can whip up quickly if you aren't prepared with dinner ideas. It's easily adjustable to fit your tastes and preferences, so you can make changes wherever you want – mixing up the toppings, seasonings and meats (like chicken, ground turkey, steak or pork). 
There are only a few short steps to make this beef taco salad.
Combine seasonings – Add all the seasonings to a small bowl and mix to combine.
Brown ground beef – Sauté a pound of ground beef in a skillet and cook until browned.
Add the seasonings – Sprinkle the seasonings over the meat and pour in ¼ cup water. Simmer over low, medium heat until liquid has mostly evaporated.
Assemble the salad – To a large bowl, create a layer of lettuce, seasoned ground beef mixture, tomatoes, avocados, cheese, onions, and cilantro. Top with sour cream and salsa.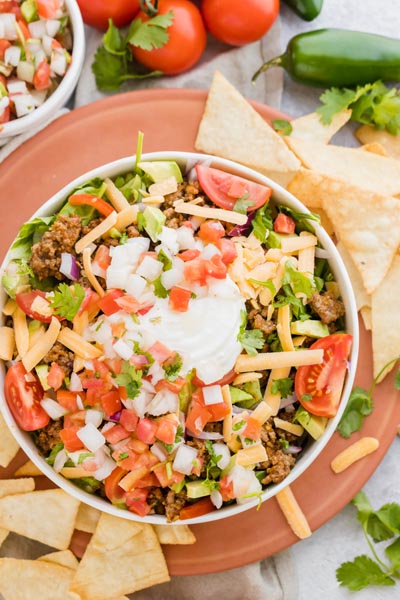 Key ingredients
Use these taco salad ingredients to make the best quick and easy meal.
Seasonings – This taco seasoning recipe uses a variety of Mexican spices, including chili powder, cumin, paprika, garlic, onion, red pepper, cayenne, and oregano.
Ground Beef – Use 80/20 ground beef for this taco meat recipe. You want a little fat but not too much since we're simmering seasoned beef in liquid.
Toppings – Use your favorite toppings, including lettuce, diced tomatoes, avocados, cheddar cheese, red onions, sliced olives, green onions, guacamole and cilantro.
Sauces – Drizzle sour cream, pico de gallo and fresh salsa over the top for the dressing. Ranch dressing, guacamole and a squeeze of lime juice can be used as a salad dressing as well.
Subscribe to the KetoFocus YouTube Channel
With 100s of videos and millions of views, Ketofocus is one of the most popular Keto channels on YouTube.
Taco Seasoning Ingredients
1 tablespoon chili powder
1 ½ teaspoon ground cumin
1 teaspoon salt
½ teaspoon paprika
¼ teaspoon garlic powder
¼ teaspoon onion powder
¼ teaspoon crushed red pepper
¼ teaspoon cayenne pepper
¼ teaspoon dried oregano
Taco Salad Ingredients
1 pound ground beef, turkey or chicken
2 hearts romaine lettuce, shredded
1 tomato, diced
½ avocado, diced
½ cup shredded cheddar cheese
¼ cup diced red onion
¼ cup roughly chopped fresh cilantro
¼ cup sour cream
2 tablespoons salsa or pico de gallo
Taco Salad Directions
Make homemade taco seasoning

In a small bowl, add chili powder, ground cumin, salt, paprika, garlic powder, onion powder, crushed red pepper, cayenne pepper and oregano. Mix to combine. Set aside.

Ingredients

Chili powder
Cumin (ground)
Salt
Paprika
Garlic powder
Onion powder
Crushed red pepper flakes
Cayenne pepper
Oregano

Quick Tip
Recipe can be doubled, tripled, etc to make a bulk amount. Store in a cool, dry place.

To a large skillet, add ground beef and cook over medium high heat until browned. Add in taco seasoning and ¼ cup of water. Low the heat to low medium, cover and simmer until liquid has mostly evaporated. Stir occasionally.

Ingredients

Ground beef
Taco seasoning (from step 1)
Water

Quick Tip
The longer the taco meat simmers, the softer and more flavorful the meat becomes. Add more water on occasion if needed.

To a large bowl layer down lettuce, taco ground beef mixture, tomato, avocado, cheese, onion and cilantro. Top with sour cream and salsa or pico de gallo.

Ingredients

Lettuce
Taco meat (from step 2)
Cheese
Tomato
Avocado
Red onion
Cilantro
Sour cream
Salsa

Quick Tip
Serve with tortilla chips