Keto Taco Soup
by KetoFocus.com
Loaded with your favorite southwest flavors, this keto taco soup is an easy freezer friendly, dump and go slow cooker or instant pot recipe that is sure to warm bellies and keep them coming back for more.
Let's be honest, you have a tough decision to make. Between my keto chili, my clam chowder or this taco soup, I could see how one could find it hard to make a decision on what to cook tonight. The good news is, all three are great options and you can't lose.
If you will, let's make a creamy taco soup!
Low Carb Keto Taco Soup Recipe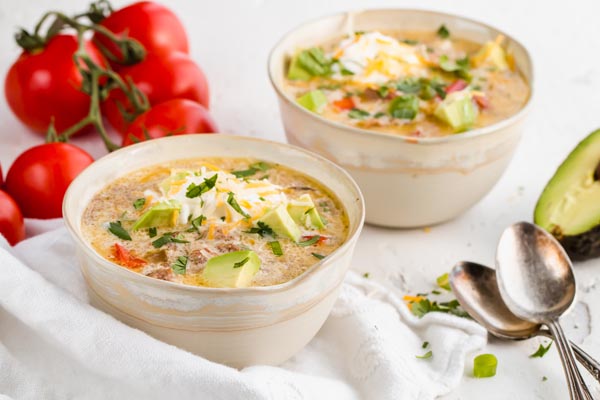 Keto taco soup is an easy dinner recipe the whole family will love. If you have some ground beef ready to use up and a few pantry ingredients, you can whip up this low carb soup for supper in no time!
This taco soup has loads of flavor and the best part is that its a meal prep dinner that is freezer friendly and can be cooked in the slow cooker. So you can dump all the ingredients in your crock pot and head off to work or out and about to enjoy your day. Come home to a warm, hearty bowl of keto ground beef taco soup and scoop up with homemade tortilla chips or cornbread.
Low Carb Taco Soup Recipe Video
Subscribe to the KetoFocus YouTube Channel
With 100s of videos and millions of views, Ketofocus is one of the most popular Keto channels on YouTube.
Keto Taco Soup Ingredients
1 1/2 pound ground beef
1 green bell pepper, diced
1/2 cup diced onion
1 1/2 cups chicken broth
10 oz can diced tomatoes with green chilies
1 teaspoon salt
1 teaspoon ground cumin
1/2 teaspoon garlic powder
1/2 teaspoon onion powder
1/2 teaspoon oregano
2 teaspoons minced garlic
1/2 teaspoon black pepper
1 bag frozen cauliflower rice
8 oz cream cheese, cubed
Keto Taco Soup Directions
Add ingredients and slow cook

Add all ingredients, except cream cheese, to the liner of a slow cooker. Cover and cook at low for 8 to 9 hours or high for 5 to 6 hours.

Ingredients

Ground beef
Bell pepper
Onion
Chicken broth or stock
Diced tomato
Salt
Cumin
Garlic powder
Onion powder
Oregano
Minced garlic
Black pepper
Cauliflower rice

Thirty minutes before serving, add cubed cream cheese. Stir to combine and season with additional salt and pepper if needed.

Add all ingredients (except cream cheese) to a large ziploc bag, remove all the air and seal it close. Mix or shake to combine. Freeze flat. To cook, thaw in the refrigerator the night before. Then cook according to instructions above.

Add ground beef to the liner of an instant pot. Press sauté and cook until almost browned. Add bell pepper and onion and continuing cooking until slightly softened. Add remaining ingredients, including cream cheese. Pressure cook on high for 5 minutes. Let pressure release naturally for 10 minutes before releasing the remaining pressure manually. Move value to vent to release pressure manually.