Keto Spaghetti
by KetoFocus.com
A classic Italian favorite without the carbs!
Keto spaghetti with meat sauce is a go-to dinner that you can make in under 30 minutes. Homemade spaghetti sauce if lowly simmers for a deep savory flavor. It will quickly become your family's favorite dinner.
This keto spaghetti recipe is easier to make compared to traditional spaghetti. It all comes down to the keto noodles. Choose options like hearts of palm noodles or shirataki noodles don't take a lot of effort to prepare and don't require boiling the noodles to cook them.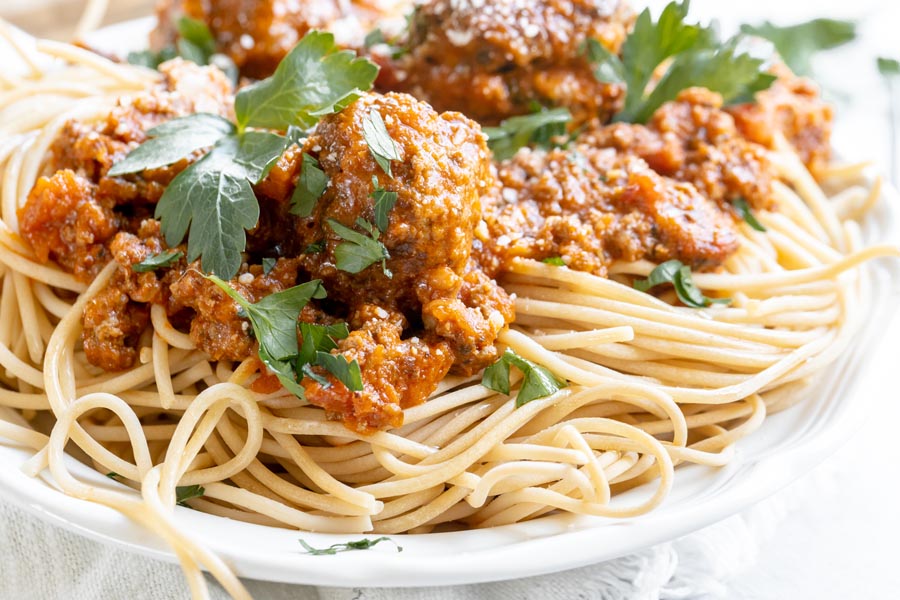 If you are craving Italian comfort food, spaghetti is your answer. This keto spaghetti sauce has a deep, meaty flavor. It's the next best thing to Bolognese sauce that has been simmering all day. Unless it's Sunday afternoon, I normally don't have the time to spend hours making dinner. This quick and easy low carb spaghetti is a weeknight game changer. It has the flavor of slowly simmered pasta sauce but only takes about 15 minutes to make.
How to make keto spaghetti
Depending on your keto noodle choice, you may have need to start cooking your noodles first if you are using a type that requires preparation like wheat based keto pasta or lupin noodles. If you are using hearts of palm noodles or shirataki noodles, you can do this step at the end since these noodles require little to no preparation.
Brown your ground beef. Add ground beef and a little bit of olive oil to skillet. Cook until ground beef turns brown. Season with salt.
Add in seasonings – Italian seasoning, minced garlic and a pinch of anise seeds.
Pour in low carb marinara. Reduce heat to low and simmer for at least 5-10 minutes.
Right before serving, turn off heat and stir in heavy cream and grated parmesan cheese.
Add keto noodles. Top with fresh basil or fresh parsley.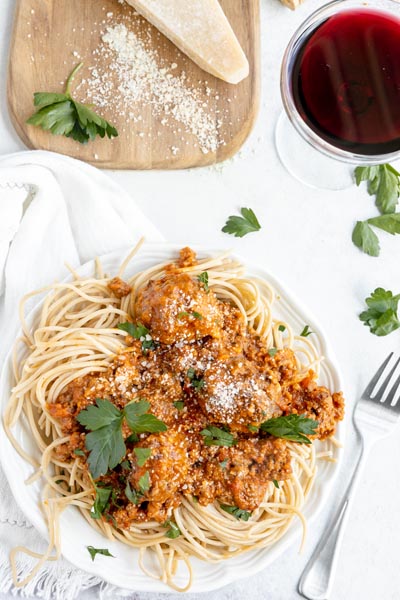 Key ingredients
Keto Noodles – You have many options here. Check out the video below to see of them. I reviewed seven different types of low carb pasta and tested them against this spaghetti sauce. My favorites are hearts of palm noodles, wheat based noodles from Great Low Carb Bread Co, and lupin flour pasta. Shirataki noodles can also be used. Spaghetti squash or even zucchini noodles can be used as well.
Ground beef – I prefer ground beef in my spaghetti sauce but ground sausage or ground turkey can also be used. Or even a mixture of two of them.
Seasonings – My standard seasonings for the perfect spaghetti are garlic, Italian seasoning, salt and anise seed. The anise seed provides that hint of fennel or licorice flavor that pairs wonderfully with a red keto Bolognese sauce. It's one of the ingredients that makes this sauce unbeatable. Feel free to add additional garlic powder as well.
Low carb marinara – Whether you choose to make your own keto marinara sauce or buy some from the store, make sure that there are no added sugars. Always check the nutrition label. Yo Mama's is my favorite keto pasta sauce brand. It has the lowest carbs I have seen with only 4 grams net carbs per 1/2 cup of sauce. Tomato sauce can also be used in a pinch.
Heavy cream and parmesan cheese – These provide enough creamy flavor to mellow out the sauce just a tad and creates a velvety texture. The parmesan cheese adds to the umami flavor of the pasta sauce.
Keto Spaghetti Sauce and Noodles Recipe Video
Subscribe to the KetoFocus YouTube Channel
With 100s of videos and millions of views, Ketofocus is one of the most popular Keto channels on YouTube.
Keto Spaghetti Sauce Ingredients
1 tablespoon olive oil
1 lb ground beef, ground sausage and/or ground turkey
1 teaspoon salt
1 tablespoon Italian seasoning
2 cloves garlic, minced
pinch anise seeds
25 oz (3 cups) low carb marinara sauce
2 tablespoons heavy cream
1/4 cup grated parmesan cheese
Keto Spaghetti Directions
Prepare noodles according to package instructions. If use wheat based keto noodles, they will need to be boiled in a saucepan of water until al dente. Hearts of palm noodles only need to be drained and can be added straight to the sauce once ready.

To a large skillet, heat olive oil over medium-high heat. Add ground beef, break apart and cook until crumbled and brown. Season with salt, Italian seasoning, minced garlic and anise seeds.

Ingredients

Olive oil
Ground beef
Salt
Italian seasoning
Garlic (minced)
Anise seeds

Simmer with spaghetti sauce

Pour in marinara sauce and let simmer for 5-10 minutes on low heat.

Quick Tip
The longer you let this sauce simmer, the better it becomes. If you choose to let it simmer longer, you may need to add a little bit of water if the sauce evaporates too much to prevent burning.

Add some secret ingredients

Remove sauce from heat. Pour in heavy cream and parmesan cheese. Stir to combine. Add noodles.

Ingredients

Heavy cream
Parmesan cheese