Keto Alfredo Sauce
by KetoFocus.com
Rich, creamy and packed with flavor
This velvety smooth Keto Alfredo Sauce is so easy to make, uses only a handful of ingredients, and is loaded with creamy, rich flavor.
It's no secret that homemade sauces are better for you than jarred ones, but sometimes convenience wins. But it doesn't get easier than this low carb alfredo sauce recipe. In less than 15 minutes, with only 5 ingredients, you'll have a rich and creamy white sauce that's super low in carbs and perfect to pour over top of shirataki noodles or hearts of palm pasta.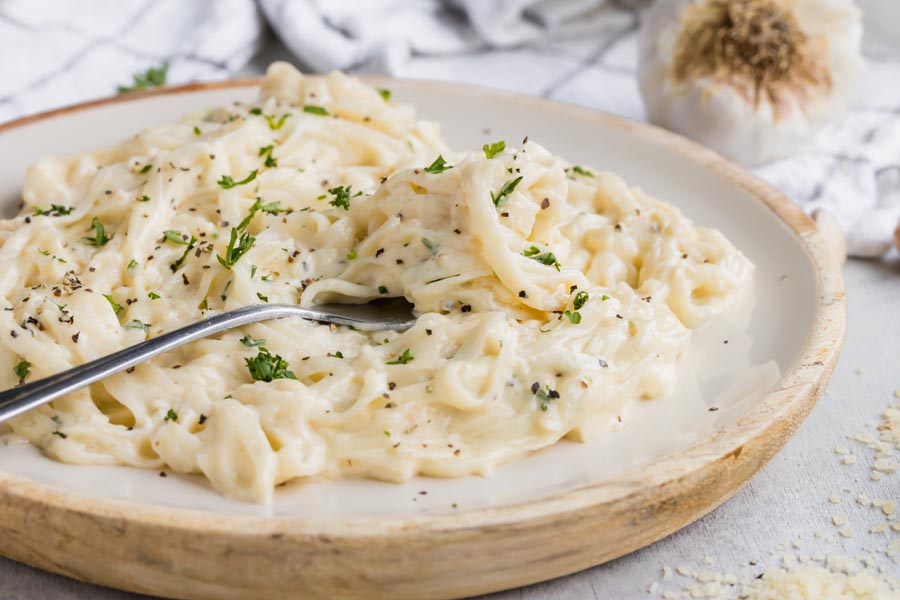 Other keto alfredo sauce recipes use cream cheese as a shortcut, which adds an extra 3 grams of carbohydrates per quarter cup. This ultra-low carb recipe uses egg yolks, whipping cream, and butter to create a thick, rich and creamy sauce.
How to make keto alfredo sauce
Sauté butter and minced garlic. Add a pinch of nutmeg for extra flavor.
Whisk the egg yolk into heavy whipping cream, then pour it into the garlic butter mixture.
Cook while stirring for 5-10 minutes or until the sauce has thickened enough to coat the back of a spoon.
Add parmesan cheese and noodles to the thick and creamy alfredo sauce.
Stir in noodles. To make keto chicken alfredo, add sliced chicken.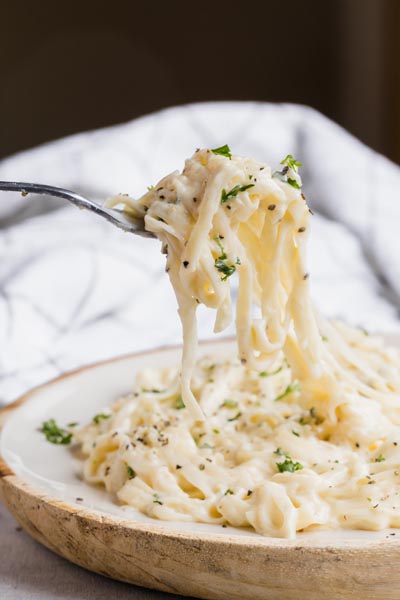 Key ingredients & substitutions
Butter – Use salted or unsalted butter; however, unsalted butter you can control the saltiness of the sauce. You can always add more salt at the end if it's needed. Parmesan cheese also adds salty flavor to this keto alfredo sauce recipe.
Garlic – If you can't get your hands on fresh, jarred minced will work, but fresh garlic will have a much stronger flavor.
Egg yolk – This sauce uses only egg yolks as a thickener for a rich and creamy sauce. But don't throw out the egg whites. Save them for your next breakfast scramble or to make meringues!
Heavy whipping cream – If you use a lighter dairy like half and half or milk, your sauce won't have the same creaminess. Heavy whipping cream is the perfect thickness for a luxurious alfredo. And substituting with a nut milk (almond milk or coconut milk) won't get your sauce thick and creamy.
Parmesan cheese – A necessary ingredient in alfredo sauce; however, other hard cheeses like Parmigiano-Reggiano cheese, Pecorino Romano, Grana Padano or Pecorino can be used.
Nutmeg – Just a small amount of nutmeg adds a warm and nutty flavor that complements this comforting chicken pasta, but it can be left out if you don't have it.
Keto Alfredo Sauce Recipe Video
Subscribe to the KetoFocus YouTube Channel
With 100s of videos and millions of views, Ketofocus is one of the most popular Keto channels on YouTube.
Keto Alfredo Sauce Ingredients
2 tablespoons butter
2 cloves garlic, minced
Pinch nutmeg, optional
1 egg yolk
1 ½ cups heavy whipping cream
1 cup grated parmesan cheese
Keto Alfredo Sauce Directions
Melt butter in a skillet over medium high heat. Stir in garlic and nutmeg (if using) and let cook until fragrant (about 30 seconds).

Ingredients

2 tablespoons butter
2 cloves garlic, minced
Pinch of nutmeg (optional)

Whisk egg yolk into heavy whipping cream in a small bowl or measuring cup. Pour into garlic butter mixture and reduce heat to medium low. Continue stirring and cooking until the sauce has thickened enough to coat the back of a spoon (about 5-10 minutes). Do not let it boil.

Ingredients

1 egg yolk
1 ½ cups heavy whipping cream

Once thickened, stir in parmesan cheese. Season with salt and pepper. Add your choice of keto noodles if using.

Ingredients

1 cup parmesan cheese
Salt & pepper to taste

Quick Tip
See below for keto noodle options.