Loaded Cauliflower Casserole
by KetoFocus.com
All of the flavors of a loaded baked potato in a casserole using cauliflower
Classic comfort food made without potatoes, this loaded cauliflower casserole is "loaded" with savory, cheesy flavor and is ready in less than 30 minutes!
Just add this cauliflower dish to your current favorites like Mashed Cauliflower and Cauliflower Gratin. Cauliflower makes the perfect substitute for potatoes in these keto recipes, with less than a quarter of the calories and carbs that potatoes have, but all of the flavor and nutrition!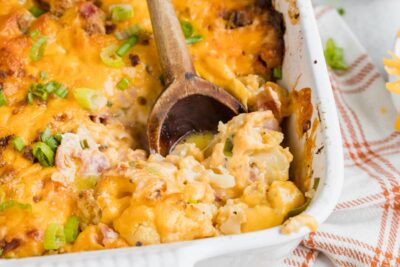 As the weather cools down, my craving for classic comfort foods ramps up. Cold weather season means biscuits and gravy for Sunday breakfast, homemade soup in a bread bowl for lunch, and chicken pot pie for dinner– all keto, of course! You'll want to add this cauliflower casserole to your comfort food lineup this season.
Like a loaded baked potato, this casserole is packed with rich cheesy flavor, smoky bacon, and fresh green onions, but without all the carbs. Everything comes together quickly with less than 10 minutes of hands-on time, perfect for an easy holiday side dish to serve along with your Thanksgiving or Christmas spread. It's so filling, you can even enjoy it as an easy weeknight dinner!
How to make loaded cauliflower casserole
Roast cauliflower with salt, pepper, onion powder and garlic powder at 425 degrees until fork tender.
Make the "loaded" filling: Combine the cream cheese, heavy cream, sour cream, and shredded cheese in a medium bowl.
Spread cheese mixture on top of the roasted cauliflower. Bake until cheese is melted.
Top with crumbled bacon and sliced green onions.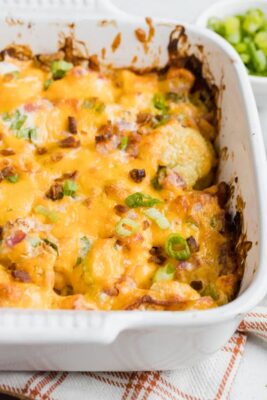 Key ingredients
Cauliflower – Use a head of cauliflower, broken up into small to medium-sized florets, or a 24-ounce bag of frozen cauliflower. If using frozen, steam and press all the moisture out of the cauliflower before roasting.
Shredded Cheese – Cheddar cheese helps this taste more like a traditional "loaded" baked potato dish, but feel free to switch it up and use Colby, Monterrey Jack, Pepperjack, or Swiss if you prefer.
Butter -Melted butter is poured over the cauliflower before sprinkling the seasoning and roasting. Bacon grease is even better if you have it.
Cream cheese – Use block cream cheese for a creamy, rich base for this casserole.
Heavy cream – If you want to save on fat and calories, feel free to substitute non-dairy milk (like a nut milk) for heavy cream. Unflavored and unsweetened almond milk is a good choice.
Sour cream – Adds a tangy flavor and creamy texture. You can substitute with plain greek yogurt if needed.
Bacon – Cook and crumble the bacon to sprinkle on top of the casserole.
Green onion – Sliced green onions are the perfect fresh topping for this loaded casserole.
Seasonings – Garlic powder, onion powder, black pepper, and salt are used to flavor the cauliflower before roasting.
Loaded Cauliflower Casserole Recipe Video
Subscribe to the KetoFocus YouTube Channel
With 100s of videos and millions of views, Ketofocus is one of the most popular Keto channels on YouTube.
Loaded Cauliflower Casserole Ingredients
24 oz cauliflower florets
3 tablespoons butter, melted
1 teaspoon salt
1/2 teaspoon onion powder
1/2 teaspoon garlic powder
1/4 teaspoon black pepper
1/4 cup heavy whipping cream
1/4 cup sour cream
2 cups shredded cheddar cheese
6 slices bacon, cooked and crumbled
2 oz cream cheese, softened
1/4 cup sliced green onion
Loaded Cauliflower Casserole Directions
Preheat oven to 425 degrees. Add cauliflower florets to an 8x8 square baking dish. Toss in melted butter, salt, onion powder, garlic powder and black pepper. Roast at 425 degrees for 20 minutes or until cauliflower is fork tender.

Ingredients

Cauliflower florets
Butter (melted)
Salt
Onion powder
Garlic powder
Black pepper

Quick Tip
Can use frozen cauliflower if you squeeze all the moisture out after thawing before roasting.

In a medium bowl, combine remaining ingredients - heavy cream, sour cream, shredded cheddar cheese, crumbled bacon, cream cheese and green onion - and spread on top of roasted cauliflower.

Ingredients

Heavy cream
Sour cream
Cheddar cheese (shredded)
Bacon (cooked & crumbled)
Cream cheese (softened)
Green onion (sliced)

Return to oven and continue baking for 8-10 minutes or until cheese is melted.

Quick Tip
Top with additional cheddar cheese before baking.