Keto Cauliflower Mashed Potatoes
by KetoFocus.com
Thick and creamy keto mashed cauliflower, full of flavor from butter, cream cheese, parmesan cheese and chicken broth makes this keto recipe is the perfect replacement for regular mashed potatoes. The perfect side dish for those comfort keto dishes.
Low Carb Cauliflower Mashed Potatoes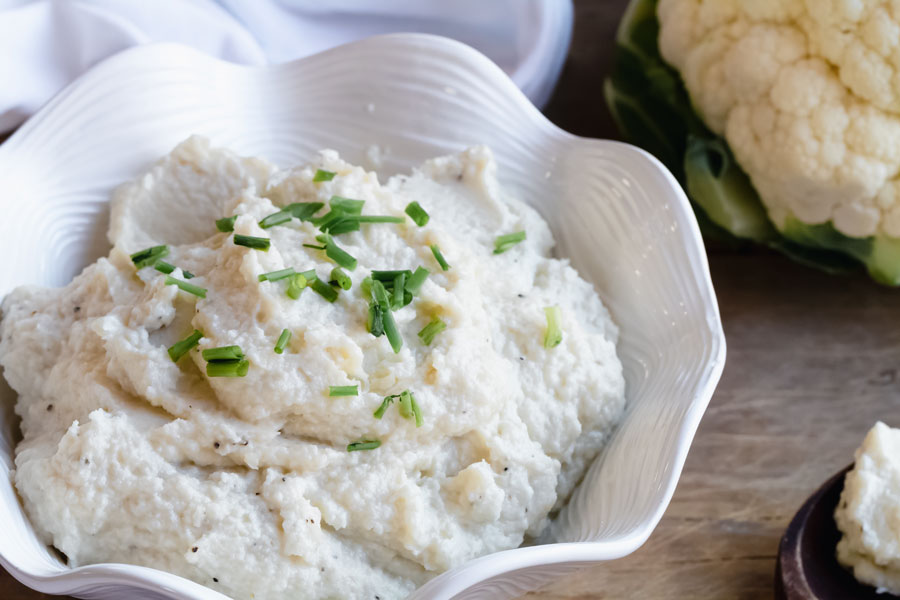 An easy and delicious low carb recipe for mashed cauliflower that will make you forget about original carb heavy mashed potatoes.
Cauliflower is often referred to as faux-tatoes because it replaces and tastes like a potato in many keto side dish recipes. Even if you aren't a cauliflower fan, you will love cauliflower as a keto mashed potato replacement. You can't even tell it's made of cauliflower and your guests will love it!
How to make keto cauliflower mash
I prefer to steam my cauliflower in a skillet with some butter and homemade chicken broth. The chicken broth adds a lot of wonderful flavor to the mashed cauliflower and helps to cover up the taste of cauliflower.
Once the cauliflower is soft enough that a fork can easily slide into it, it is removed from the heat and dumped into a blender or food processor. The rest of the ingredients are added at this point and everything is mixed together until combined.
Keto Cauliflower Mashed Potatoes Recipe Video
Subscribe to the KetoFocus YouTube Channel
With 100s of videos and millions of views, Ketofocus is one of the most popular Keto channels on YouTube.
Keto Mashed Cauliflower Ingredients
3 tablespoons butter
2 garlic cloves, minced
1 head of cauliflower, chopped into florets
1 cup turkey stock or chicken broth
2 oz cream cheese
¼ cup parmesan cheese
½ teaspoon salt
⅛ teaspoon black pepper
Keto Cauliflower Mashed Potatoes Directions
Melt butter in a skillet over medium heat.

Add garlic and sauté until fragrant, about 1 to 2 minutes.

Pour in cauliflower florets and broth. Simmer until cauliflower is tender, about 5-8 minutes.

Drain fluid. Squeeze out excess fluid from the cauliflower by placing it between two paper towels. Get as much fluid out as possible for thick mashed cauliflower.

In a food processor or blender, combine the cooked cauliflower, cream cheese, parmesan cheese, salt and pepper. Puree until smooth.