Keto Chicken Pot Pie
by KetoFocus.com
It's beginning to feel a lot like warm pie season! Low carb chicken pot pie is a delicious comfort food recipe, made with a creamy savory filling and topped with a buttery gluten free pie crust.
Chicken pot pie is the ultimate keto comfort food, perfect for those cold days ahead and find it hard to decide between this keto recipe and my chicken soup recipe.
This keto pot pie is full of protein, fat and goodness! Traditional pot pies are made with dough and potatoes in them, as well as thickened with flour, which all make the pie very high in carbs. Unlike a regular pie, for this recipe, the filling will go on a pie plate and is then covered with a top layer of low carb almond flour based dough to make it look like a pie.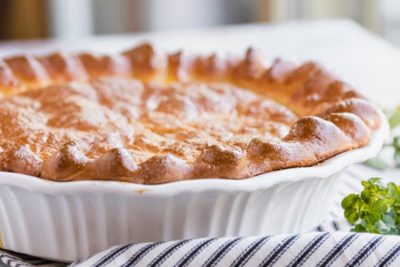 Additionally, our pie crust is made with almond flour which makes it gluten free! Despite the differences, this low carb chicken pot pie still has all the flavors that your traditional creamy chicken pie would have! This recipe shows you that you do not need to cut out any foods from your diet, even comfort foods!
Chicken pot pie can be served on its own or with any low carb side of your choice. Some low carb side dishes which can be used to compliment this dish are green beans, a crispy green salad, roasted mixed vegetables, or even garlic mushrooms!
A fun twist to this chicken pot pie is to turn it into an appetizer and make keto chicken pot pie turnovers!
Keto Chicken Pot Pie Recipe Video
Subscribe to the KetoFocus YouTube Channel
With 100s of videos and millions of views, Ketofocus is one of the most popular Keto channels on YouTube.
Keto Chicken Pot Pie Filling Ingredients
2 tablespoons butter
1/2 cup diced onion
3 cloves garlic, minced
1 teaspoon dried thyme
8 oz sliced mushrooms
1 cup celery, diced
1/2 cup sliced carrots
1/2 cup chopped green beans
1/2 tablespoon coconut flour
1 cup chicken broth
3 cups cooked shredded chicken
4 oz cream cheese, cubed
2 tablespoons chopped fresh parsley
Keto Pie Crust Ingredients
3 cups shredded mozzarella cheese
1 1/2 cups almond flour
1 egg
1 teaspoon baking powder
1/2 teaspoon salt
Egg wash (1 beaten egg + 1 tablespoon water)
Keto Chicken Pot Pie Directions
Melt butter in a large skillet over medium heat. Add onions and sauté until softened.

To the skillet, add minced garlic, thyme, mushrooms, celery, carrots and green beans. Sprinkle with salt and pepper. Cook until vegetables are tender (about 5 minutes).

Ingredients

Minced garlic
Mushrooms
Celery
Carrots
Green beans

Sprinkle in coconut flour or arrowroot powder. Stir until combined. Slowly whisk in chicken broth. Bring to a boil and let simmer for 5 minutes or until mixture has reduced and thickened.

Ingredients

Coconut flour
Arrowroot powder
Chicken broth

Add the shredded chicken to the skillet. Remove from heat.

Stir in the cream cheese and parsley. Set aside while making the keto pie crust.

Melt shredded mozzarella cheese in the microwave at 60 second intervals, stirring in between, until melted. (Option to melt cheese in a non-stick skillet over the stovetop.) Add melted cheese to a large food processor, along with almond flour, egg, baking powder and salt. Pulse until combined and a dough ball forms. (Option to mix by hand or using an electric mixer.)

Ingredients

Mozzarella cheese
Almond flour
Egg
Baking powder
Salt

Place dough ball in between two sheets of parchment paper. Using a rolling pin, roll dough until it is 1/8 to 1/4 inch thick.

Assemble chicken pot pie and bake

Add chicken pot pie filling to a pie plate or casserole dish. Top with the keto pie crust. Flute the edges to make a pretty border. Add a few slits to the top of the pie crust to allow air to escape. Brush the top of the pie crust with the egg wash. Bake at 375 degrees for 20-30 minutes or until pie crust is golden brown and cooked through evenly.

Assemble keto chicken pot pie into a freezer safe dish. Cover well and store in the freezer for up to 3 months. To cook from frozen, bake at 375 degrees for 45 minutes.