Keto Bread Bowl
by KetoFocus.com
Bake a low carb bread bowl and grab your favorite keto soup or chili!
Enjoy a comforting bowl of your favorite soup in a homemade keto bread bowl.
It would be a travesty if I did not mention my keto chili or my keto clam chowder, both would go amazing with this keto bread bowl!
Low Carb Keto Bread Bowl Recipe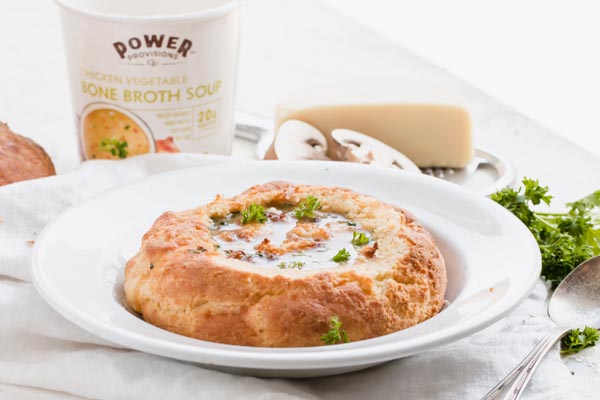 Everyone loves a good bread bowl! Especially when the weather is colder and you crave a hearty soup. A bread bowl provides a fun way to have soup with bread. Just rip off pieces of the bread bowl and dip it into your comforting bowl of soup. Kids will love this meal because they get to eat with their hands!
A bowl of soup in a keto bread bowl is a simple recipe to serve at lunch or dinner. The low carb bread bowls will take around 20 minutes to prepare. If you use a ready to make keto soup, like those from my friends at Power Provisions, you can have a bread bowl filled with hot, comforting soup in less than 30 minutes!
Subscribe to the KetoFocus YouTube Channel
With 100s of videos and millions of views, Ketofocus is one of the most popular Keto channels on YouTube.
Keto Bread Bowl With Soup Ingredients
3 cups shredded mozzarella cheese
4 ounces cream cheese
2 1/4 cups almond flour
1/4 cup coconut flour
2 eggs
1/4 cup buttermilk or plain low carb yogurt
1 teaspoon baking soda
1/2 teaspoon baking powder
1/2 teaspoon salt
Keto Bread Bowl Directions
Preheat oven to 400 degrees.

Add shredded mozzarella cheese and cream cheese to a small glass bowl. Microwave at 1 minute intervals until the cheese is melted and cream cheese has softened. If you don't want to use a microwave, melt the shredded cheese over the stovetop using a non-stick skillet and use softened cream cheese.

Add all ingredients, including melted cheese to a food processor. Pulse until combined. You may also combine the ingredients using an electric mixer; however, using the food proccesor is recommended.

Wet your hands with some water or oil in order to handle the dough in order to prevent the dough from sticking to your hands. Form four even sized dough balls and place, evenly apart, on a parchment lined baking tray.

Bake at 400 degrees Fahrenheit for 15-20 minutes or until hardened on the outside and slightly firm on the inside. Let cool for 3-5 minutes before eating.

Cut off the top of the bread bowl and carve out some of the bread inside to make room for the soup.

Pour soup into bread bowl.