Spinach Stuffed Chicken Breast
by KetoFocus.com
Juicy chicken breasts stuffed with a garlicy, cheesy spinach mixture
This spinach stuffed chicken breast recipe is easy to make and full of delicious flavor inside and out. The perfect dinner to impress your dinner guests or meal prep for a quick and easy freezer meal!
Easy chicken dinners are the perfect way to have a healthy protein-packed meal on the table on any night of the week. This chicken breast stuffed with spinach is right in line with chicken parmesan and pesto chicken as my favorite go-to chicken dinners.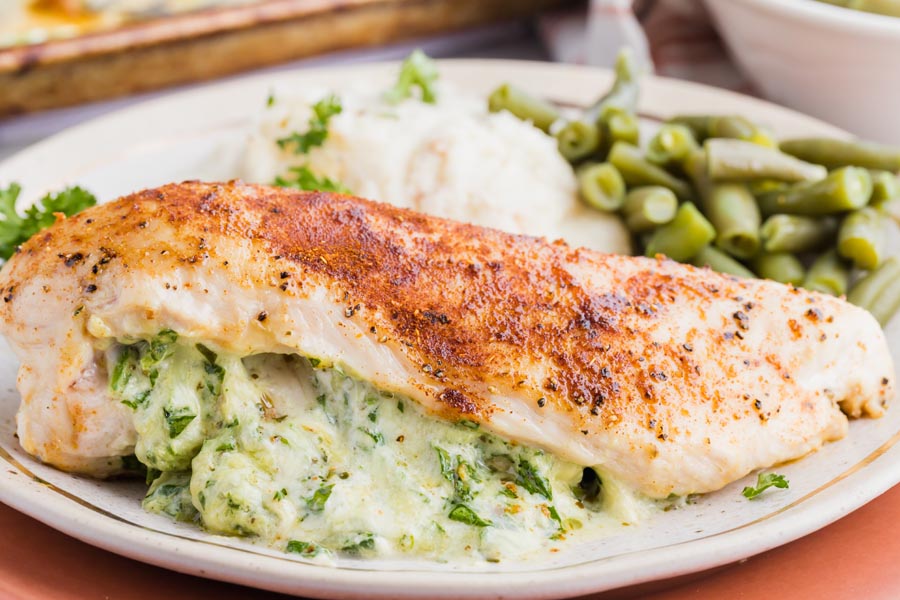 The spinach stuffing is creamy, cheesy, full of rich flavor, and the perfect partner for juicy seasoned chicken. Pair this easy chicken recipe with cauliflower mashed potatoes or roasted air fryer asparagus for an easy and healthy meal.
Don't let stuffing the chicken intimidate you. While some stuffed chicken recipes are difficult to stuff or keep closed, my method solves both problems. By cutting a pocket into the chicken, the stuffing stays put, even without toothpicks. So no more forgetting to take the toothpicks out and stabbing yourself in the mouth!
And we don't bother pan searing the chicken first in this recipe. The chicken breast is quite juicy and flavors when baked if you follow the instructions below.
How to make stuffed chicken breast with spinach
Pat the chicken dry with a paper towel. Using a knife, cut a slit into the center side of the breast and move your knife along to create a pocket. Stop cutting about half an inch from each end to avoid cutting all the way through. Cutting this pocket creates the perfect place for the spinach filling to go and not leak out; therefore, you don't need toothpicks to secure your chicken breast.
Brush the chicken on both sides with olive oil then sprinkle seasoning mixture of salt, garlic powder, black pepper and paprika each side with the seasoning and rub it in.
Mix the spinach cheese mixture together. Then stuff each chicken pocket with equal amounts of filling.
Bake the stuffed chicken until cooked through, and the internal temperature reaches 165 degrees.
PRO TIP: Patting the chicken dry before seasoning helps the seasoning stick to the outside of the chicken for a more flavorful dish!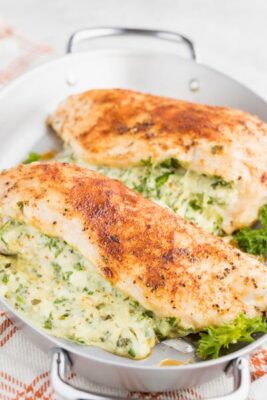 Key ingredients & substitutions
Chicken – Skinless, boneless breasts or thighs will work for this recipe, but you will have the most success stuffing them if you use chicken breasts as a chicken thigh can be a little small with little surface area to stuff the chicken.
Spinach – Use fresh spinach and chop it yourself, or use frozen chopped spinach. If using frozen spinach, thaw it before using it and squeeze out all of the liquid before adding it to the recipe.
Shredded cheese – Mozzarella and parmesan cheese are great for creamy and flavorful stuffing, but you can use other cheeses if you want to change up the flavor. Goat cheese, Monterrey jack cheese, and pepper jack cheese are all great substitutes.
Cream cheese – Use cold block-style cream cheese for this recipe. If you cream cheese is softened or warm, it will melt faster during baking and increases the chances that your filling will spill out quickly.
Mayonnaise – Adds moisture to the chicken but can be left out if desired.
Pesto – Adds extra flavor to the filling but can be left out. You could also add a few tablespoons of freshly minced basil for extra flavor if you don't have pesto on hand.
Garlic – Use freshly minced or pressed garlic. Garlic powder can be used if you don't have fresh garlic on hand.
Seasonings – garlic powder, paprika, salt, and pepper are used for flavor for this chicken breast recipe.
Spinach Stuffed Chicken Breast Recipe Video
Subscribe to the KetoFocus YouTube Channel
With 100s of videos and millions of views, Ketofocus is one of the most popular Keto channels on YouTube.
Spinach Stuffed Chicken Breast Ingredients
4 large boneless, skinless chicken breasts
1 tablespoon olive oil
1 1/2 teaspoon salt
1 1/2 teaspoon black pepper
1 1/2 teaspoon garlic powder
1 1/2 teaspoon paprika
2 cups chopped spinach
4 oz cream cheese, cold
1/2 cup shredded mozzarella cheese
1/4 cup grated Parmesan cheese
2 tablespoons mayonnaise
2 tablespoons pesto
2 cloves garlic, minced
Spinach Stuffed Chicken Breast Directions
Pat chicken dry with a paper towel (this allows seasoning to stick better).

Quick Tip
Chicken thighs can be used in place of chicken breasts.

Using a knife cut a slit into the center side of the breast and move your knife along to create a pocket. Don't cut all the way through. Stop about ½ inch from each end. Transfer the chicken to a foil lined baking tray.

Quick Tip
This eliminated the need for toothpicks

In a small bowl, mix salt, pepper, garlic powder and paprika. Brush the chicken on both sides with olive oil then sprinkle both sides with the seasoning and rub it into the chicken.

Ingredients

Olive oil
Salt
Pepper
Garlic powder
Paprika

In a medium bowl, combine chopped spinach, cream cheese, shredded mozzarella cheese, grated parmesan cheese, mayonnaise, pesto and minced garlic.

Ingredients

Spinach leaves (chopped)
Cream cheese (cold)
mozzarella cheese (shredded)
parmesan cheese (grated)
Mayonnaise
Pesto
Garlic (minced)

Quick Tip
Frozen spinach can be used. Make sure it is thawed and all the moisture drained and squeezed out of it.

Evenly stuff each chicken breast pocket with the spinach cheese filling.

Bake at 375 degrees for 20-25 minutes or until cooked through (reaches an internal temperature of 165 degrees).

Quick Tip
Thicker chicken breast may require longer to cook.