Keto Mac and Cheese
by KetoFocus.com
Keto cauliflower mac and cheese is the perfect alternative to traditional mac & cheese - you can have this gluten free, low carb version on the table in 15 minutes!
Mac and cheese is arguably one of the greatest American comfort foods. But this delicious cauliflower mac and cheese tastes even better, plus it doesn't have all of the carbs! With this recipe, you can't even tell it is made with cauliflower instead of macaroni. Perfectly cooked cauliflower florets are married with an incredible cheese sauce made of two cheeses.
Creamy, cheesy macaroni and cheese option for those looking for a gluten free, low carb alternative to the traditional mac n cheese. Instead of macaroni noodles, cauliflower is used. Just like loaded cauliflower casserole and mashed cauliflower, this cruciferous vegetable is a popular replacement for noodles and potatoes with those on a keto diet as it is the ultimate comfort food.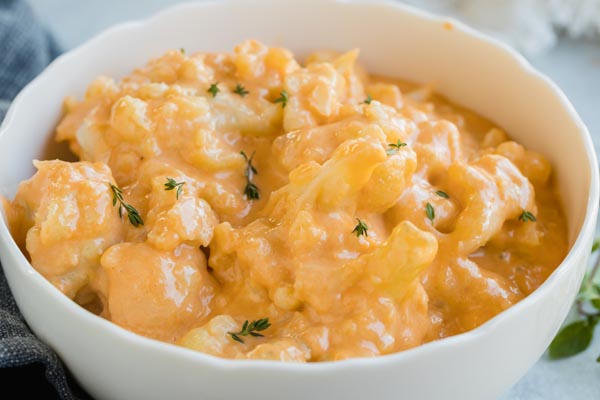 The cheese sauce on this cauliflower mac and cheese recipe is smooth, velvety and thick. It has two blends of cheeses and one of them isn't cream cheese (a common cheat to achieving a thick creamy sauce within the keto diet). In this recipe, you won't have to bother with a thickening agent like cornstarch or xanthan gum because the almond flour, heavy whipping cream and cheeses will thicken the sauce as it cooks.
What does keto mac and cheese taste like?
Keto Cauliflower mac and cheese is thick, creamy, and gooey with cheese. With this recipe, the cauliflower is perfectly cooked and smothered in a delicious cheese sauce to completely cover any cauliflower flavor. So all you will taste is cheesy goodness.
This recipe is super easy to make and uses two of the best types of cheese – gruyere and sharp cheddar cheese.
Gruyere cheese is a popular choice for keto cauliflower mac and cheese because of its smooth and creamy texture and sophisticated taste.
Sharp cheddar cheese – And, of course, to make this cauliflower mac and cheese a truly authentic culinary experience, you must add sharp cheddar cheese to get that iconic yellow color to your cheese sauce.
You can even bake this keto cauliflower mac and cheese recipe. Just follow the instructions on my keto cauliflower gratin recipe.
Keto Mac and Cheese Recipe Video
Subscribe to the KetoFocus YouTube Channel
With 100s of videos and millions of views, Ketofocus is one of the most popular Keto channels on YouTube.
Keto Cauliflower Mac And Cheese Ingredients
1 pound fresh cauliflower florets
3 tablespoons almond flour
3 tablespoons butter
1 cup heavy cream
1 teaspoon salt
6 oz sharp cheddar cheese, shredded
3 oz gruyere cheese, shredded
Keto Mac and Cheese Directions
To a large stockpot, place a steamer basket into the pot and fill the pot with 1 inch of water. Bring to a boil. Add the cauliflower florets to the steamer basket, cover and let steam for 3-5 minutes or until cauliflower is fork tender. Remove from heat and any water and set aside.

Quick Tip
Roasted cauliflower makes a delicious substitute too!

To a medium sauce pan, melt butter over medium heat. Sprinkle in almond flour and stir for 30 seconds.

Slowly add heavy cream while stirring constantly. Add salt. Let mixture come to a boil and let simmer for 5-7 minutes or until mixture has thickened enough to coat the back of a spoon.

Once cream base has thickened, slowly add in shredded cheese, adding in a handful at a time and stirring until smooth. Continue until all the cheese has melted and cheese sauce is smooth and creamy. Remove cheese sauce from heat.

Ingredients

Sharp cheddar cheese
Gruyere cheese

Marry the cheese sauce with the cauliflower

Add cauliflower florets into the cheese sauce and stir until florets are well coated. Serve immediately.

Quick Tip
Additional seasoning like garlic powder could be added. For a baked mac and cheese, pour cauli mac and cheese in a baking dish, top with ground pork rind and bake at 375 for 10-12 minutes.