Keto Sauerkraut Chocolate Cake
by KetoFocus.com
Secret ingredient low carb cake that will fool everyone!
This recipe for keto chocolate cake is unconventional but not because it's made with almond flour and oat fiber or that it is sugar-free. This low carb cake is made with SAUERKRAUT which makes it incredibly moist while adding a subtle tanginess to balance the bitter chocolate.
This unconventional combination of sauerkraut in a chocolate cake may seem strange at first, but trust me – it works! The sauerkraut adds moisture and a subtle tanginess to the cake. Don't let the unusual ingredient discourage you from trying this recipe – no one can tell it's there. Plus this tender cake is sure to be a hit with all chocolate lovers.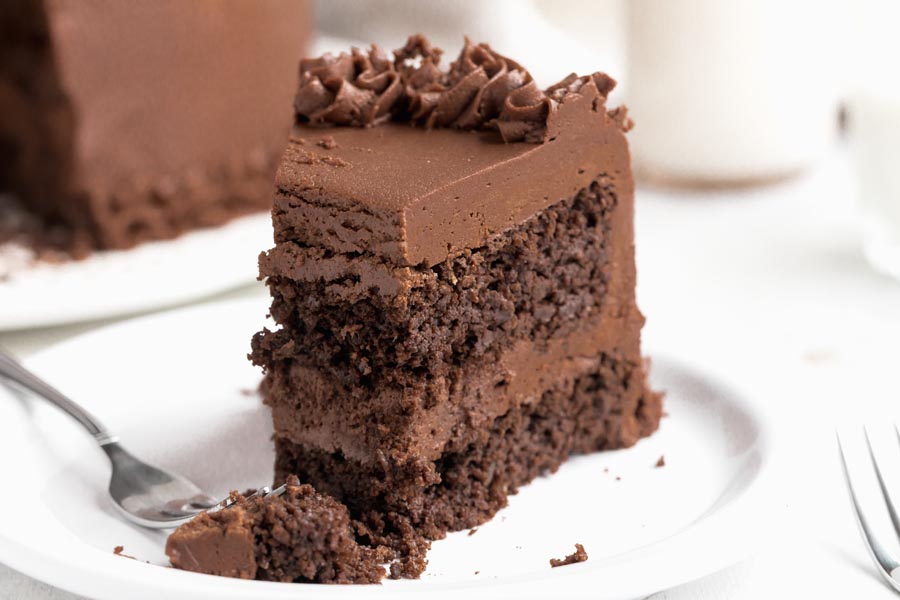 Most keto cake recipes can be dry since the sugar substitutes in the cake batter don't trap moisture like regular sugar does. In order to balance this, sour cream, yogurt or buttermilk are usually added to sugar free cakes, like in keto spice cake. However, the shredded sauerkraut made from cabbage in this chocolate cake works similarly to carrots in carrot cake. It adds moisture without having to add additional fats. The result is a moist spongy cake!
Top with a creamy, sugar-free buttercream chocolate frosting or make a creamy light chocolate mousse to add on top.  The combination will be your new go-to keto chocolate cake recipe!
How to make keto chocolate cake
Prepare sauerkraut – Open a can of sauerkraut made from cabbage. Transfer about 3/4 – 1 cup of sauerkraut to a strainer or mesh sleeve. Press the excess moisture out of sauerkraut using a paper towel. Cut the cabbage sauerkraut into small pieces.
Combine dry ingredients – Mix together almond flour, oat fiber, cocoa powder, baking powder, baking soda and salt. Set aside.
Combine wet ingredients – Cream together butter with sugar free sweetener. Then stir in eggs and vanilla.
Finish cake batter – Slowly add in the dry ingredients and chopped sauerkraut – alternating between the two.
Thin it out – Stir in a cup of water to thin out the batter.
Bake – Divide cake batter between two 8 inch cake pans and bake at 350 degrees for 35 minutes.
Make frosting – While cake is cool, make the buttercream frosting using butter, sugar free sweetener, cocoa powder, melted chocolate, cream, vanilla and salt.
Frost cake.
Keto Chocolate Cake Recipe Video
Subscribe to the KetoFocus YouTube Channel
With 100s of videos and millions of views, Ketofocus is one of the most popular Keto channels on YouTube.
Keto Sauerkraut Cake Ingredients
Sugar Free Chocolate Buttercream Frosting Ingredients
Keto Sauerkraut Chocolate Cake Directions
Open the can of shredded sauerkraut. Measure out 3/4 cup and strain out liquid through a strainer or mesh sleeve. Using a paper towel, press out excess liquid from the sauerkraut. Place shredded sauerkraut on a cutting board and finely chop. Set aside.

Ingredients

3/4 cup shredded sauerkraut

In a medium bowl, whisk together almond flour, oat fiber, cocoa powder, baking soda, baking powder and salt. Set aside.

Ingredients

2 cups almond flour
1/2 cup oat fiber
1/2 cup unsweetened cocoa powder
1 teaspoon baking powder
1 teaspoon baking soda
1/2 teaspoon salt

Quick Tip
For the best cake texture, run the almond flour through a sifter to break up clumps and remove any grainy pieces of almond.

In a large bowl, cream together softened butter and sweetener using an electric mixer until combined and fluffy. Add eggs one at a time, beat well after each addition. Add vanilla extract. Mix to combine.

Ingredients

1/2 cup unsalted butter (softened)
1 1/3 cup sugar free sweetener
3 eggs
1 teaspoon vanilla

Slowly mix in dry ingredients and sauerkraut, alternating between the two until fully combined. Batter will be thick similar to brownie batter. Pour in 1 cup of water to thin it out into a cake batter consistency. Mix until combined.

Grease two 8 inch cake pans with cooking spray or butter. Place a parchment circle on the bottom of each pan. Evenly divide the chocolate cake batter between the two pans.

Bake in a 350 degree oven for 35 minutes or until a knife inserted into the center of the cake comes out clean. Remove from the oven, loosen the cake away from the sides of the cake pan with a knife. Let rest for 10 minutes before placing a wire rack on top of the pan and inverting to release the cake. Continue to let cool completely.

It's not a cake without frosting

To a large bowl, cream butter until light and fluffy. Slowly mix in powdered sweetener and cocoa powder. Pour in cream, vanilla and salt. Mix until smooth and creamy. Decorate the cooled cake with frosting.

Ingredients

2 cups unsalted butter, softened
3 cups powdered sugar free sweetener
1 cup unsweetened cocoa powder
6 tablespoons heavy cream
4 teaspoons vanilla extract
1/2 teaspoon salt