Flourless Chocolate Cake
by KetoFocus.com
A sugar-free, nut-free chocolate cake that doesn't use any flour!
It's hard to believe you can make a decadent chocolate cake without any flour but with this flourless chocolate cake recipe it can be done! No wheat flours, nut flours, coconut flour or oat flour in this recipe.
The search for gluten-free and nut free recipes are in high demand as food sensitivities increase. Luckily with recipes like this flourless chocolate cake, brownies and flourless cookies, you can enjoy a tasty treat without flours or nuts!
It's possible to make a rich chocolate cake without any flours. We don't even have to use nut flours – like almond flour or hazelnut flour – or even coconut flour to make a delicious moist cake recipe. This flourless chocolate cake recipe uses minimal ingredients – sugar free chocolate, butter, eggs, cocoa powder and a few other ingredients. The rich chocolate flavor is unbeatable and the texture is similar to a torte. Dust with powdered sweetener and whipped cream for the ultimate chocolate indulgence.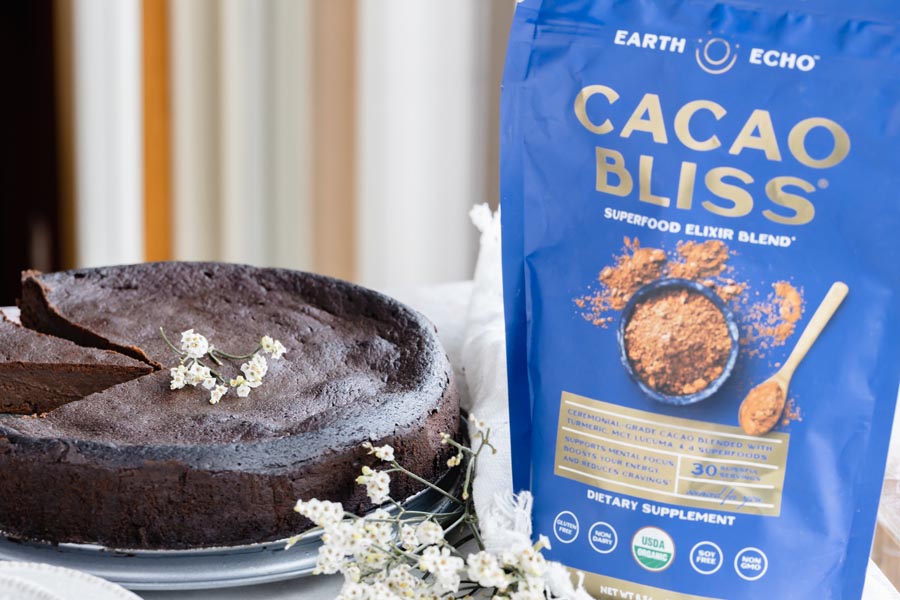 I partnered with Earth Echo for this cake recipe. Using their Cacao Bliss in this cake amplifies the chocolate flavor and gives a hint of cinnamon. Cacao Bliss is a raw cacao powder blend that contains superfoods like turmeric, black pepper, cinnamon, lucuma and Himalayan salt. I like to use Cacao Bliss in my recipes as a substitute or in addition to cocoa powder. I'm able to get the benefits from the superfoods and add a unique flavor to all of my chocolate desserts. 
Get 15% off your order of Cacao Bliss when you use my code KETOFOCUS. 
How to make flourless chocolate cake
Melt chocolate chips and butter. Stir until smooth. Set aside.
Beat together eggs, sugar free sweetener, and brown sugar substitute until fluffy.
Add cocoa powder and vanilla. Mix on low speed to combine.
Slowly drizzle in chocolate mixture.
Pour into a springform pan and bake at 325 degrees for 50 minutes.
Let cool in the refrigerator for 2 hours.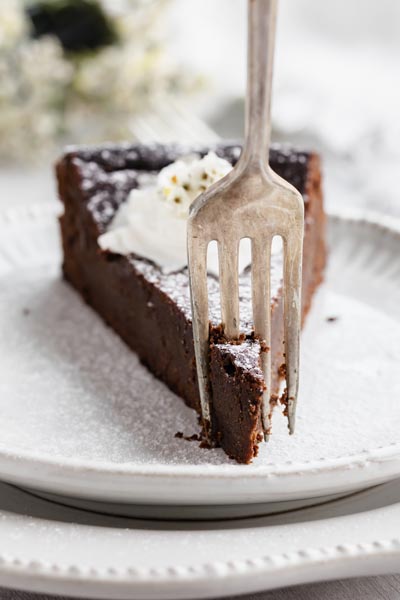 What is in flourless chocolate cake
Chocolate – Sugar free chocolate is added to increase the depth of the chocolate flavor. If you can't find sugar free chocolate, try using 90% dark chocolate or bakers chocolate. You may have to increase the sweetener in this cake recipe. Taste the batter before baking and adjust for sweetness.
Butter – The fat in butter provides flavor and moisture to the flourless cake. Without the butter, your cake may be dry and have a chalky texture.
Eggs – The eggs are what provides structure and density to this cake. They are a critical ingredient and you can't omit them.
Sweeteners – In this flourless cake recipe, sugar-free sweeteners are used. A sugar-free granulated sweetener like erythritol or monk fruit blend. And a brown sugar substitute for a slight caramel flavor.
Cocoa powder – The cocoa powder serves as a flour in this recipe to soak up the moisture from the eggs and melted butter. Look for 100% unsweetened cocoa powder in order to have to lowest carb amount.
Flourless Chocolate Cake Recipe Video
Subscribe to the KetoFocus YouTube Channel
With 100s of videos and millions of views, Ketofocus is one of the most popular Keto channels on YouTube.
Flourless Chocolate Cake Ingredients
Flourless Chocolate Cake Directions
Preheat oven & prepare pan

Preheat oven to 325 degrees. Line the bottom of a 9-inch springform pan with a circle of parchment paper. Spray the edges with cooking spray. Set aside.

In a medium microwave safe bowl, add chocolate chips, butter and salt. Microwave at 45 second intervals until melted, stirring in between. Once melted, set aside.

Ingredients

Chocolate chips
Butter
Salt

Quick Tip
Option to melt using the double doubler method over the stove top. Add 1-2 inches of water to a saucepan. Place bowl with chocolate over the pan. Turn on stove to medium-high heat. Stir continuously until melted.

To a large bowl, add 6 eggs, sugar free granulated sweetener and brown sugar sweetener. Beat with an electric mixer until fluffy.

Ingredients

Eggs
Sugar free granulated sweetener
Brown sugar substitute

Add remaining ingredients

Slowly stir in cocoa powder, Cacao Bliss (if using) and vanilla. Once combined, drizzle in melted chocolate mixture. Mix until combined.

Ingredients

Cocoa powder
Cacao Bliss, optional
Vanilla extract

Quick Tip
Mix in the cocoa powder using the lowest setting of the electric mixer to prevent powder from going everywhere.

Pour cake batter into the prepared cake pan. Tap the cake pan on the counter a few times to release any trapped air bubbles. Bake at 325 degrees for about 50 minutes. Let cool at room temperature for about 20 minutes before transferring to the refrigerator to cool for 2 hours. Dust with powder sugar and serve with whipped cream.

Quick Tip
Bake until set on top.