Keto Pumpkin Cupcakes
by KetoFocus.com
These keto pumpkin cupcakes are a MUST HAVE during the Fall. Spongy pumpkin flavored cupcakes are topped with a sweet and tangy cream cheese frosting.
Hey, I love cheesecake and I love pumpkin pie, these keto pumpkin cupcakes with cream cheese frosting feels like a good blend of both!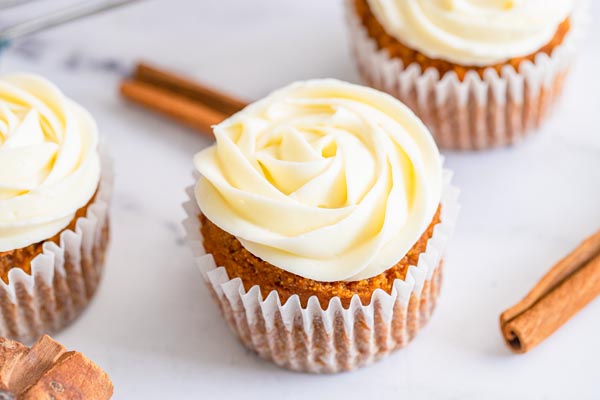 Keto pumpkin recipes is a must for me during the Autumn months. If you love pumpkin spice, these cupcakes need to be first on my baking list of Fall recipes.
The sugar-free cream cheese frosting on top of these low carb pumpkin cupcakes is a sweet surprise and nice compliment to the spongy cake. The combination of flavors from the pumpkin cupcake and cream cheese remind me of the classic pumpkin roll – except these are way easier to make and portable, so you can take one of these delicious muffins with you on the go for a quick treat.
How to make keto pumpkin cupcakes
Make brown butter. Heat butter in a saucepan, swirl it occasionally as it melted as starts to brown. Brown butter creates the most incredible flavor and nutty finish to these cupcakes.
Mix dry ingredients – Almond flour, coconut flour, baking powder, baking soda, salt, cinnamon, turmeric and nutmeg.
Mix in wet ingredients – Add in pumpkin puree, eggs, sweeteners and browned butter.
Combine dry and wet ingredients until smooth.
Pour into a muffin tray lined with muffin liners and bake for 20-25 minutes.
Make sugar free cream cheese frosting by combing cream cheese, butter, vanilla extract and powdered erythritol or your favorite sweetener.
Decorate your cupcakes with the frosting.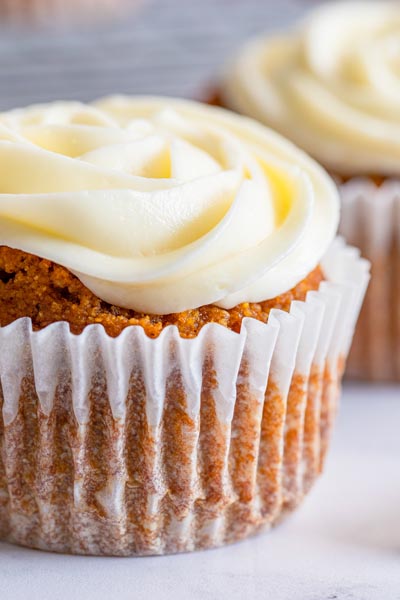 Key ingredients & substitutions
Brown butter – Adds a nutty flavor to these earthy Fall cupcakes.
Keto flours – In this pumpkin cupcake recipe, almond flour and coconut flour are used. The combination of the two produces a flour that bakes similar to all-purpose flour. If you have a nut allergy, try substituting the almond flour with sunflower seed flower.
Spices – To get that classic Fall pumpkin spice flavor, we add cinnamon, turmeric and nutmeg. Pumpkin pie spice can be substituted for these spices.
Sugar free maple syrup – Adds a hint of maple flavoring to these cupcakes. If you don't have maple syrup, try adding a touch more sweetener.
Keto Pumpkin Cupcakes (Muffins) Recipe Video
Subscribe to the KetoFocus YouTube Channel
With 100s of videos and millions of views, Ketofocus is one of the most popular Keto channels on YouTube.
Keto Pumpkin Cupcakes Ingredients
Keto Cream Cheese Frosting Ingredients
Keto Pumpkin Cupcakes Directions
Preheat oven to 350 degrees. Line a muffin tray with muffin liners.

Heat butter in a small saucepan over medium heat. Cook the butter, swirling occasionally, until the butter has melted, starts to brown and smells nutty (about 5 minutes). Remove from the heat and set aside to cool.

Quick Tip
Brown butter will start to have brown solid bits form. This is normal.

In a medium bowl, whisk together flours, baking powder, baking soda, salt and spices. Set aside.

Ingredients

1 1/2 cups almond flour
1/2 cup coconut flour
2 teaspoons baking powder
1 teaspoon baking soda
1 1/4 teaspoon salt
2 teaspoons cinnamon
1/2 teaspoon turmeric
1/4 teaspoon nutmeg

Quick Tip
Can substitute spices with 2 teaspoons pumpkin pie spice.

In a large bowl, beat the eggs, pumpkin, golden monkfruit and syrup until smooth.

Ingredients

1 1/2 cups pumpkin puree
3 eggs
1/4 cup brown sugar free sweetener
1/2 cup sugar free maple syrup

Mix in the dry ingredients along with the browned butter.

Pour into a muffin pan lined with muffin liners. Bake at 350 degrees for 20-25 minutes or until they start to brown on top. Remove from the oven and let cool completely before frosting.

To make the cream cheese frosting, add cream cheese, butter and vanilla to a medium bowl. Whip until fluffy and smooth. Slowly add in the powdered erythritol and mix until fluffy. Spread or pipe on top of each cupcake. You can poke a hold in the top of the cupcake to insert the cream cheese frosting into the center of the cupcake.

Ingredients

8 oz cream cheese, softened
1/2 cup unsalted butter, softened
1 teaspoon vanilla extract
1/2 cup powdered sugar free sweeetener