Gluten Free Monkey Bread
by KetoFocus.com
A soft pull-apart Keto Monkey Bread with a sugar free brown butter syrup
This gluten-free monkey bread is a sugar-free recipe that uses keto sweeteners instead of sugar to get a tasty sweet and sticky dessert. This pull-apart bread is made with a combination of almond flour and protein powder instead of traditional all-purpose flour for a keto, gluten-free bread. Each bread bubble is coated in a sweet cinnamon mixture and drizzled with a brown butter caramel sauce for the ultimate holiday dessert.
Gluten free monkey bread is a classic dessert that will fill your kitchen with warmth and cinnamon. This sweet and sticky treat is even a great recipe for brunch on holidays such as Christmas or Thanksgiving! This pull-apart bread recipe differs from others out there because most gluten-free monkey bread recipes still use sugar and alternative flours that are still high in carbohydrates. This monkey bread recipe is low carb, so we use almond flour and sugar free sweeteners. You still get that pillow soft dough with each pull-apart morsel and a delicious sticky buttery caramel coating.
How to make gluten free monkey bread
To make this keto monkey bread, we make a low-carb pastry with almond flour and protein powder instead of wheat flour or fathead dough (commonly used in many keto pastry recipes). Once the dough is made, each morsel is rolled into a ball and the dough balls are coated with sugar-free sweetener and a mixture of spices, including cinnamon and nutmeg, to create that sweet and sticky cinnamon sugar outer layer. Once the bread is finished baking, it is drizzled with browned melted butter, sugar-free caramel syrup, and topped with crushed pecans for a bit of crunch.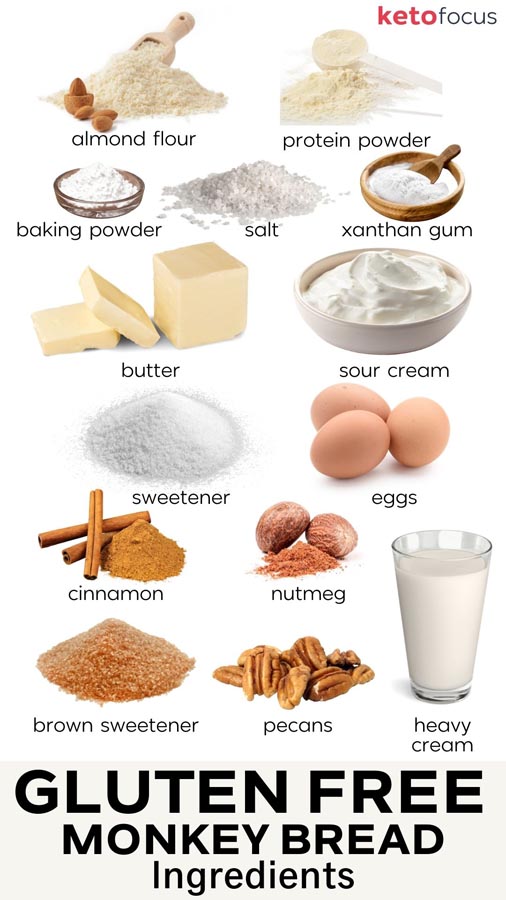 Key ingredients
Zero Carb Protein Powder – The dough for the keto monkey bread is made with a low-carb protein powder to keep the recipe keto-friendly. Protein powder adds volume and airiness to the pastry, making it light and fluffy.
Sugar-Free Sweeteners – This recipe uses a granulated sweetener that can be swapped cup for cup with regular sugar. The granulated sweetener has zero carbs and zero calories, but it bakes and tastes just like real sugar. You can't even tell the difference! The brown sweetener is very similar to brown sugar, and it also measures cup for cup. There is also a hint of molasses in the brown sweetener to give it that rich caramel flavor and dark color. If you don't mind a little bit of sugar in your monkey bread, you could try coconut sugar, but adding coconut sugar will increase the carbohydrate count.
Xanthan Gum – Xanthan gum gives the dough structure and support so that the dough holds together. It is tasteless, so you won't even know it's there!
Tools you will need
To make this homemade monkey bread recipe gluten-free, you will need the following supplies:
Large bowl
Small bowl
Sauce pan
Gluten Free Monkey Bread Recipe Video
Subscribe to the KetoFocus YouTube Channel
With 100s of videos and millions of views, Ketofocus is one of the most popular Keto channels on YouTube.
Keto Monkey Bread Ingredients
4 cups almond flour
1 cup unflavored low carb protein powder
1 tablespoon baking powder
2 teaspoons xanthan gum
1 teaspoon salt
1 cup unsalted butter, melted
1/4 cup sour cream
2 eggs
Sweet Cinnamon Coating Ingredients
Brown Butter Caramel Syrup Ingredients
Gluten Free Monkey Bread Directions
Preheat oven to 325 degrees. Spray a Bundt pan with cooking spray and set aside.

In a large bowl, whisk together almond flour, protein powder, baking powder, xanthan gum and salt until combined.

Ingredients

Almond flour
Protein powder
Baking powder
Xanthan gum
Salt

Stir in melted butter, sour cream and eggs. Mix until well combined.

Make cinnamon sugar coating

To make the sweet cinnamon coating, add sugar free sweetener to a small bowl. Stir in cinnamon and nutmeg until combined.

Ingredients

Sugar-free sweetener
Cinnamon
Nutmeg

Roll each dough ball and coat bubble bread

Pinch off a small amount of dough and roll in between the palms of hands to form a ball about ¾ - 1 inch in diameter. Roll dough in sweet cinnamon mixture until evenly coated and place ball into the prepared Bundt pan. Repeat with remaining dough - rolling, coating, and filling up the pan.

Quick Tip
Try to make each dough ball the same size.

Bake at 325 degrees for 25 minutes.

Quick Tip
Bake until golden brown on top. A loaf pan may also be used.

Make brown butter caramel syrup

Meanwhile, prepare the syrup. In a medium saucepan, melt butter over medium heat. Stir in sugar-free brown sugar and let cook for 2-3 minutes until bubbling. Turn down heat and slowly stir in heavy cream. Mixture will bubble up. Continue cooking over low medium heat until thickened (about 5-10 minutes). Sprinkle in salt. Remove from heat.

Ingredients

Butter
Sugar-free brown sweetener
Heavy cream
Salt

Quick Tip
When you add the heavy cream, the mixture will bubble violently. This is normal. It will simmer down as it cooks. You may consider using coconut butter here for a dairy free option.

Top pull-part bread with syrup

Once bread has finished baking, remove from the oven and let cool for a few minutes until you can safely turn the Bundt pan over onto a serving plate. Remove the Bundt Pan and immediately drizzle with brown butter caramel syrup. Top with crushed pecans.