Keto Hummus
by KetoFocus.com
A low carb hummus that tastes & looks just like REAL hummus
This keto hummus recipe ingeniously substitutes chickpeas with the low carb legume, lupini beans, resulting in a dip that mimics the authentic flavor and texture of traditional hummus.
Nutrition Facts
Serving Size:
2 tablespoons
This keto hummus recipe introduces a brilliant twist by using lupini beans as a substitute for chickpeas replicating the flavor and mouthfeel of the infamous Middle Eastern dip. Lupini beans closely resemble chickpeas making them an ideal choice. Unlike other low carb hummus recipes that rely on cauliflower, zucchini or artichokes, this lupin bean based version maintains the authentic hummus experience when paired with your favorite crackers, chips, bread or vegetables.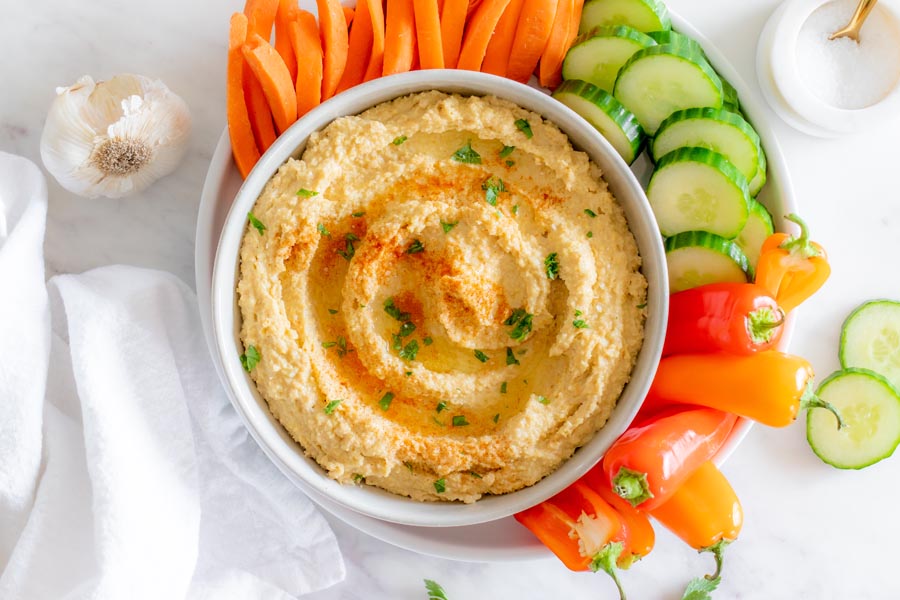 Is hummus keto?
Hummus made with chickpeas (aka garbanzo beans) is not keto approved because this legume is relatively high in carbohydrates. One cup of cooked chickpeas has 45 grams of carbs and 32.5 grams of net carbs when disregarding the fiber. One serving would put most people over their carbohydrate allotment for the day.
How to make keto hummus without using chickpeas
There are only a few ingredients added to garbanzo beans to give create that smooth hummus paste with nutty, garlicky notes. The main hurdle is to find a replacement for the high carb beans.
Possible alternatives to chickpeas
To replace the chickpeas, other recipes use cauliflower, zucchini, even artichoke hearts! The problem is that none of these alternatives are remotely related, let alone, look like chickpeas. Cauliflower shouldn't be the solution to substituting high carb ingredients in every recipe.
In order to successfully mimic the flavor and texture of actual hummus, a substitute should be used that is in the same legume family as the chickpea – like lupini beans! These beans not only look and taste similar to canned chickpeas, but they are very high in fiber. Lupin beans are the best alternative to chickpeas because they are low in net carbs, but still high in protein.
Tahini
Tahini is a creamy paste made from ground sesame seeds, which means it's nut-free as well. It is a staple ingredient in Middle East and Mediterranean cuisine. Tahini paste has a rich, nutty flavor with a smooth, velvet like consistency.
Other flavor components
Besides tahini, other flavor enhancers that are typically added to hummus include garlic, salt, olive oil, cumin and lime or lemon juice.
Serve the hummus with sweet peppers, sliced carrots, and cucumbers.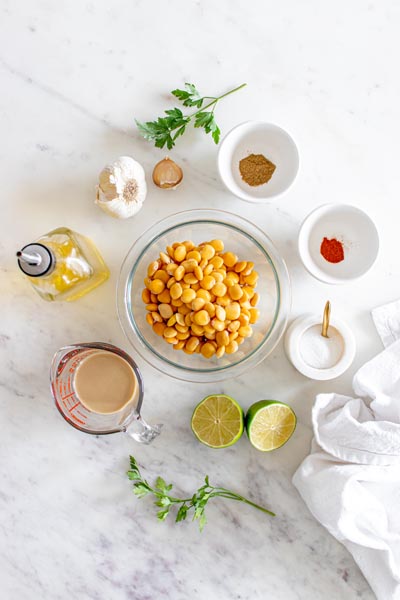 Subscribe to the KetoFocus YouTube Channel
With 100s of videos and millions of views, Ketofocus is one of the most popular Keto channels on YouTube.
Keto Hummus Ingredients
1 cup lupini beans
1 garlic clove, minced
1/3 cup tahini
2 tablespoons olive oil, divided
1 teaspoon ground cumin
1/2 teaspoon salt
1/2 lime, juiced
2-3 tablespoons cold water
Keto Hummus Directions
To a food processor, add lupini beans, garlic, tahini, 1 tablespoon olive oil, ground cumin, salt, lime juice and 2 tablespoons of water.

Process the ingredients until smooth. Add additional 1-3 tablespoons water if needed to thin out hummus. Taste and adjust seasoning if needed adding more salt, lime or cumin if desired to your preferences.

Quick Tip
Since lupini beans have a thicker shell, it will take longer than regular hummus to blend into a smooth paste.

Transfer the hummus to a serving bowl or platter. Drizzle with the remaining tablespoon of olive oil and garnish with chopped parsley and paprika. Serve with your favorite vegetables or low carb breads.