Easy Grilled Salmon
by KetoFocus.com
Whether you follow the keto diet (or not), anyone can grill salmon and it is the perfect main dish!
Grilled salmon is healthy, tasty, and easy to cook. It is the perfect summer entrée for friends, family, the health-conscious, as well as the foodie. This simple keto salmon recipe takes less than 10 minutes to prep and cook leaving you time to enjoy the long warm nights while eating a delicious keto dinner.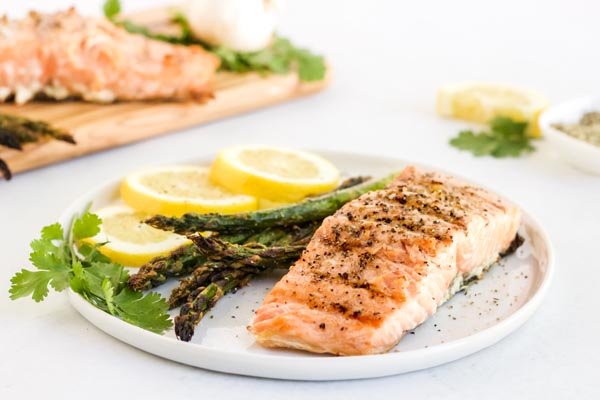 Turning to healthier food shouldn't mean compromising love for food and settling for less tasty dishes. This easy keto grilled salmon recipe proves that nourishing meals can also have moreish flavors. Serve with some grilled asparagus and you have a complete meal, whether you follow the keto diet or not.
Apart from being mouth-watering, salmon is also a punch-pack of healthy fats, which makes it extremely keto-friendly. This fat is useful when you are trying to reach ketosis. Note that fat is different from carbs, which is a big no-no when you are trying to detoxify and focus on nutrition.
What's more? keto salmon recipe needs no ingredients, just salt, pepper, garlic, and lemon for seasoning. These are all ingredients found in your pantry. This grilled salmon recpe is simple. The simplicity doesn't take away from the natural flavors of a juicy, flaky salmon fillet – it just amplifies it. It makes a delicious easy keto dinner recipe with little effort.
How to cook salmon on the grill?
Cooking salmon on the grill is fast, easy and a great way to add rich, smoky flavor to the fish.
The key to keeping the fish nice and most, with a nice charred top is searing the fish over direct high heat first, then finishing the fish over indirect heat until it is heated through.
Salmon should be grilled on medium heat, ranging between 375°F – 400-°F. If you are using a gas grill it is very easy to control the temperature. Simply follow your grilling manual to get the desired settings. If you are using a charcoal grill, push the charcoals to one side of the grill. The side on top of the charcoals will be used for direct heat for searing. The side without the charcoals will be used to slowly finish the fish once you flip it.
Subscribe to the KetoFocus YouTube Channel
With 100s of videos and millions of views, Ketofocus is one of the most popular Keto channels on YouTube.
Grilled Salmon Ingredients
Two 4 oz salmon filets
1 tablespoon olive oil
1/2 teaspoon salt
1/4 teaspoon pepper
1 clove garlic, minced
1/2 lemon
Easy Grilled Salmon Directions
Prepare the grill. If you have a gas grill, turn it to high heat. If you have a charcoal grill, set it up for partial direct high heat. When the grill is hot, clean the grates and wipe with cooking oil to prevent the fish from sticking.

Prepare the salmon by drizzling olive oil on each filet.

Add the salt, pepper and garlic. Squeeze lemon over each filet.

Start with the skin side up (flesh side down) and sear on direct high heat for 1-2 minutes. Use a spatula to turn the fish and place over indirect medium heat for 5-7 minutes.

Cook until the internal temperature of the fish reaches 145°F in the thickest part of the filet. The salmon should be opaque and flake easily with a fork.