Keto Focaccia
by KetoFocus.com
Keto focaccia bread that's perfectly crisp on the outside while soft and bread-like inside. Coated with fresh olive oil and herbs. Cut into chunks and dip into your favorite low carb marinara or extra virgin olive oil.
There is nothing authentic about keto focaccia. Unlike the traditional Italian bread, this focaccia bread doesn't use flours high in gluten, yeast or cheese. Yet, it's still has a similar texture and flavor since we use some simple substitutions that bake into this savory Italian inspired bread that's perfect for dipping into marinara.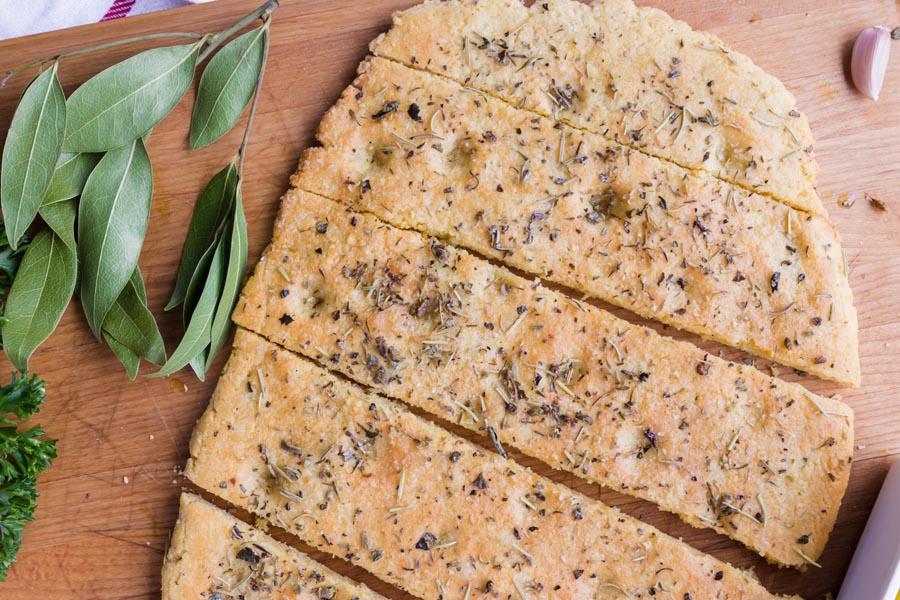 Using almond flour as the base, this keto focaccia  bread also contains lupin flour to give a hint of cornmeal flavor and ingredients like protein powder, baking powder, xanthan gum and eggs to help make the dough rise into a flatbread.
How to make keto focaccia bread
Mix together dry ingredients – blanched almond flour, lupin flour, unflavored protein powder, baking powder, xanthan gum and salt.
Stir in melted butter and eggs. Mix and knead until a dough ball forms.
Roll dough in between two sheets of parchment paper until about 1/4 – 1/2 inch thick.
Make dimples into the focaccia flatbread using your fingers or a blunt instrument.
Coat with egg wash, dried or fresh herbs and coarse salt.
Bake at 350 degrees for 10 minutes. Broil under high heat for 1-2 minutes to crisp up the top.
Remove from oven and coat with olive oil.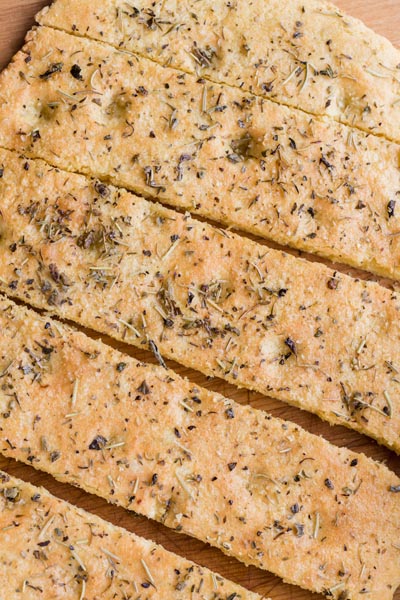 Key ingredients
Almond flour – The base flour for this keto bread. Make sure to use blanched super fine almond flour.
Lupin flour – Used to decrease the amount of almond flour needed, which limits the amount of carbs added. Lupin flour is mostly fiber and it gives a hint of cornmeal flavor to the flatbread.
Protein powder – Used to help the bread rise and to provide structure to trap in air bubbles released when baking. Look for low or zero carb unflavored protein powders.
Xanthan gum – Helps to hold the dough together and to keep the low carb focaccia from crumbling.
Butter – Gives a buttery flavor to the bread.
Eggs – Helps the focaccia rise and hold together.
Keto Focaccia Recipe Video
Subscribe to the KetoFocus YouTube Channel
With 100s of videos and millions of views, Ketofocus is one of the most popular Keto channels on YouTube.
Keto Focaccia Ingredients
Keto Focaccia Directions
Preheat oven to 350 degrees.

In a medium bowl, whisk together almond flour, lupin flour, protein powder, baking powder, xanthan gum and salt.

Ingredients

1 1/2 cups almond flour
1/4 cup lupin flour
3 tablespoons unflavored protein powder
1 teaspoon baking powder
1/2 teaspoon xanthan gum
1/2 teaspoon salt

Stir in melted butter and eggs. When dough gets tough to stir, knead with hands until all ingredients are evenly incorporated.

Ingredients

1 tablespoon butter, melted
2 eggs

Mold dough into a square shape and place in between two sheets of parchment paper. Roll out into a flat rectangle using a rolling pin until the dough is about 1/4 -1/2 inch thick.

Quick Tip
Place a damp paper towel under the bottom parchment paper to keep it from sliding.

Brush dough with egg white. Using fingers or the handle of a wooden spoon, make dimple indents into the dough. Sprinkle Italian seasoning and rosemary salt.

Ingredients

Egg white
2 teaspoons Italian seasoning
1-2 teaspoons rosemary salt

Quick Tip
Can add other toppings like parmesan cheese, olives, fresh herbs.

Bake at 350 degrees for 10 minutes. Then move focaccia under the broiler and broil on high for 1-2 minutes until the top of the focaccia is golden bread. Remove. Brush with olive oil and cut into small strips.

Ingredients

1-2 tablespoons olive oil