Chef Salad
by KetoFocus.com
A classic salad recipe for those who also like sandwiches
This classic Chef Salad is filled with fresh vegetables and protein-packed meat and eggs all drizzled with a savory homemade ranch dressing.
If salad feels like boring diet food, I hate to tell you but you're making them wrong! This Chef Salad is a perfect example of how a lettuce filled, healthy meal like salad can be delicious and incredibly filling.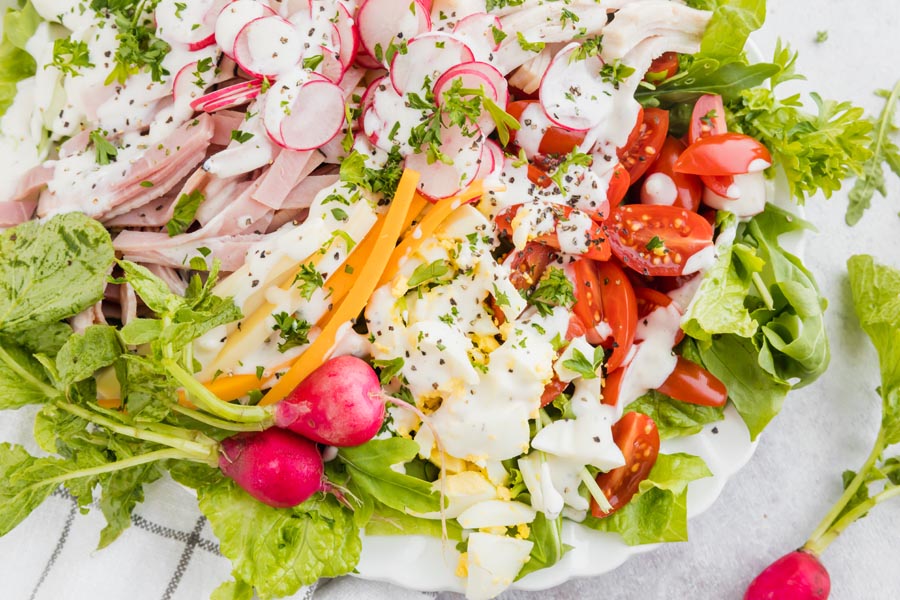 It's easy to get your veggies in and fill up on protein with this salad on the menu. While you can serve it alongside the main dish, I recommend just grabbing a large bowl and digging into this salad as your lunch or dinner.
Top this fresh salad with a hefty drizzle of easy homemade ranch dressing or blue cheese dressing for a healthy and delicious meal!
A Chef Salad is hearty enough to count as a meal and can include any variety of foods you have in your kitchen. While it's packed with vegetables and leafy greens, it also has plenty of protein and fat for a balanced meal that will keep you full and satisfied.
Traditionally, a Chef salad is made of hard boiled eggs, ham or turkey, cheese, and fresh vegetables served on a bed of lettuce and drizzled with dressing, but the variations possible (see below) are endless!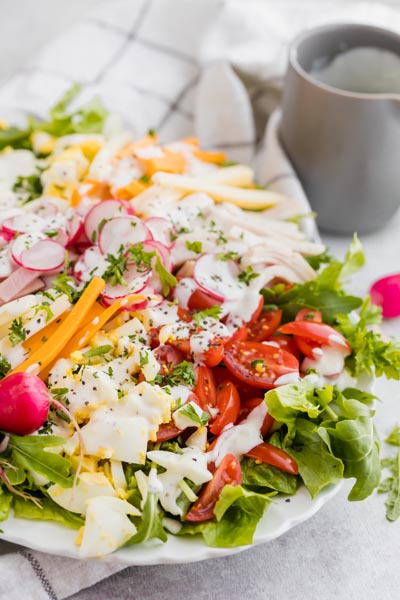 How to make a chef salad
Chef salads are easy to make at home, especially if you already have the dressing made.
Wash the lettuce and pat it dry or run it through a salad spinner to dry the leaves.
Chop and slice your vegetables, cheeses and meats.
Toss all ingredients (except for the dressing) together in a large bowl.
Serve with dressing on the side or mix the salad dressing into the salad.
Key ingredients & substitutions
Green leaf lettuce – This soft and tender lettuce is the perfect base for a Chef Salad, but you can substitute it with romaine, iceburg lettuce, butter lettuce or another salad blend if needed.
Arugula – Not present in a classic Chef Salad, but adds a peppery flavor that complements the salty and savory ingredients.
Cucumber – Use English or garden cucumbers, sliced and cut into half moons. Keep the skins on unless they're extra tough or bitter.
Radishes – Also not found in a traditional Chef Salad; however, thinly sliced radishes give this salad a bit of a peppery & spicy kick.
Cherry tomatoes – Cherry tomatoes are ideal because of their sweet taste and small size. You can also halve grape tomatoes or dice up a Roma tomato for this recipe.
Hard-boiled eggs – You can easily hard boil eggs in the air fryer, on the stove or in the oven. Or purchase boiled eggs from the grocery store.
Deli ham & turkey – Choose deli meat that's free from added sugars.
Cheddar cheese – Shredded cheddar is classic for a Chef Salad, but you can also use Colby, Swiss cheese or blue cheese crumbles.
Ranch dressing – Make your own or buy a  store-bought ranch like the Primal Kitchen brand.
Subscribe to the KetoFocus YouTube Channel
With 100s of videos and millions of views, Ketofocus is one of the most popular Keto channels on YouTube.
Chef Salad Ingredients
1 cucumber, peeled & cut into half moons
2 heads green leaf lettuce, cut into bite sized pieces
8 oz arugula
3 oz radishes, thinly sliced
1/2 pint cherry tomatoes, quartered
3 hard boiled eggs, quartered
8 oz deli ham, sliced
8 oz deli turkey, sliced
8 oz cheddar cheese, sliced
2/3 cup ranch dressing
Chef Salad Directions
Prep all of your vegetables, meats, cheeses and eggs by slicing, dicing, chopping and quartering. Wash the lettuce and let dry.

In a large bowl, toss all salad components, drizzle with ranch dressing or your favorite dressing. Season with salt & pepper. Toss again and serve.