Parmesan Crusted Chicken
by KetoFocus.com
Parmesan crusted chicken is a quick weeknight dinner made with simple ingredients. That golden-brown crust is impossible to resist!
Parmesan-crusted chicken is a delicious weeknight dish, and don't forget to try chicken schnitzel, chicken cordon bleu casserole, and creamy Tuscan chicken if you are looking for a different chicken recipe.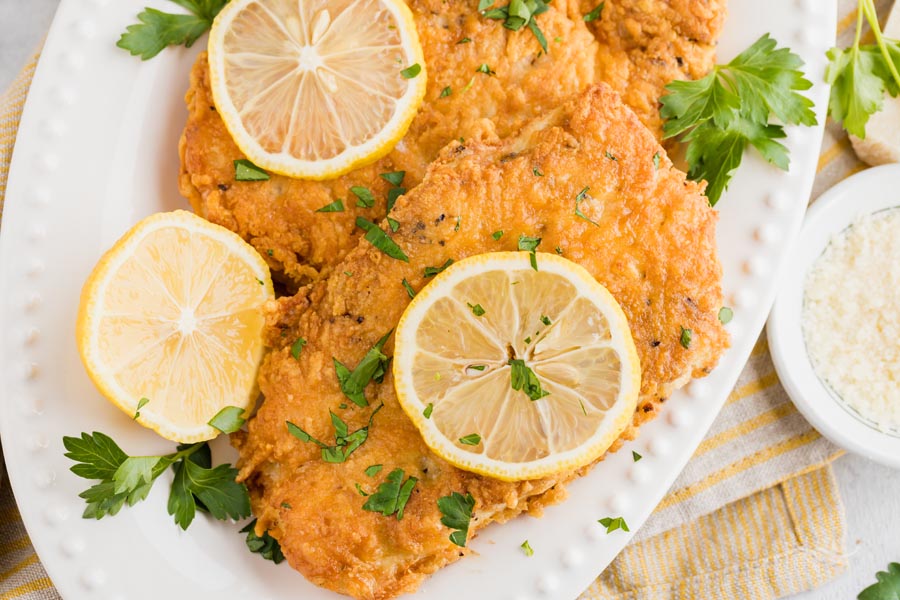 This recipe is made with chicken cutlets coated in shredded parmesan cheese and pan-fried in avocado oil until a crispy golden-brown crust forms. Squeeze some lemon juice on top for a bright and fresh addition. Serve with a side of pasta and your favorite salad for a simple homemade dinner. 
With only four ingredients, it's perfect for cooking after a busy day at work. No one will ever know it took under an hour to make!  
How to make parmesan crusted chicken
Here are brief instructions on how to make this chicken. For the full description, see the recipe card below.
Pound and season the chicken: Start by pounding the chicken covered with plastic wrap with a mallet or rolling pin to make them all the same width.
Dip chicken in the breading: Dip the chicken in a bowl of almond flour, then the whisked egg wash, and then back in the almond flour with parmesan cheese.
Fry chicken: After coating the chicken, heat a pan and drizzle in plenty of avocado oil. Add the chicken and cook on each side when the oil is hot, and the pan is smoking slightly. Check the temperature with a digital thermometer and allow to rest for five minutes before cutting.
Serve: Cut the chicken into slices and serve with side dishes.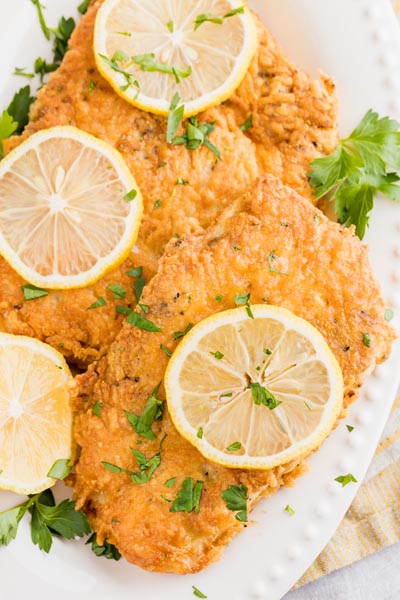 Key ingredients
These ingredients combine to make a juicy and tasty weeknight chicken meal.
Chicken breasts: Use boneless, skinless chicken breasts for this recipe. Chicken thighs or chicken tenderloins can also be used.
Almond flour: Almond flour is perfect for coating our chicken cutlets. It gives a slight nutty flavor.
Egg whites: No need to include egg yolks in the dip. The frothy egg whites will help the parmesan cheese stick to the chicken breast.
Parmesan cheese: Grated parmesan creates an excellent, slightly salty outer crust on this chicken.
Salt and pepper: Add a little salt and pepper for seasoning.
Parmesan Crusted Chicken Recipe Video
Subscribe to the KetoFocus YouTube Channel
With 100s of videos and millions of views, Ketofocus is one of the most popular Keto channels on YouTube.
Parmesan Crusted Chicken Ingredients
2 pounds chicken breast (cut in half to make thin cutlets)
1/4 cup + 1 tablespoon almond flour
3 egg whites
1/4 cup grated parmesan cheese
2 cups shredded parmesan cheese
Parmesan Crusted Chicken Directions
Place the chicken breasts in between sheets of plastic wrap and pound to a 1/4 inch thickness. Pat dry with a paper towel. Season with salt and pepper on both sides.

Prepare 3 bowls for the crust. For the first bowl, add 1/4 cup of almond flour and 1/4 cup grated parmesan cheese. Mix to combine. For the second bowl whisk egg whites until foamy. The third bowl, mix 1 tablespoon of almond flour mixed with shredded parmesan cheese.

Ingredients

Almond flour (divided)
Egg whites
Parmesan cheese (grated & shredded)

First, add a chicken cutlet in the first bowl to coat with almond flour and grated parmesan cheese. Dust all over. Then dip in the egg whites. Finally dredge in the shredded parmesan cheese mixture until coated all over. Repeat with remaining chicken cutlets.

Heat your favorite cooking oil over medium heat. Add 2-3 coated chicken cutlets to the hot oil and fry until the edges look cooked and the underside is golden brown (about 3-4 minutes). Flip and cook the other side for another 3-4 minutes. Remove and continue with the rest of the chicken. Serve with lemon wedges and chopped parsley.

Quick Tip
I use avocado oil.

To make baked parmesan crusted chicken, bake at 350 degrees for 30-40 minutes. Serve with lemon slices and fresh parsley.

Air fry at 400 degrees for 10-12 minutes, flipping halfway through.