Green Beans Almondine
by KetoFocus.com
Simple green bean side dish with ultimate flavor
This green beans almondine recipe is perfectly seasoned green beans mixed with toasted almonds. This simple and classic french dish can be served along side steak, pork or any holiday meal.
Green beans almondine is easy enough to make on a weeknight but elegant enough for any holiday party. Serve alongside Steak, Pork loin, or bring to your next holiday party as a passing dish. These green beans are simply seasoned with thyme, salt and pepper and tossed with toasted almonds for an instant upgrade in flavor and presentation. Plus they aren't as heavy as green bean casserole so it's the perfect changeup to your holiday classics.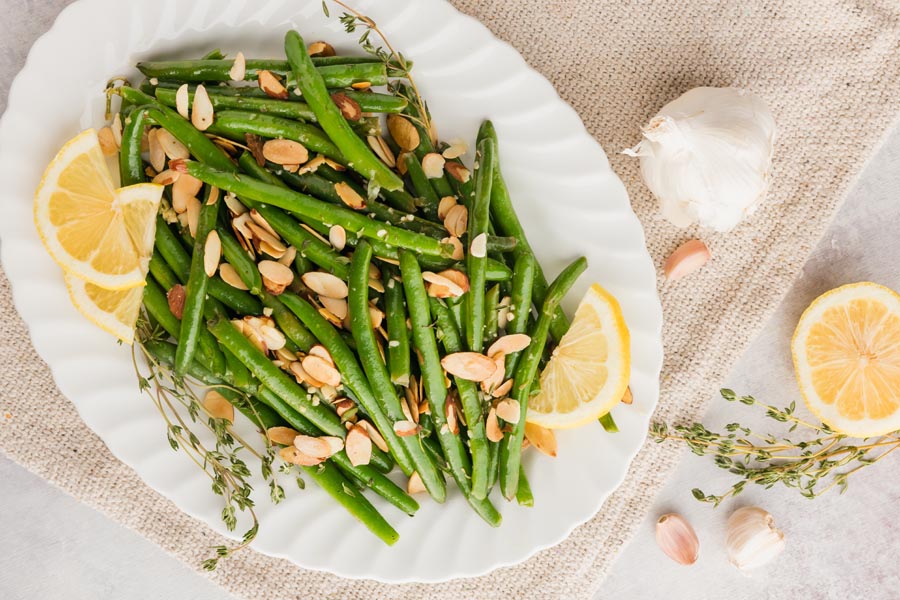 Almondine (or amandine) is the French term for almond garnish. This green beans almondine recipe adds simple enhancements like garlic, butter and dried thyme to complement the toasted almonds and fresh green beans.
The simplicity of this recipe can't be understated. Instead of having to blanch the green beans in boiling water in the beginning, we cook them in the last step until slightly softened. With this method, you don't have to worry about overcooking them. The result? Perfectly tender and flavorful green beans every time.
How to make green beans almondine
Lightly toast the almonds by baking in the oven or in a skillet.
Sauté green beans with oil, garlic and thyme.
Steam green beans for 5 minutes.
Stir in butter and toasted almonds. Top with fresh lemon juice or lemon zest.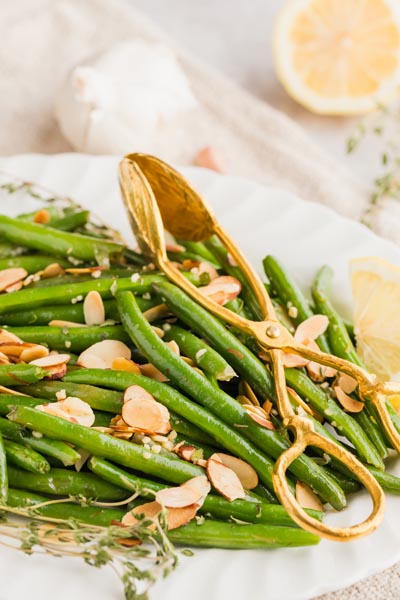 Key ingredients & substitutions
Sliced almonds – For a pretty presentation, use sliced almonds. If you don't have them, you can chop up regular almonds, which will taste the same but not have the same elegant visual effect. Slivered almond will work as a substitute.
Green beans – This recipe is written for fresh green beans, but you can use frozen or canned if needed.
Garlic – If you want a more subtle flavor, use shallots which taste like a mild combination of onions and garlic.
Olive oil – I prefer light olive oil, but you can also use another light tasting oil like avocado or canola.
Subscribe to the KetoFocus YouTube Channel
With 100s of videos and millions of views, Ketofocus is one of the most popular Keto channels on YouTube.
Green Beans Almondine Ingredients
½ cup sliced almonds
2 tablespoons olive oil
2 cloves garlic, minced
1 pound green beans, untrimmed
¼ teaspoon dried thyme
Salt & pepper
2 tablespoons unsalted butter
Green Beans Almondine Directions
Heat oven to 350 degrees. Spread almonds on a baking sheet and bake until golden, about 5-6 minutes.

Quick Tip
Alternatively, can toast almonds in a skillet over medium heat. Toss occasionally to prevent burning.

In a large skillet, heat oil over medium heat. Add garlic and stir until fragrant (30 seconds).

Ingredients

Olive oil
Garlic (minced)

Add green beans, thyme and season with salt and pepper. Toss to coat. Add ⅓ cup water, cover and let them until beans have slightly softened (about 5 minutes).

Ingredients

Green beans
Dried thyme
Salt & pepper (to taste)
Water

Stir in butter and almonds and continue to cook for 2-3 minutes.

Quick Tip
Serve with lemon slices for a squeeze of lemon juice before enjoying.