Keto Green Bean Casserole
by KetoFocus.com
Put your can opener away! Get your savory, comfort fix at the holiday table with a keto green bean casserole recipe featuring a homemade cream of mushroom made from scratch without flour or canned ingredients, and topped with a delightful layer of homemade crispy fried onions.
Green bean casserole is arguably Thanksgiving's favorite side dish. You may think it's mashed potatoes, rolls or stuffing, but this casserole is usually only made during the holidays.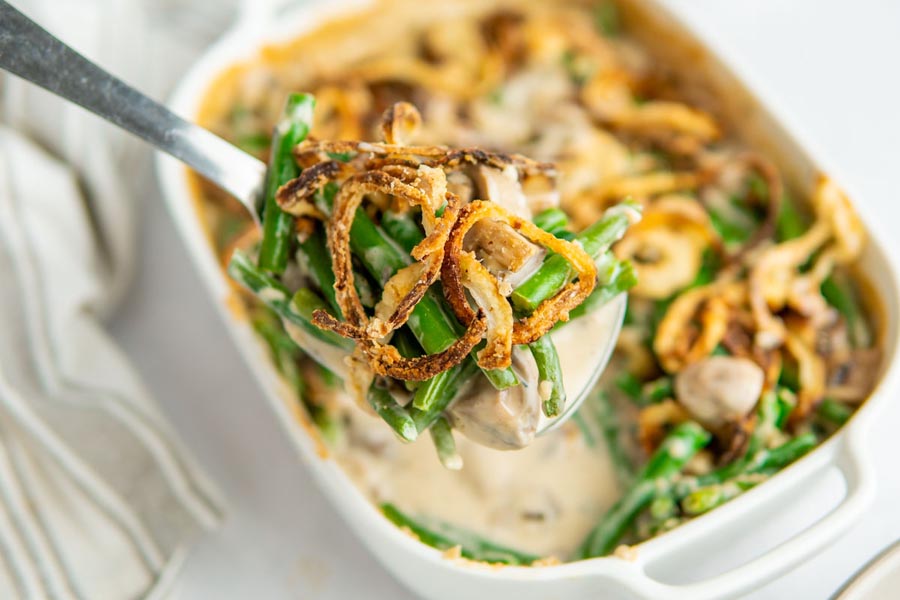 This keto green bean casserole puts a fresh spin on the classic Thanksgiving side with crispy pork rind onions and creamy mushroom sauce tossed with bright, tender blanched green beans. Get classic flavors without using canned ingredients.
What makes this recipe different?
Uses fresh ingredients – For the best keto green bean casserole recipe, you must use fresh ingredients. Canned ingredients can muffle some of the flavors and cause the casserole to be mushy and an unappealing gray-green color. 
No cheese – Cheese doesn't belong in green bean casserole!! A classic green bean casserole doesn't cut corners for flavor. It uses cream or half and half to make a velvety cream of mushroom for the crispy green beans to swim in. Other keto recipes use mozzarella cheese or cream cheese to act as a thickener to hold the casserole together, which compromises the classic flavor of the dish. 
Keto thickener – Traditional green bean casserole uses flour or cornstarch to thicken the mushroom broth. To keep this recipe low carb, arrowroot powder is used. It has 7x the thickening powder compared to flour requiring us to use very little in this recipe to get the same result. Some recipes use xanthan gum to thicken the creamed mushroom; however, xanthan gum can make the dish slimy. 
How to make keto green bean casserole
Crispy onion topping – Thinly sliced onions are coated with a mixture of baking powder (or you could use cornstarch or protein powder), pork panko (ground pork rinds), seasoning and baked in the oven until golden and crispy.
Blanched green beans – Instead of using canned green beans, fresh green beans are blanched in boiling water. Then immediately transferred to an ice bath in order to retain their vibrant color and crisp tender texture.
Make cream of mushroom from scratch – White mushrooms are sautéed with butter and seasoning until golden and tender. To add a warm, nutty undertone, a pinch of nutmeg is added. To thicken the sauce made with chicken broth and heavy cream, a few teaspoons of arrowroot powder is used.
Assemble & bake – The green beans are mixed in with the mushroom sauce and topped with fried onions. Then bake until bubbly and golden.
Subscribe to the KetoFocus YouTube Channel
With 100s of videos and millions of views, Ketofocus is one of the most popular Keto channels on YouTube.
Keto Fried Onions Ingredients
1/2 medium onion, thinly sliced
1 teaspoon baking powder or 1 tablespoon cornstarch
1/4 cup pork panko
1/2 teaspoon salt
nonstick cooking spray
Keto Green Bean Casserole Ingredients
1 lb fresh green beans, ends trimmed & halved
2 tablespoons unsalted butter
10 oz white button mushrooms, quartered
1 teaspoon salt, divided
1/4 teaspoon black pepper
2 cloves garlic, minced
1/4 teaspoon ground nutmeg
1 1/2 teaspoon arrowroot powder
1 cup chicken or vegetable broth
3/4 cup heavy whipping cream
Keto Green Bean Casserole Directions
Preheat oven to 425°F. Toss onions, baking powder (or cornstarch), pork panko and salt together in a large mixing bowl. Spread on a parchment lined baking sheet. Spray with cooking spray.

Ingredients

1/2 medium onion, thinly sliced
1 teaspoon baking powder or 1 tablespoon cornstarch
1/4 cup pork panko
1/2 teaspoon salt

Bake the onion rings at 425°F for about 18-25 minutes, tossing occasionally, until crispy and golden brown.

Quick Tip
Use a mandoline to get uniform slices. Thinner slices of onion won't take as long to get golden brown.

Add enough water to a large saucepan that will cover the green beans, but don't add them yet. Add a few sprinkles of salt. Bring to a boil. Once boiling add green beans and let them boil for 1-3 minutes. Taste test one green bean to see if cooked through. Drain and immediately transfer green beans to an ice bath. Once cooled, drain again and set aside.

Ingredients

1 lb green beans, trimmed and halved

Quick Tip
The ice bath will stop the cooking process keeping the green beans a vibrant green color.

In a large skillet, melt butter over medium heat. Add mushrooms, 1/2 teaspoon salt and pepper. Cook for 5 minutes or until the mushrooms start to release their juices. Stir in minced garlic and nutmeg. Let cook for 1-2 more minutes or until fragrant.

Ingredients

2 tablespoons butter (unsalted)
10 oz mushrooms, quartered
1/2 teaspoon salt
1/4 teaspoon pepper
2 cloves garlic, minced
1/4 teaspoon ground nutmeg

Quick Tip
To lower the carbs in this casserole, only use 6-8 oz mushrooms.

Make cream of mushroom soup

Sprinkle arrowroot powder over mushrooms and stir to coat. While stirring, pour in broth and simmer for 1 minute. Add heavy cream and cook for 6-8 minutes, stirring occasionally, until thickened.

Ingredients

1 1/2 teaspoons arrowroot powder
1 cup chicken or vegetable broth
3/4 cup heavy cream

Add blannced green beans to the cream of mushroom soup and stir to combine. Stir in remaining 1/2 teaspoon salt.

Quick Tip
If mixture still appears too thin, continue cooking until thickened or add more arrowroot powder.

Transfer green bean mushroom mixture to a baking dish or casserole dish. Top with fried onions. Bake at 400°F for 15 minutes or until hot and bubbly.

Quick Tip
If your fried onions are close to black already, don't add them to the top before baking. Just add them to the finished baked casserole.