Keto Hot Chocolate Recipe
by KetoFocus.com
A chocolatey smooth and creamy keto friendly hot chocolate that you can snuggle up with on a chilly day. So rich and flavorful, it's hard to believe it's low carb.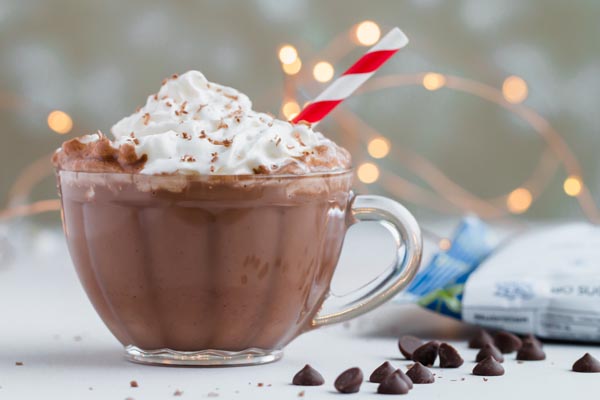 Along with Bulletproof Coffee and Keto Mocha, a sweet cup of hot cocoa is something I crave when the weather turns cold or after a day full of winter activities – like snowboarding, sledding or building snowmen. With this sugar-free, creamy hot cocoa recipe, I can feel comfortable giving my kids a big warm mug because I know they are only getting high quality ingredients that are good for them.
On the keto diet, gone are the days of grabbing a hot chocolate mix and adding hot water. To be honest, the old traditional way leaves so much to be desired! This hot chocolate makes use of real ingredients and surely hit the spot and firmly believe this is the best keto hot chocolate!
BTW…. This is the creamiest keto hot chocolate! Using two different low carb approved milks – heavy cream and nut milk – we are able to create a smooth and rich hot cocoa that you can cozy up to on a cold winter day.
Subscribe to the KetoFocus YouTube Channel
With 100s of videos and millions of views, Ketofocus is one of the most popular Keto channels on YouTube.
Keto Hot Chocolate Recipe Ingredients
Keto Hot Chocolate Recipe Directions
In a small bowl, whisk cocoa in ⅓ cup boiling water together. Set aside.

In a medium saucepan, mix together heavy cream, macadamia nut milk, monk fruit and salt. Simmer until combined, about 2 minutes. Whisk in cocoa mixture and chocolate chips until smooth.

Remove from heat. Stir in vanilla. Pour into your serving mug and top with whipped cream.