Pina Colada Smoothie
by KetoFocus.com
A tropical flavored smoothie
With one sip of this pina colada smoothie and you will think you are on a beach somewhere sipping an umbrella drink in the sun. This creamy tropical smoothie is filled with healthy fats that will fill you up. It's the perfect meal replacement.
Pina coladas are a summer icon. There's nothing like sinking your toes in the sand while sipping on a frozen pineapple coconut slushie. If you are wanting a quick easy taste of the tropics, it's not always the time to be sipping on a blended cocktail at 7am. That's where this pina colada smoothie comes in handy. You can have a frothy tropical flavor smoothie without the alcohol, pineapple or pineapple juice.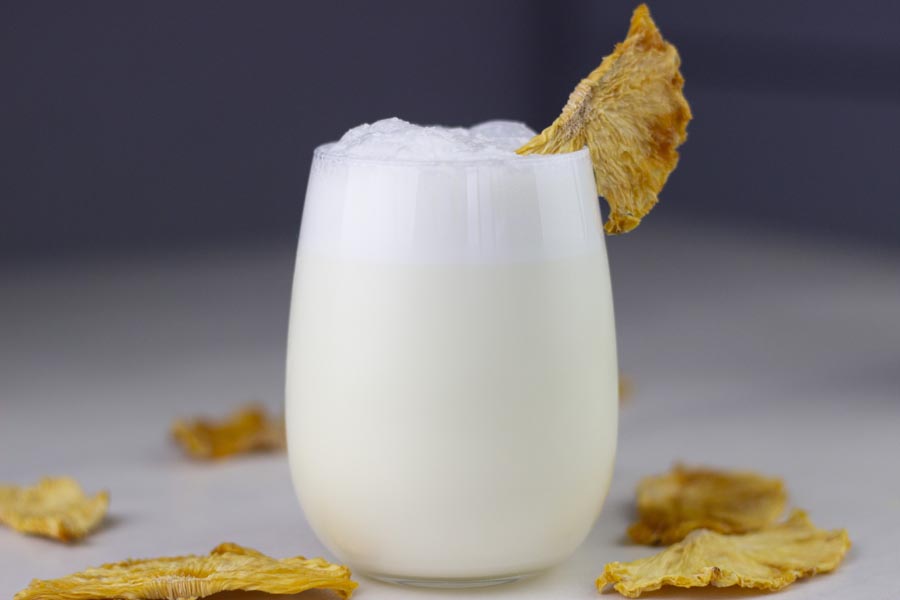 This is one mocktail that you can enjoy anytime of day and we can call it a healthy meal because it is filled with healthy fats from the coconut milk to keep up energized and focus until the next meal. This pina colada smoothie recipe isn't packed full of sugar like recipes that use pineapple, banana or add in additional sugars. Instead we use a sugar-free sweetener to sweeten our drink and we use a pina colada extract in place of the pineapple, banana or pineapple juice. The flavor is the same – just no sugar in our pineapple coconut smoothie!
How to make a pina colada smoothie
Add ingredients to a blender – Add in ice, yogurt, canned coconut milk, pina colada extract and sugar free sweetener.
Blend until smooth! Top with shredded coconut, a pineapple wedge and raspberries.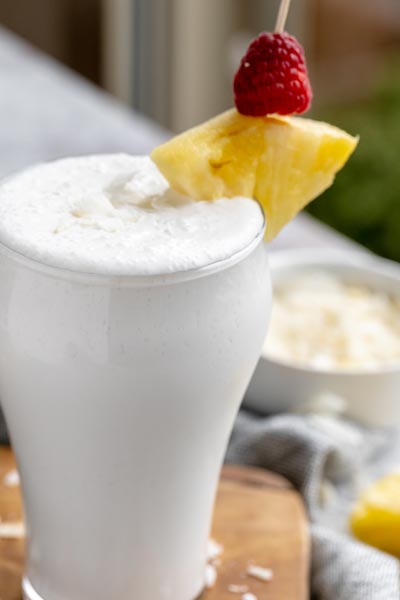 Pina Colada Smoothie Recipe Video
Subscribe to the KetoFocus YouTube Channel
With 100s of videos and millions of views, Ketofocus is one of the most popular Keto channels on YouTube.
Pina Colada Smoothie Ingredients
Pina Colada Smoothie Directions
Add ingredients to a blender

To a blender, add ice, yogurt, coconut milk, pina colada extract and sugar free sweetener.

Blend until smoothie and creamy. Pour into a glass and enjoy.

Quick Tip
For a garnish you can add coconut flakes, whipped cream or fresh pineapple.