Chocolate Peanut Butter Smoothie
by KetoFocus.com
A thick, creamy, chocolaty smoothie without bananas
The perfect meal replacement or dessert, this indulgent chocolate peanut butter smoothie is thick and creamy without using bananas! It's easy to customize with your favorite nutritional add in's.
Smoothie recipes are a great option when you have limited time in the mornings for breakfast. Whether you have a chocolate craving for this chocolate peanut butter smoothie or wanting something berry flavored like a raspberry smoothie or a hydrating cucumber smoothie, it's a quick meal you can enjoy on the go.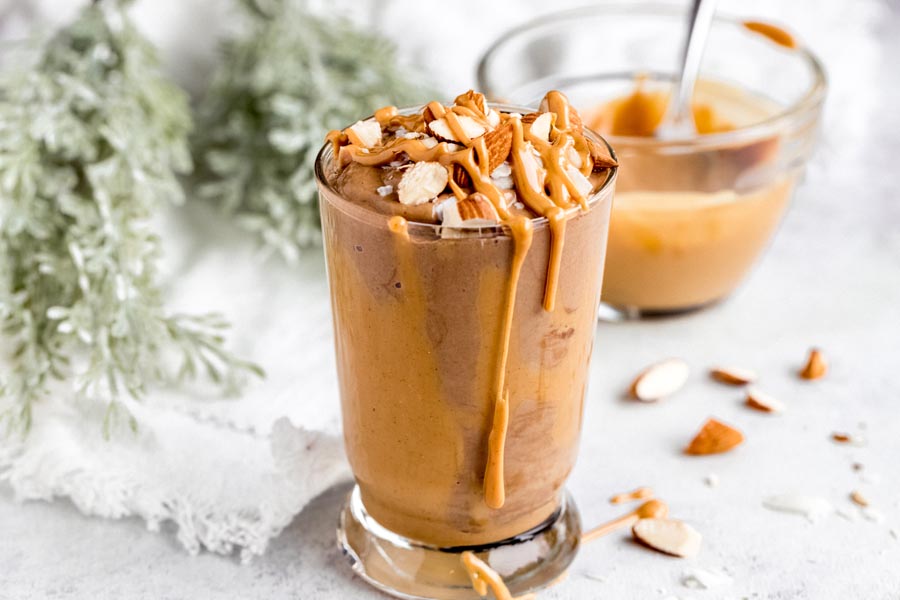 The chocolate peanut butter smoothie is low in sugar, packed full of nutrition and superfoods – and we didn't have to use a frozen banana to help thicken the smoothie. Bananas are high in sugar. One banana can have up to 25 g of carbohydrates which is equivalent to 6 teaspoons of sugar!
Instead to add creaminess, we use an avocado. Avocados are very low in carbohydrates and full of fiber, potassium and healthy monounsaturated fats. So they will help keep you hydrated, keep you regular and keep you full longer.
To achieve that rich chocolate flavor in our keto smoothie recipe, you can try adding  Cacao Bliss which is a raw cacao powder blended with superfoods instead of cocoa powder.
Cacao Bliss isn't your average raw cacao powder. It has a blend of superfoods in it. Like cinnamon (to help regulate sugars and for gut support), turmeric (for inflammation), black pepper (to increase the bioavailability of the turmeric), Himalayan salt (for balancing pH levels), lucuma (to help with the body's repair mechanisms), coconut nectar (a prebiotic for gut health).
It gives a unique flavor to your healthy smoothie that tastes better than regular cocoa powder. It has been my #1 addition to smoothies since I have been using it and I'm also addicted to adding it to my coffee in the morning.
If you want to try Cacao Bliss, use my code KETOFOCUS to save 15% off your order.
How to make a chocolate smoothie
Add ice, avocado, creamy peanut butter, vanilla extract, nut milk (like unsweetened almond milk, macadamia nut milk, soy milk) and unsweetened cocoa powder or Cacao Bliss to a blender.
Blend until smoothie.
Enjoy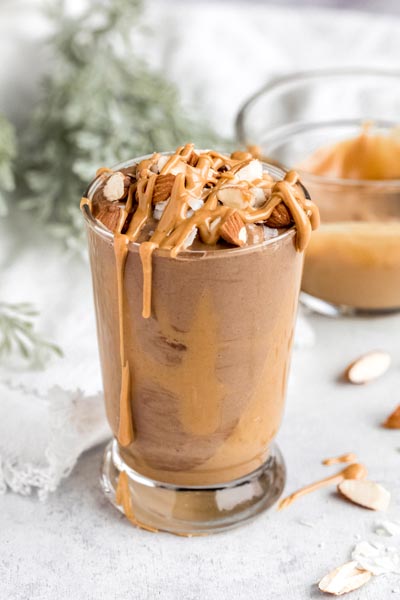 Key ingredients & swaps
Ice – To help cool our smoothie because nobody likes a warm smoothie.
Avocado – Instead of using banana, we use avocado as a thickener. It makes the smoothie thick and creamy without the sugar. Avocado has a neutral flavor. Don't worry,  you can even taste it!
Peanut butter – Look for an all-natural peanut butter that has no additional sugar or fillers. Ideally, it should say 100% peanuts on the ingredients label. If you don't want to use peanuts or have a nut allergy, you can omit the nuts. Nut butters like almond butter, cashew butter, macadamia nut butter work well in this recipe too. Peanut butter powder can also be used in this smoothie recipe.
Cocoa powder – I used a raw cacao powder blend from Cacao Bliss; however, unsweetened cocoa powder will work as well.
Vanilla – For the hint of vanilla flavor.
Nut milk – The vessel for our smoothie,  you can choose any nut milk you like. I use macadamia nut milk; however, almond milk or coconut milk will work too. Oat milk is higher in carbohydrates so I avoid it.
Chocolate Peanut Butter Smoothie Recipe Video
Subscribe to the KetoFocus YouTube Channel
With 100s of videos and millions of views, Ketofocus is one of the most popular Keto channels on YouTube.
Chocolate Peanut Butter Smoothie Ingredients
1/2 cup ice
50 grams avocado (1/2 medium avocado)
2 tablespoons unsweetened cocoa powder
2 tablespoons peanut butter
1 tablespoon sugar free sweetener
1 teaspoon vanilla extract
1/2 cup nut milk