Sesame Chicken Salad
by KetoFocus.com
A salad made famous from Kylie Jenner
The sesame chicken salad that Kylie Jenner eats every day. Butter lettuce, shredded red cabbage, cilantro, green onion, almonds, sesames and grilled chicken are tossing in a creamy sesame tahini dressing.
Another TikTok inspired recipe, this sesame chicken salad recipe when viral because it's what Kylie Jenner posted that she eats in a day. Similar to  other TikTok recipes like spicy Asian sesame salad and dalgona coffee, it's a recipe that will have you hooked!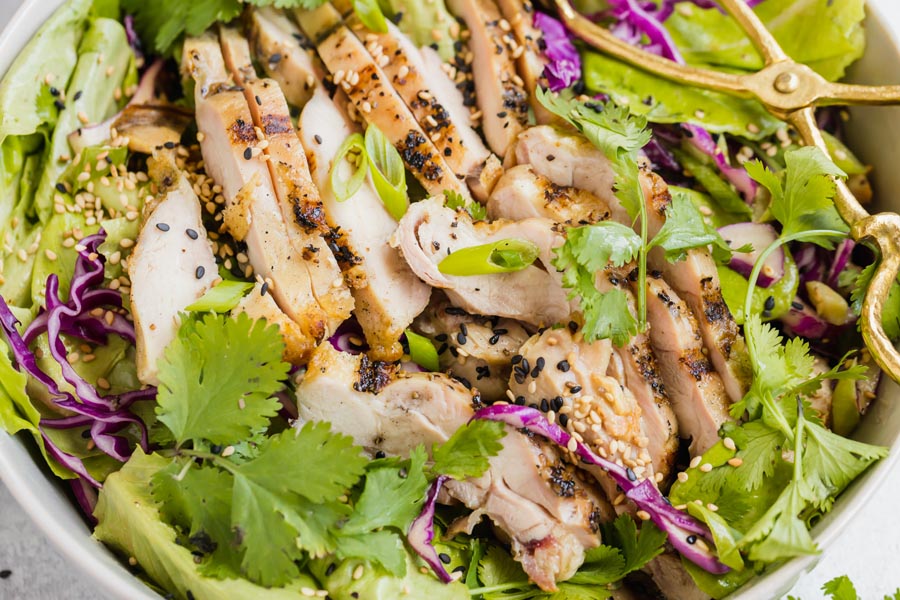 This salad recipe will soon be a favorite. I've made it so many times, that I triple the tahini dressing so I can quickly make up this chicken salad recipe at lunch.
Butter lettuce is mixed with shredded cabbage, cilantro, green onion, sliced almonds and a few different kinds of sesame seeds. These vegetables certainly pack crunch and a colorful spread. The most incredible sesame dressing made with tahini, soy sauce, sesame oil, and rice vinegar is drizzle on. Top it with grilled chicken or leave it out if you are vegan or vegetarian. This salad recipe is a lunch time favorite.
How to make sesame chicken salad
Make dressing. Whisk together rice vinegar, toasted sesame seed oil, soy sauce, tahini, brown sugar substitute, salt and pepper.
Add salad components. To the bowl, add lettuce, shredded red cabbage, green onion, cilantro, slivered or sliced almonds, toasted sesame seeds, black sesame seeds and grilled chicken.
Toss to coat. Best enjoyed right away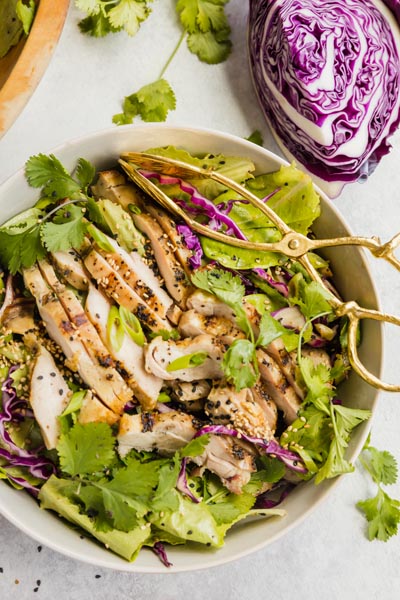 Key ingredients & swaps
Tahini salad dressing – This sesame chicken dressing is easy to make. Everything gets whisked together in a bowl. Rice wine vinegar is used for acid to brighten up the dressing. White vinegar and apple cider vinegar can be used in it's place. Toasted sesame seed oil brings flavor to the dressing. Soy sauce gives a salty umami flavor; however, tamari can be used if gluten free or liquid aminos and coconut aminos can be used if you can't have soy. Tahini is used for flavor; however, you could substitute with almond butter or peanut butter.
Butter lettuce – A silky, soft lettuce that almost melts in your mouth especially when covered in tahini dressing. You can substitute with other lettuce varieties, like romaine, green leaf, red leaf or spring mix.
Red cabbage – Added for flavor, crunch and color, this purple cabbage also provides nutrition like Vitamin A, C and E and has anti-aging properties.
Green onion – For that hint of onion flavor, mild green onion is sliced up and added.
Cilantro – Added for flavor, it pairs nicely with the tahini salad dressing.
Slivered almonds – Provides crunch and complements the sesame dressing of this salad. May consider using roasted peanuts or walnuts in it's place.
Sesame seeds – Two kinds of sesame seeds are added to this salad for color and flavor – toasted sesame seeds and black sesame seeds.
Chicken – It's easiest to use grilled chicken. Grilled boneless, skinless chicken thighs has the best flavor; although, chicken breast or chicken tenders can also be used. This chicken salad recipe is a great way to use up leftover chicken. For a quick meal, pick up a rotisserie chicken from the deli and use it to make shredded chicken for your Asian sesame chicken salad.
Sesame Chicken Salad Recipe Video
Subscribe to the KetoFocus YouTube Channel
With 100s of videos and millions of views, Ketofocus is one of the most popular Keto channels on YouTube.
Sesame Chicken Salad Ingredients
Sesame Chicken Salad Directions
In a large bowl, add tahini, rice vinegar, soy sauce, toasted sesame oil, brown sugar substitute, salt and pepper. Whisk until combined.

To the top of the dressing, add lettuce, red cabbage, green onion, cilantro, slivered almonds, sesame seeds and chicken. Toss to evenly coat.