Portobello Sandwich
by KetoFocus.com
Delicious, satisfying, this Portobello mushroom sandwich uses these meaty mushrooms to make the perfect bread substitute for a sandwich.
Nutrition Facts
Serving Size:
1 whole sandwich
To make a sandwich without using bread, you have to get creative. Whether you use lettuce to make lettuce wrap or bell pepper to make sandwich, there are many other vegetables that can be used in place of bread.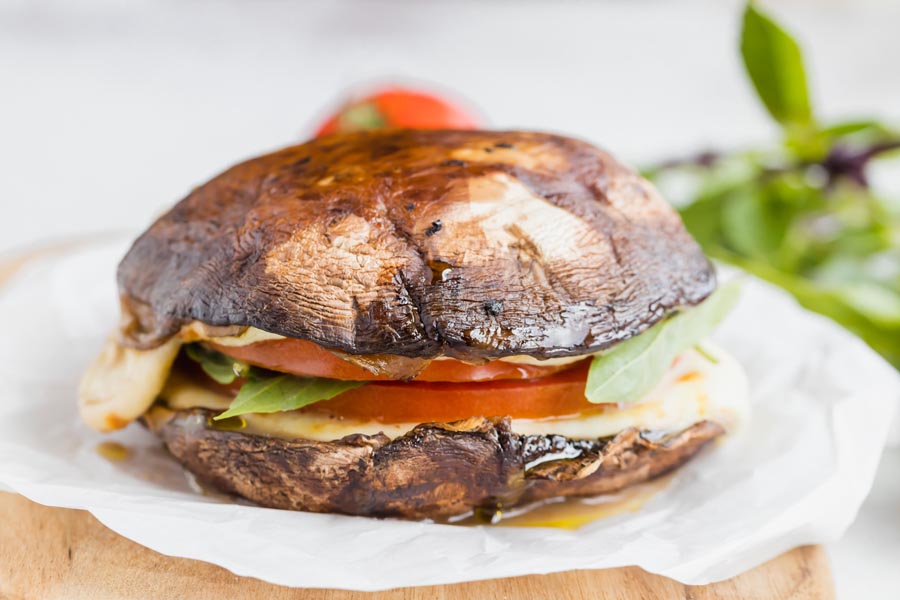 Portobello mushrooms make an excellent replacement for bread since they are large, flat and are packed with flavor. To make a Portobello sandwich, simply remove the stem, top with cheese or meat and gently roast it in the air fryer, oven or grill. Finish by adding your favorite sandwich fixings to both or one side and put the two mushrooms together to make the perfect portable sandwich! It's like having a grilled cheese sandwich but without the white bread!!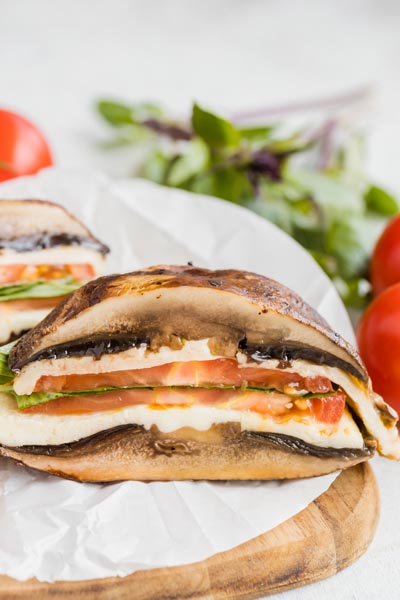 How to make a Portobello sandwich
Select two large Portobello mushrooms that are roughly the same size and diameter.
Remove any visible dirt and remove the stems by slicing them off.
Brush olive oil onto the mushroom gills and cook it in the air fryer, oven or grill.
Top with sliced mozzarella cheese.
Cook it until cheese is melted – Air fry, bake or grill.
Top with sliced tomato and fresh basil. Sandwich together!
Pro Tip: When I originally made this sandwich, I cooked my Portobello mushrooms gill side up with the cheese on top. I found collected too much liquid in the mushroom cap making it soggy and mushy. It's best to cook the mushrooms gill side down. Then flip, add the cheese and finish cooking until the cheese is melted.
Portobello Sandwich Recipe Video
Subscribe to the KetoFocus YouTube Channel
With 100s of videos and millions of views, Ketofocus is one of the most popular Keto channels on YouTube.
Portobello Mushroom Sandwich Ingredients
2 large Portobello mushrooms (about the same diameter)
1 tablespoon olive oil
salt & pepper
2 slices fresh mozzarella cheese
2 slices tomato
4-6 fresh basil leaves
Portobello Sandwich Directions
Clean any visible dirt of the outside of each mushroom. Trim off the mushroom stem and discard. Brush olive oil on the mushrooms gills of both. Season the gills with salt and pepper.

Cook the mushrooms with the gill side down in the air fryer at 380 degrees 5-8 minutes, in the oven at 425 degrees for 5-10 minutes or the grill on high heat for 3-4 minutes. Flip, allowing the water to drain out, and add the cheese slices to each mushroom. Continue cooking until the cheese is melted.

After cooking, top each side with sliced tomato and fresh basil. Put the two mushrooms together to make a sandwich.

Quick Tip
Sandwich will be moist, so make sure you have napkins!