Creamy Keto Tuscan Chicken
by KetoFocus.com
An easy low carb chicken dinner you can make in minutes, this creamy keto tuscan chicken hits the spot when you are in the mood for Italian flavors and is a wonderful keto recipe.
Low carb Tuscan chicken recipe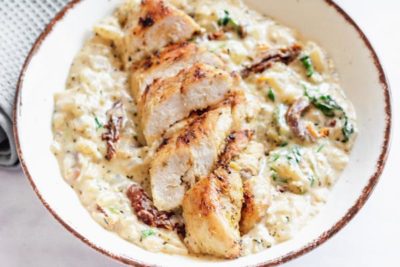 Creamy Tuscan chicken is the perfect weeknight dinner recipe since it's easy to make, comes together quickly and is made using one pan. Classic Italian flavors of sundried tomatoes, garlic and parmesan cheese are combined with spinach and chicken breasts to make up this creamy low carb dish. It's delicious served just as it is made, but you should try it over cauliflower rice or zucchini noodles for a complete meal even your kids will love!
Keto Tuscan Chicken Recipe Video
Subscribe to the KetoFocus YouTube Channel
With 100s of videos and millions of views, Ketofocus is one of the most popular Keto channels on YouTube.
Creamy Keto Tuscan Chicken Ingredients
2 skinless boneless chicken breasts
2 tablespoons lemon-pepper seasoning
1 teaspoon salt
2 tablespoons extra virgin olive oil
1/2 medium size onion, diced
1/2 cup chicken broth or chicken stock
4 cloves garlic, minced
1/2 cup heavy cream
1/2 cup grated Parmesan cheese
2 tablespoons fresh basil (juilienned)
2 cups baby spinach
5 sun-dried tomatoes, cut into julienne strips
1 teaspoon arrowroot powder (optional)
Creamy Keto Tuscan Chicken Directions
Season the chicken breast with the lemon-pepper and salt on both side.

Ingredients

Chicken breast
Lemon-pepper seasoning
Salt

In a large skillet, add the olive oil and cook the chicken over medium heat, turning once (about 10-12 minutes per side). May need to cover the skillet if you have thick chicken breast. Heat until internal temperature of chicken is 165 degrees. Remove chicken from the skillet and set aside.

Add onions to the skillet and sauté until translucent, 3-5 minutes. Add garlic and cook until fragrant, about 1 minute. Pour in the chicken broth, cream, Parmesan cheese and basil. Continue to stir until cheese has melted. Stir in arrowroot powder if using to thicken up the mixture. Reduce heat to low and simmer.

Ingredients

Onions
Minced garlic
Chicken broth
Heavy cream
Parmesan cheese
Basil

Add spinach and sun-dried tomatoes

Add spinach and sun-dried tomatoes. Continue to simmer until spinach has wilted. Add the chicken to the mixture and serve.

Ingredients

Fresh spinach
Sun-dried tomatoes