Keto Curry
by KetoFocus.com
A simple keto curry recipe that you can pour over cauliflower rice and add your favorite vegetables and chicken for an easy keto chicken curry recipe. This low carb sauce will quickly become a meal prep favorite as you can pour it over anything!
This low carb curry recipe is a game-changer for those who are using the keto diet. It adds so much flavor to all of your boring meat and vegetables. Not only that, but this Thai dish is also very easy to make and efficient, and by that, I mean that you reduce your wastage by using only a few ingredients. It's a great way to add flavor to all the leftover vegetables or meats that are about ready to expire in your fridge. It is also a good dish for meal prepping, and curry can last for a long time in the refrigerator or the freezer.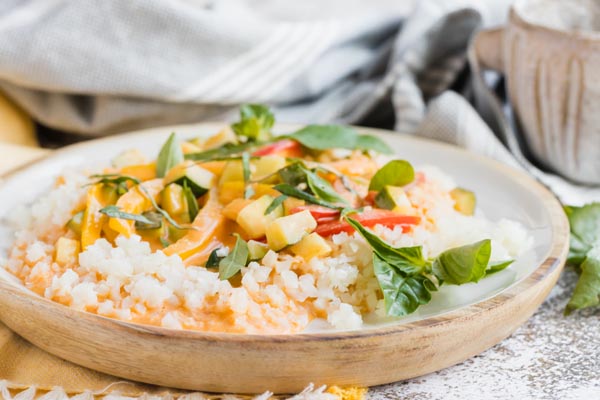 My keto curry also is distinctively versatile, which means you can add your favorite keto vegetables like bell pepper, onion, broccoli, zucchini, asparagus, cauliflower. Or you could add your favorite meats like chicken or shrimp. This keto curry chicken is very delicious from the creamy coconut. And the mild note of heat from the curry paste. The level of spice is what makes this delightful dish perfect for the colder months of the year.
Curry first made its first appearance in India but got distributed to many other Asian countries throughout the same period by traders and people who left India. Curry got referred to as "Kari" in India, and it wasn't until many thousands of years later that the term had changed to the word we know today.
Curry has been made out of an array of herbs, spices and binding ingredients, such as tomatoes and coconut for years. Murraya koenigii is the infamous curry tree. The leaves and the seeds gets used for most curry nowadays due to its intense curry flavor.
Subscribe to the KetoFocus YouTube Channel
With 100s of videos and millions of views, Ketofocus is one of the most popular Keto channels on YouTube.
Keto Curry Directions
Add one can of coconut milk to a sauce pan. Heat over medium-high heat until the coconut milk boils. Continue cooking at a medium boil until the milk has reduced by ⅓ or ½.

Stir in curry paste and mix until incorporated.

Add in the second can of coconut milk. Bring to boil and let cook until the sauce is thickened (about 5-10 minutes).

Add more flavor and vegetables

Stir in fish sauce, lime juice, salt and zucchini. Let cook for 2 minutes. Add in bell pepper and cook for 1 minute. Serve over cauliflower rice and add chicken to make keto chicken curry.