Keto Rocky Road Ice Cream
by KetoFocus.com
For a decadent, rich chocolate flavor without the sugar, this keto rocky road ice cream feature has a creamy texture balanced perfectly with crunchy chopped almonds and squishy sugar-free marshmallows.
Satisfy your chocolate cravings without guilt! This easy sugar-free keto chocolate ice cream recipe delivers ultra-rich chocolate flavor in a creamy, scoopable frozen treat. With just a few simple ingredients, you can whip up this favorite ice cream flavor perfect for chocolate & nut lovers following a keto diet or just watching their sugar.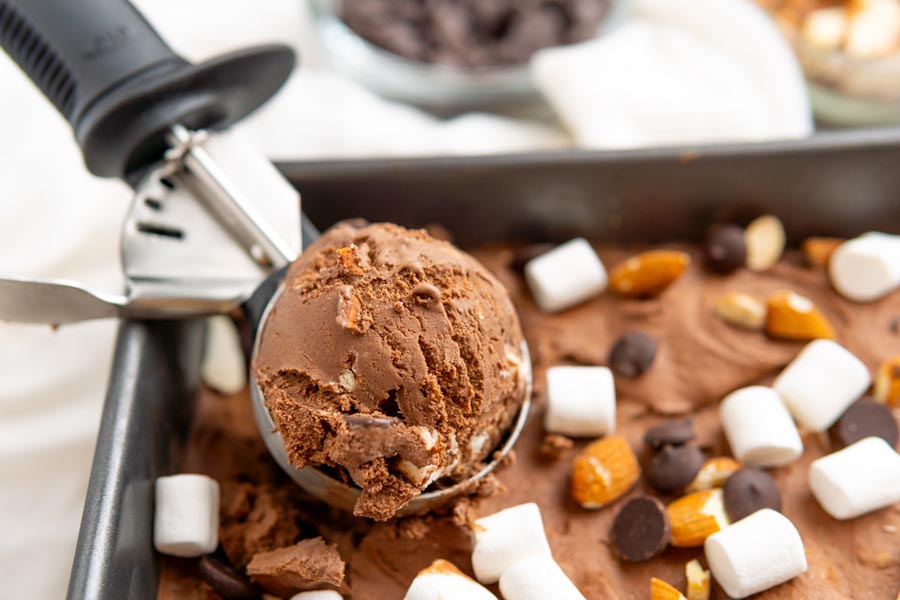 Unlike my fudgy chocolate ice cream recipe, this keto ice cream recipe starts with a classic custard base made with egg yolks and dairy, giving that smooth, creamy texture as it chills and churns.
Cocoa powder provides intense chocolate flavor without any bitterness since it is balanced with a sugar substitute called allulose. Using a sugar-free alternative is key to keeping the carbs and calories low. The result is a creamy low carb rocky road ice cream that tastes like the real deal!
How to make keto rocky road ice cream
Make a custard base. Heat egg yolks, cocoa powder, nut milk, sweetener and heavy cream in saucepan over medium heat. Simmer until the mixture thickens and coats the back of a spoon. Remove from heat and add vanilla.
Refrigerate. All good ice cream recipes require you to refrigerate the base for a few hours. This allows the chocolate flavors to meld into the fats from the cream and it helps to create a frothy base that will churn into a velvety texture.
Churn. Pour the chilled liquid into the ice cream maker and churn according to manufacturer's insturctions.
Make it a Rocky Road! A few minutes before the ice cream is set, pour in chopped nuts, marshmallows and additional chocolate if desired.
Subscribe to the KetoFocus YouTube Channel
With 100s of videos and millions of views, Ketofocus is one of the most popular Keto channels on YouTube.
Keto Rocky Road Ice Cream Ingredients
Keto Rocky Road Ice Cream Directions
Whisk together the egg yolks and cocoa powder in a pot over medium heat. If the mixture seems too thick, add some macadamia milk.

Ingredients

3 large egg yolks
1/2 cup unsweetened cocoa powder
1 cup macadamia milk or nut milk

Quick Tip
For best results, use high-quality cocoa powder that is dark and has a strong chocolate flavor. Dutch process cocoa works well.

Add the powdered allulose along with the rest of the macadamia milk. Mix until smooth. Pour in the heavy cream and mix again until fully incorporated. Simmer the mixture for 5-10 minutes, stirring constantly, until it starts to thicken and can coat the back of a spoon. Remove from heat and pour into a jug or large measuring cup. Mix in the vanilla extract.

Ingredients

1/2 cup powdered allulose
remaining nut milk
2 cups heavy cream
1 teaspoon vanilla extract

Quick Tip
Add a pinch of sea salt to balance and enhance the chocolate flavor.

Allow the mixture to cool to room temperature, then refrigerate for at least 2 hours until chilled.

Once chilled, pour into an ice cream maker and churn according to the manufacturer's instructions for about 20-30 minutes. In the last few minutes of churning, add the chopped nuts, sugar-free marshmallows and keto chocolate (if using). Mix until evenly distributed. Transfer the churned ice cream to a lidded container and freeze for 2-4 hours until firm. Allow ice cream to soften at room temperature for a few minutes before serving.

Ingredients

1/2 cup chopped nuts
1/2 cup sugar free marshmallows
1/2 cup sugar free chocolate, optional

Quick Tip
Chop the sugar-free chocolate into small, evenly sized pieces so they distribute nicely when churned into the ice cream. Ice cream will be soft right out of the maker but firms up after freezing 2-4 hours.