Keto Vanilla Ice Cream
by KetoFocus.com
Soft serve, creamy keto ice cream
On a hot Summer day, ice cream is a must-have treat! With this easy egg-free keto vanilla ice cream recipe you won't have to miss out! Creamy, soft serve style with only 5 ingredients!
One of the best parts about Summer is getting to enjoy ice cream in warm weather. Unfortunately, most ready made ice creams are not keto friendly as they are full of added sugars. Some keto friendly ice creams at the grocery store can be chalky or very hard, so it's better to make your own – especially when it takes 5 minutes to prepare!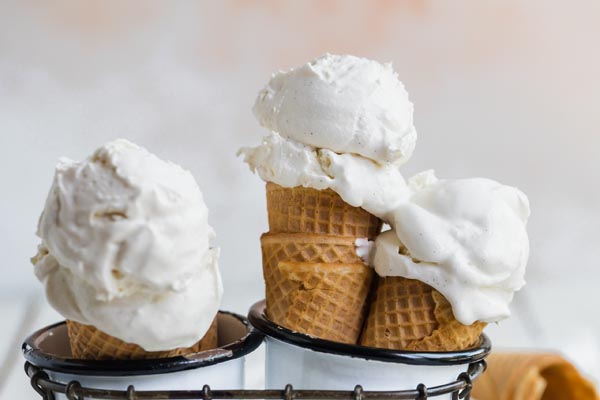 Luckily for you, we have the perfect recipe for low carb vanilla ice cream! This recipe only requires 5 ingredients and it can be made with or without an ice cream maker! It makes the creamiest, soft-serve vanilla keto ice cream that can be used as a base for other flavors like strawberry or chocolate ice cream.
Why this recipe stands out
This keto ice cream recipe doesn't use eggs. It is a foolproof way of making ice cream since you do not have to worry about tempering egg yolk or about the eggs curdling when you make the custard.
The ingredients used in this recipe can easily be found at stores and most are typical ingredients used in various keto recipes.
Get creamy, scoopable ice cream. This recipe uses vodka to get a creamy, smooth texture. To really get the ice cream to remain soft, use allulose as a sweetener.
Vanilla paste is used to get real vanilla flecks in the ice cream, but you can scrape out the seeds of a real vanilla bean if you prefer.
KETOFOCUS FANS THINK IT'S THE BEST!!
"My wife just made this for me the other day using blueberries and it's fantastic!"
➥ from YouTube subscriber @gristlepounder
How to make keto ice cream
Add the following 5 ingredients – heavy whipping cream, powdered sugar free sweetener, salt, vodka or rum and vanilla extract.
Whisk to combine.
Refrigerate for 2 hours.
If using an ice cream machine, pour into machine and let churn according to the manufacturer's instructions.
For the no churn method, add to a mason jar and shake until thickened or beat with an electric mixer until peaks form. Then freeze.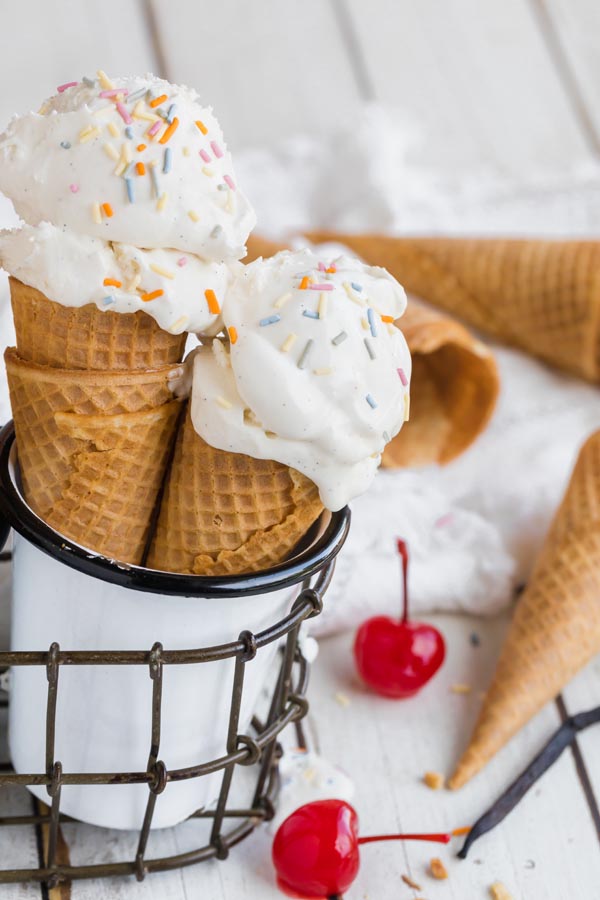 Key ingredients
Heavy cream – Most keto ice creams are made from heavy cream. If you are dairy free, use coconut milk instead to make a dairy free keto ice cream.
Powdered sweetener – To keep this a sugar free recipe, make sure you are using an alternative to sugar like allulose, erythritol, monkfruit or a blended sweetener. It's best to use the powdered sweetener as it dissolves easier in the cream. Granulated sweetener may make your ice cream grainy and gritty.
Salt – Enhances the sweetness of the ice cream
Vodka – This is the key ingredient to keep the ice cream soft and easy to scoop. See below for substitutions.
Keto Vanilla Ice Cream Recipe Video
Subscribe to the KetoFocus YouTube Channel
With 100s of videos and millions of views, Ketofocus is one of the most popular Keto channels on YouTube.
Keto Ice Cream Ingredients
2 cups heavy whipping cream
1/3 cup powdered allulose or sweetener of choice
1/8 teaspoon salt
2 tablespoons vodka or rum (see below for other substitutions)
1 teaspoon vanilla extract
1 teaspoon vanilla paste, optional
Keto Vanilla Ice Cream Directions
Combine vanilla ice cream ingredients

In a large bowl, combine heavy cream, sweetener, salt, vodka, vanilla extract and vanilla paste. Taste the mixture. Add more sweetener if necessary. Refrigerate mixture for 2 hours before churning or freezing.

Quick Tip
Don't skip the 2 hour refrigeration step when you are making this keto ice cream recipe! You should wait 2 hours before starting to churn as to give the flavors time to be combined together within the heavy cream. It also helps with the texture of the ice cream as it makes it softer and creamier, which is how you need the ice cream to be.

Add ice cream base to your ice cream maker and churn according to manufacturer instructions.

Add ice cream base to a mason jar and shake until thickened then freeze or whip base with an electric mixture until fluffy, add to ice cream container and freeze.