Keto Trifle
by KetoFocus.com
A gorgeous, make ahead keto dessert perfect for a Spring or Summer potluck
An easy layered keto dessert filled with fresh summer berries and lemon whipped cream, this keto trifle is perfect for Summer gatherings.
Berry trifles are the perfect patriotic summer dessert for a gathering of friends and family. Not only are they stunning, but they feed a crowd. It's my go-to back yard BBQ potluck dessert because people can't tell it's keto! Just like my keto strawberry shortcake and my keto carrot cake, these keto desserts have fooled many friends and family in to thinking they are loaded with sugar.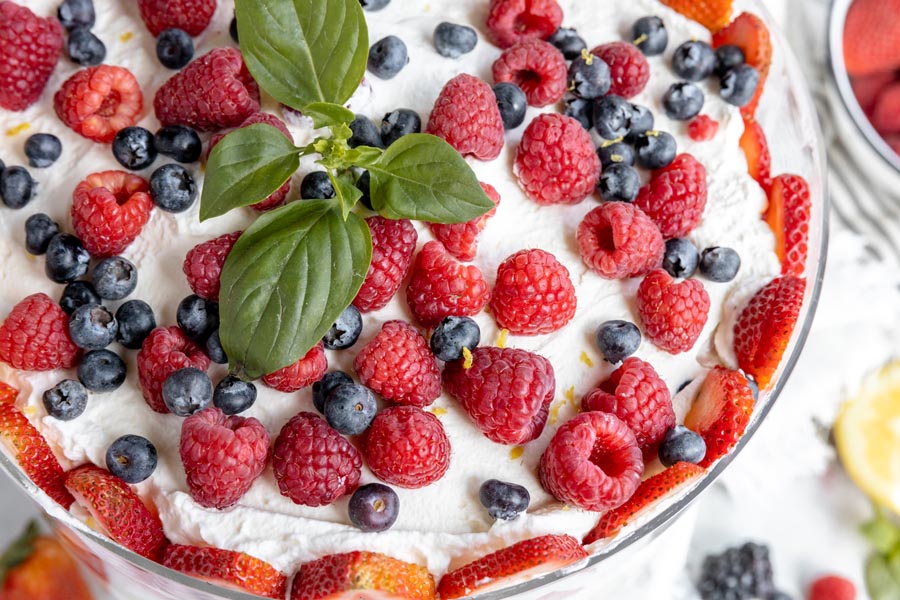 Instead of using ladyfingers or a carb heavy cake, we start by making an easy keto shortcake. While that cools, we make a quick strawberry sauce and lemon whipped cream. Once assembled in a deep clear glass bowl or trifle dish, you have a delicious keto berry trifle with layers of cake, whipped cream and berries.
How to make a keto trifle
Make a keto cake! In this recipe, I make a keto shortcake using almond flour, eggs and a few other ingredients.
Make a sugar free strawberry sauce using keto sweetener and fresh strawberries.
Whip up some whipped cream and flavor it with lemon zest and lemon juice.
Assemble by alternating layers of whipped cream, cake, strawberry sauce and berries – raspberries, blackberries, blueberries and/or strawberries.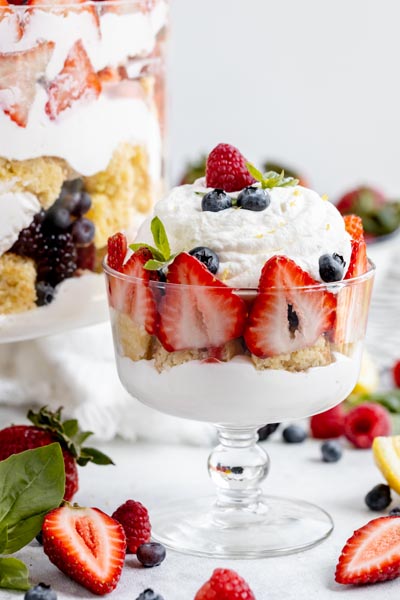 Subscribe to the KetoFocus YouTube Channel
With 100s of videos and millions of views, Ketofocus is one of the most popular Keto channels on YouTube.
Keto Shortcake Ingredients
3 cups almond flour
3/4 - 1 cup sugar-free sweetener
2 1/2 teaspoon baking powder
1 teaspoon salt
4 eggs, yolks and whites separated
2 egg whites
1/4 cup sour cream
1/4 cup unsalted butter, melted
1/4 cup heavy cream or nut milk
2 teaspoons vanilla extract
Sugar Free Strawberry Sauce Ingredients
Lemon Whipped Cream Ingredients
4 cups heavy whipping cream
1/4 cup sugar-free sweetener
1/4 cup lemon zest
2 1/2 tablespoons lemon juice
Berries Ingredients
1 cup diced strawberries
1 cup blackberries
1 cup raspberries
3/4 cup blueberries
Keto Trifle Directions
Preheat oven to 350 degrees. Spray two 8 inch cake pans with cooking spray and place a round sheet of parchment paper on the bottom of each pan. Set aside.

In a large bowl, add almond flour, sweetener, baking powder and salt. Stir to combine. Add egg yolks, sour cream, melted butter, heavy cream or nut milk and vanilla extract. Mix until combined. Set aside.

Ingredients

Almond flour
Sugar free sweetener
Baking powder
Salt
Egg yolks
Sour cream
Butter (melted)
Vanilla extract

Add egg whites (all 6) into a clean large bowl. Using an electric mixer, start mixing slowly until frothy. Then increase the speed to high and beat until stiff peaks form.

Add 1/3 of egg white mixture to the cake batter and mix to help thin out. Add remaining egg whites and gently fold in until uniform.

Divide the cake batter between the two cake pans. Bake at 350 degrees for 18-20 minutes. Let cool a few minutes before transferring to a wire rack to cool completely. Cut cake into bite sized cubes once cooled.

Quick Tip
The cake can be made up ahead of time.

While your cake is baking, add 5 oz strawberries and sugar free sweetener to a saucepan. Stir and let cook over medium heat until the berries have release moisture and the sauce has thickened. Remove from heat. Add 2-3 tablespoons of water. Using an hand blender or food processer, puree until smooth.

Ingredients

Strawberries (5oz)
Sugar free sweetener
2-3 tablespoons water

Quick Tip
This can be made up ahead of time.

Life gives you lemons...Make lemon whipped cream

To a large bowl, add heavy whipping cream and sugar free sweetener. Using an electric mixer, mix on low-medium until cream starts to thicken. Add lemon zest and lemon juice. Increase speed to high and beat until stiff peaks form.

Ingredients

Heavy cream
Sugar free sweetener
Lemon zest
Lemon juice

Quick Tip
This can be made up ahead of time.

Add 1/3 lemon whipped cream to the bottom of a trifle dish. Sprinkle 1/2 of the chopped cake on top. Drizzle on 1/2 the syrup lightly over the cake. Top with 1/2 of each berry. Repeat the layers ending with whipped cream.

Quick Tip
Store in the refrigerator.