Keto Chicken Taquitos
by KetoFocus.com
A delicious way to use up leftover chicken or a deli rotisserie chicken is to make these crunchy keto taquitos. Shredded chicken is combined with a creamy cheese mixture, wrapped in a low carb tortilla and fried to form a crispy chicken taquito.
Low Carb Taquitos Recipe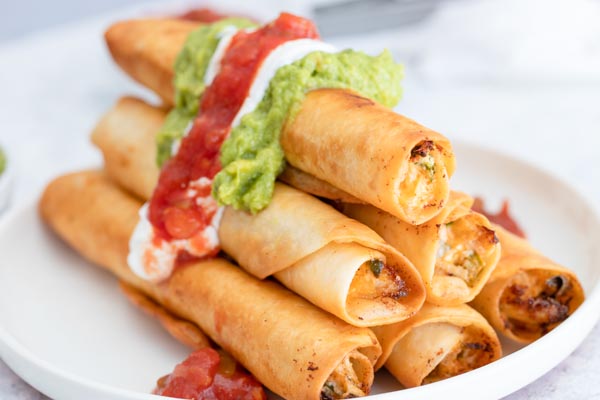 Craving Mexican food on the keto diet?? Me too! This is an easy keto recipe that will satisfy that Mexican food craving and will come together in less than 15 minutes. Plus, your whole family will love these low carb taquitos – even the kids. These keto chicken taquitos can be used as a keto appetizer or as your main dish!
These fried keto taquitos are made using a combination of leftover or pre-cooked shredded chicken, cream cheese, spinach, shredded cheese and some other south of the border flavors. The creamy filling is rolled into a low carb tortilla and fried in avocado oil to produce a crunchy rolled keto chicken taquito. Top with sour cream, salsa or guacamole to complete this easy lunch recipe.
Looking for another recipe that can be made with canned chicken?? Try making chicken crust pizza or chicken & waffles chaffle.
Keto Chicken Taquitos Recipe Video
Subscribe to the KetoFocus YouTube Channel
With 100s of videos and millions of views, Ketofocus is one of the most popular Keto channels on YouTube.
Keto Chicken Taquitos Ingredients
3 cups shredded chicken or rotisserie chicken
8 ounces cream cheese, softened
2 cups chopped spinach
2 cups shredded Mexican blend cheese (cheddar cheese, jack cheese)
1/3 cup sour cream
1/4 cup salsa
8 low carb tortillas
avocado oil for frying (or olive oil)
Keto Chicken Taquitos Directions
Heat avocado oil in a skillet over medium to medium high heat. Add enough avocado oil to cover at least half of a wrapped taquito.

Add shredded chicken, cream cheese, spinach, shredded cheese, sour cream and salsa to a medium bowl.

Add 1/3 to 1/2 cup of the filling to a tortilla. Roll tortilla around the filling.

Add a couple of taquitos to the hot oil and fry for a 1 minute on a sides or until golden brown.

Remove taquitos from pan and place on a paper towel to dry. Serve with sour cream, salsa or guacamole.