Keto Chicken and Dumplings
by KetoFocus.com
A low carb favorite comfort food on a cold day is this recipe for Keto Chicken and Dumplings. Made using a few shortcuts, this keto soup recipe comes together in minutes and features big dumplings made with almond flour sitting in nutritious chicken bone broth stock.
Ok, you need something hot and warm so you open your book of homemade chicken recipes.  You can go with the classic chicken soup, or maybe a chicken pot pie, or you can go with the classic keto chicken and dumplings.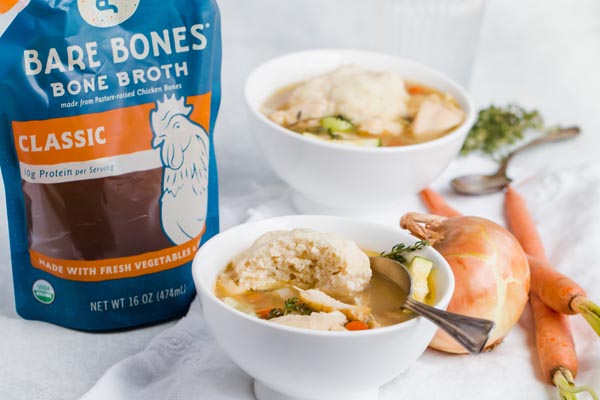 This recipe for keto chicken and dumplings will warm your bones and toes as you sip on the soothing flavorful broth. This soup has big chunks of vegetables and chicken and is topped with a big low carb dumplings made of almond flour, that soaks up all the delicious flavor of the chicken bone broth.
How to make keto chicken and dumplings?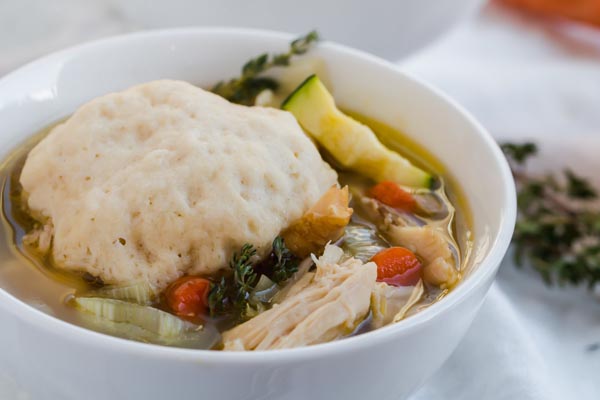 Keto chicken and dumplings recipe can be created in 30 minutes thanks to a few shortcuts.
In this recipe, I use a pre-cooked rotisserie chicken from the grocery store that I shred up into bite sized pieces. Rotisserie chicken is filled with lots of juicy flavor and you have the option of using dark or white meat.
The second shortcut when making keto chicken and dumplings is to use premade chicken broth. I use a chicken bone broth to create the base for the soup and you can find in most grocery stores. Using a premade bone broth provides all the flavor and nutritional benefits of regular bone broth without simmering on the stove top for hours.
You can always make your own chicken bone broth ahead of time – this adds even more nutrition and flavor.
This keto soup is filling. It's low carb comfort food at it's finest. With around 7 gram of carbs per serving, this bowl of hardy chicken dumpling soup will warm your belly, keep you satisfied and keep you under your carb macros.
Keto Chicken and Dumplings Recipe Video
Subscribe to the KetoFocus YouTube Channel
With 100s of videos and millions of views, Ketofocus is one of the most popular Keto channels on YouTube.
Chicken Soup Ingredients
4 tablespoons butter
1/2 leek, sliced
4 celery stalks, chopped
1/2 onion, chopped
1/4 cup chopped carrots (optional)
3 cups cooked shredded chicken
1 zucchini, cut into half moons
32 oz chicken broth
1/2 to 1 teaspoon of salt, to taste
Almond Flour Dumplings Ingredients
1 cup almond flour
1/2 cup unflavored whey protein powder
1 1/4 teaspoon baking powder
1 teaspoon xanthan gum
1/2 teaspoon salt
1/4 teaspoon onion powder
1/2 cup hot boiling water
Keto Chicken and Dumplings Directions
In a large stockpot, melt butter over medium heat. Add leek, celery, onion and carrots and cook until softened.

Add chicken, zucchini, and chicken broth. Bring to a boil. Once boiling, turn heat to low and simmer. Season with salt and pepper.

While the chicken soup is cooking, start making the dumplings. In a small bowl, mix together almond flour, protein powder, baking powder, xanthan gum, salt and onion powder.

Pour in hot boiling water and stir with a spatula until just combined.

To form the biscuits, it's best to use wet hands to keep the dough from sticking to your hands. Grab a chunk of dough and roll into the ball. Repeat until you have 6-8 dough balls.

Evenly place the dumpling balls on top of the chicken soup. Cover and let simmer on low for 10 minutes. Remove from heat and serve.