Keto Chocolate Glazed Donuts
by KetoFocus.com
These keto donuts are for you, Homer Simpson
Mornings just got a little sweeter with this delicious old fashioned sugar-free cake donut recipe. These keto chocolate donuts are easy to make and are just what you need for breakfast with your fresh cup of coffee.
Every once in a while, you gotta have a donut – even on the keto diet. It's nice to have options when cravings hit, especially when you are at the office and someone brings in a dozen donuts in the morning.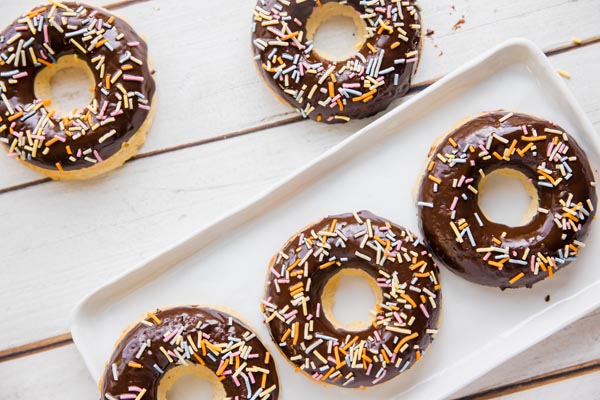 These keto chocolate glazed donuts are perfection. They are the ideal combination of cake like donut with a sugar-free chocolate glaze. Top with your favorite low carb sprinkles and your breakfast ready! These keto donuts are very easy to make too. You can make up a batch in less than 30 minutes so you can enjoy homemade donuts in the mornings with a cup of freshly brewed coffee.
This recipe for keto chocolate glazed donuts starts with a donut base. This donut is cake-like in texture and taste. It is denser than a donut you might be used to seeing at Krispy Kreme or Dunkin Donuts.
The combination of almond flour, protein powder, baking powder and sour cream help to give this keto donut a cake like consistency.
Combine all the ingredients to make a donut – almond flour, protein powder, sweetener, salt, xanthan gum, butter, sour cream, water. Mix.
Press into a donut pan.
Bake.
Coat with chocolate glaze made of melted chocolate and coconut oil.
Subscribe to the KetoFocus YouTube Channel
With 100s of videos and millions of views, Ketofocus is one of the most popular Keto channels on YouTube.
Keto Cake Donuts Ingredients
Chocolate Glaze Ingredients
Keto Chocolate Glazed Donuts Directions
Preheat oven to 325 degrees. Spray a donut pan with cooking oil.

Add all the dry ingredients for the keto cake donut to a medium bowl. Mix until combined.

Add in wet ingredients. Mix until combined. If dough is crumbly, add a splash more of water.

Grab a handful of dough and press it into a donut pan. Add enough dough to reach almost the top of the rim. These donuts don't rise much.

Bake at 325 degrees Fahrenheit for 10 minutes or until the donuts are set and lightly brown around the edges. You also have the option to fry these donuts. Add lard or your favorite cooking oil into a small non-stick skillet. Heat to medium heat. Add donuts and fry on each side until golden brown.

Let cool completely in the donut baking tray then transfer to a wire rack.

Once donuts have cooled, melt chocolate and coconut oil in a flat bowl. To melt sugar-free chocolate, microwave at 30 second intervals, stirring in between until chocolate is melted. You can also melt your chocolate using a double boiler if you don't want to use a microwave. For a pink chocolate glaze, use sugar-free white chocolate and add a couple drops of red food coloring to it.

Dip the top of your donut into the melted chocolate and top with sugar-free sprinkles right away. Set back on a wire rack to cool the chocolate.