Keto Apple Fritters
by KetoFocus.com
Filled with an apple cinnamon flavor, these keto apple fritters are gluten-free and fried to produce a crunchy crust around this sweet, buttery low carb donut.
The apple fritter donut is a favorite, classic donut loved by many and it's easy to make low carb without using apples!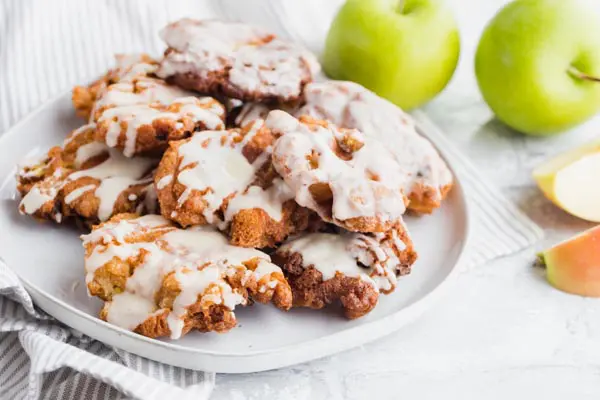 These keto apple fritters should be called zucchini fritters because we use zucchini place of apples in order to cut down on the net carbs; although, chayote squash can be used as well.
To give these keto donuts an apple flavor, we use a concentrated apple extract mixed with lemon juice and cinnamon to mimic a crisp granny smith apple. This method works well for making keto apple pie too!
These keto apple fritters are delicious topped with the creamy glaze or even with melted butter on top. It makes for a tasty breakfast with a hot cup of coffee.
How to make keto apple fritters
Make "keto apples"– Toss diced zucchini or chayote with cinnamon, lemon juice and apple flavoring.
Assemble fritter dough – Combine almond flour, protein powder, sweetener, baking powder, xanthan gum and salt. Then mix in nut milk, sour cream, water and an egg.
Fold in "keto apples" – stir to combine.
Fry the donuts in lard or avocado oil over medium heat.
Let cool, then drizzle cream glaze over the fritters.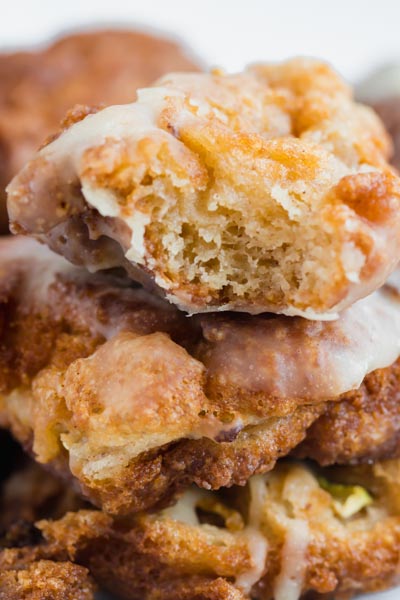 Try these other keto apple recipes if you are missing apple:
Keto Apple Fritters Recipe Video
Subscribe to the KetoFocus YouTube Channel
With 100s of videos and millions of views, Ketofocus is one of the most popular Keto channels on YouTube.
Keto Apple Fritters Ingredients
Glaze Ingredients
1/2 cup confectioners Swerve or use sweetener of choice
2 tablespoons heavy whipping cream
2 teaspoons vanilla extract
Keto Apple Fritters Directions
In a small bowl, add finely diced zucchini, cinnamon, lemon juice and apple flavoring. Add more or less apple flavoring to taste. Mix and set aside.

Ingredients

1 zucchini, peeled & diced
1 teaspoon cinnamon
2 teaspoon lemon juice
1/4 - 1/2 teaspoon apple flavoring

Quick Tip
Chayote squash is a good substitute for apples as well.

Add the dry ingredients to a medium bowl. Mix until combined.

Ingredients

2 cups almond flour
1/2 cup unflavored or vanilla protein powder
3 tablespoons sugar-free sweetener
2 1/2 teaspoons baking powder
1 teaspoons xanthan gum
1 teaspoon salt

Mix in wet ingredients.

Ingredients

1/2 cup unsalted butter, melted
1/2 cup nut milk
1/4 cup sour cream
1/4 cup water
1 egg

Fold in apple flavored zucchini mixture.

Add lard to a small non-stick skillet and heat to medium heat. Add enough lard to cover the donut almost halfway. Scoop about a 1/4 cup of the apple fritter donut into the skillet. Can swirl the oil in the pan to help coat the donuts as they cook. Flip once golden brown on the bottom (about 3-5 minutes) and fry the other side until golden brown.

Quick Tip
If apple fritters are too soft inside, but start to burn outside, just lower the heat and cook longer.

Remove from skillet and place paper towel or wire rack to cool.

To make the apple fritter glaze, add confectioner's Swerve, heavy cream and vanilla to a small bowl. Mix to combine. Microwave for 20 seconds to get a thin consistency if needed.

Ingredients

1/2 cup powdered sugar-free sweetener
2 tablespoons heavy cream
2 teaspoon vanilla extract

Drizzle or dip the top of your apple fritter donut into the glaze and place on a wire rack to set.