Avocado Chicken Salad
by KetoFocus.com
An easy salad packed with healthy fat and protein
For a quick meal, try this avocado chicken salad recipe. Filled with fats from the avocado and protein from the chicken and hard boiled eggs to help keep you full all day.
When my day is packed with work or activities, this chicken avocado salad is my go-to lunch. It's an easy meal to make just like this one minute pizza bowl and my grilled cheese sandwich. Quick meals like that can help me on track so I can make the right choices the rest of the day and a healthy chicken salad fits perfectly.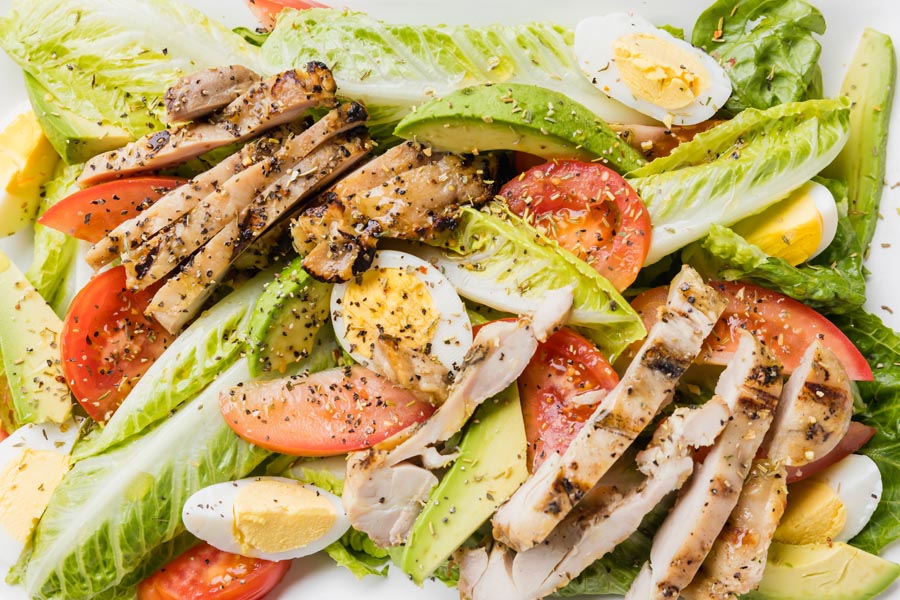 This avocado chicken salad recipe isn't just a bed of lettuce mixed with avocado and chicken. It has tomatoes, hard boiled egg and a deliciously simple sherry herb vinaigrette dressing on top. It's a great way to use leftover chicken or a rotisserie chicken from the deli. The combination of egg and chicken provides a whopping 26 grams of protein per serving!
The avocado in this salad recipe provides a healthy monounsaturated fat to help keep us satisfied. Ripe avocado is also full of fiber and potassium – an essential electrolyte.
How to make avocado chicken salad
Chop and prep your ingredients. Shred or chop the chicken (chicken breast or thighs) into bite sized pieces. Tear or chop the heart of romaine lettuce. Slice the avocado. Quarter the tomatoes and hard boiled eggs.
Assemble the salad. Lay down the lettuce onto a plate or bowl. Top with shredded chicken, sliced avocado, tomato wedges and hard boiled eggs.
Make salad dressing. Whisk together olive oil, sherry vinegar, salt, pepper and dried herbs.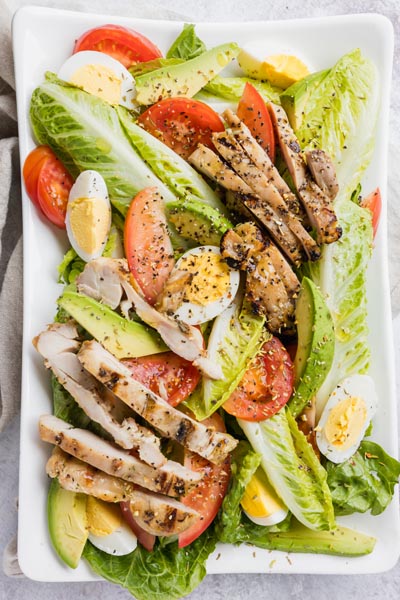 Key ingredients & swaps
Chicken – Use cooked shredded or cubed chicken from chicken breast or thighs. This is a great salad to make if you have leftover chicken or a rotisserie chicken. For an easy chicken recipe, cook it in the Instant Pot!
Avocado – Can be sliced, diced or even smashed into the salad. Guacamole or a creamy avocado dressing can be used too.
Lettuce – This salad recipe uses hearts of romaine; however, butter lettuce, iceberg lettuce, red leaf or green leaf lettuce can be used.
Extras – This is optional, but I added in tomatoes (cherry tomatoes or on the vine) and hard boiled eggs. Other vegetables or fruit you may want to add is blueberries, cucumber, red onion or bell pepper. Consider adding bacon or bacon bits for added flavor.
Salad dressing – I keep it simple when it comes to salad dressing – no need for a mayonnaise like other salad recipes. Oil, acid, salt and pepper, flavor. The oil used is olive oil but avocado oil could also be used. I prefer the flavor of sherry vinegar in this vinaigrette, but red wine vinegar, apple cider vinegar or lemon juice and lime juice could also be used. Bragg's Organic Sprinkle of 24 Herbs & Spices is my favorite for adding flavor to homemade salad dressing. Italian seasoning can also be used.
Avocado Chicken Salad Recipe Video
Subscribe to the KetoFocus YouTube Channel
With 100s of videos and millions of views, Ketofocus is one of the most popular Keto channels on YouTube.
Avocado Chicken Salad Ingredients
1 pound cooked chicken
2 hearts romaine lettuce, chopped
1 medium avocado, sliced
1 medium tomato, diced
4 hard boiled eggs, quartered
1/4 cup olive oil
1/4 cup sherry vinegar
1-2 teaspoons Bragg's Sprinkle Herbs or Italian seasoning
salt & pepper to taste
Avocado Chicken Salad Directions
Chop and prep ingredients

Chop and slice all of your ingredients as stated above.

In a large platter or serving bowl, lay down a bed of lettuce. Top with chopped chicken, diced tomatoes, slice avocado and hard boiled eggs.

In a small bowl, whisk together olive oil, vinegar, herbs, salt and pepper. Drizzle over salad.

Quick Tip
Can use lemon juice, lime juice or red wine vinegar in place of sherry vinegar.