Cheesy Brussels Sprouts
by KetoFocus.com
Fried crispy brussels sprouts baked in a luscious, cheesy sauce made from a blend of sharp cheddar and nutty gruyere and topped with crunchy bacon bits.
Unless they are wrapped in bacon or topped with cheese, I don't really care for brussels sprouts. Luckily, this cheesy brussels sprouts recipe has both bacon and cheese disguising any bitter flavor that may come through.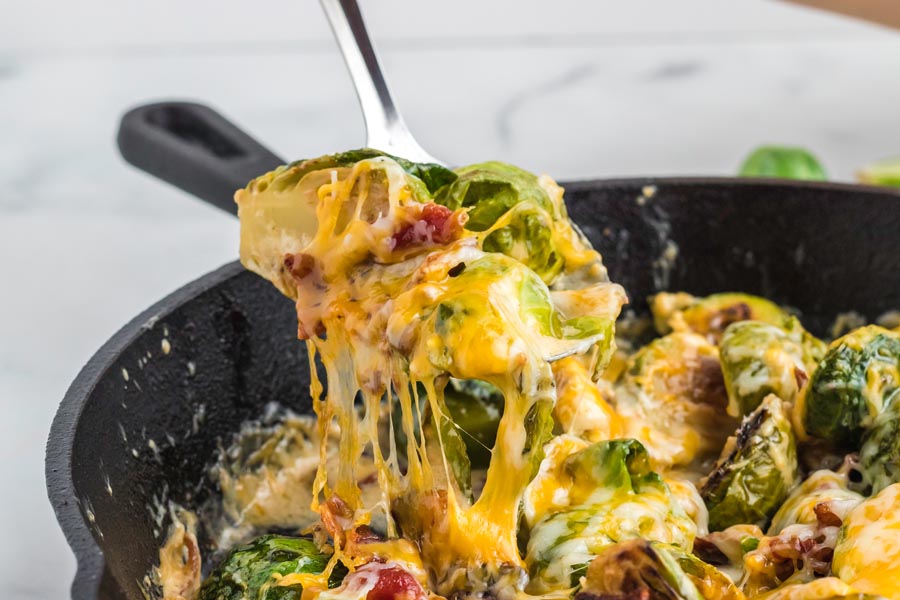 Despite them being a cute mini cabbage for my Barbies to eat, it was a battle at the dinner table to get my 6 year old self to eat the mushy, grey-green bitter vegetable side dish that my mom tried to dress up with butter and salt.
But by the age of 40 (yes – it took me that long), I discovered brussels sprouts don't have to be microwaved or steamed but they could sautéed and fried or roasted with bacon. Even better was adding cheese! Because cheese goes with everything – except cinnamon rolls, but that's another story. 
How this recipe will turn you into a brussels sprouts lover
One word, BACON – Bacon is loved by many. Not only does it add a smoky flavor to our side dish but it helps you forget you are eating one of the most hated vegetables by children everywhere.
Two types of cheese – I couldn't settle with just cheddar cheese. That's just so basic. To add a nutty, creamy, salty flavor to envelope these bitter morsels.
Crispy brussels sprouts – There is no space in the universe for mushy, soggy brussel sprouts. You haven't lived until you've tried them with fried, crispy edges.
One pot wonder – I hate doing dishes. Next to opening a bag of salad, if a side dish requires multiple dishes, I'm not making it. Luckily this baked brussels sprouts recipe can be made in the same skillet.
Subscribe to the KetoFocus YouTube Channel
With 100s of videos and millions of views, Ketofocus is one of the most popular Keto channels on YouTube.
Cheesy Brussels Sprouts Ingredients
4 strips of bacon
16 oz whole brussels sprouts
1 clove garlic, minced
1/2 cup heavy whipping cream
1/2 cup shredded cheddar cheese
1/2 cup Gruyere cheese
1/2 teaspoon salt
1/4 teaspoon paprika
pinch of nutmeg
Cheesy Brussels Sprouts Directions
Preheat the oven to 350°F.

In a large skillet, cook bacon over medium-high heat until crispy. Remove from the skillet, place on a paper towel lined plate to cool. Chopped cool bacon, to crumble into bacon bits. Leave remaining bacon grease in the skillet.

Quick Tip
Can use thin or thick cut bacon.

Meanwhile, cut the brussels sprouts in half lengthwise.

Quick Tip
Can purchase pre-sliced, trimmed brussels sprouts from the grocery store to save on prep time.

Reheat the skillet with the bacon grease to medium-high heat. Add minced garlic. Place brussels sprouts, cut side down on the skillet, cover and let cook until the bottom of the sprouts have browned (about 2-4 minutes). May have to work in batches. The brussels sprouts don't need to cook all the way through yet.

Quick Tip
If working in batches, may need to add additional butter or oil to help fry the cut side of the brussel sprouts.

Add cooked brussels sprouts to a square baking dish or keep them in the skillet if oven proof. Stir in heavy cream, both shredded cheeses, salt, paprika and nutmeg. Top with crumbled bacon.

Ingredients

1/2 cup heavy cream
1/2 cup shredded cheddar cheese
1/2 cup shredded Gruyere cheese
1/2 teaspoon salt
1/4 teaspoon paprika
pinch of nutmeg
crumbled bacon

Quick Tip
Freshly grated cheese melts the best.

Bake uncovered at 350°F for 10-14 minutes or until brussels sprouts are cooked through. Brussels sprouts are done when a fork or knife can slide through them. Let sit for a few minutes.

Quick Tip
Sauce will thicken as it cools.