Fiesta Baked Cod
by KetoFocus.com
A quick family approved dinner idea when you only have 10 minutes
This baked cod recipe only requires 4 ingredients and it comes together in about 10 minutes. Cod fish filets are baked with balsamic vinaigrette and Rotel to make a simple, healthy homemade meal in minutes.
Sometimes, you only have a small window of time to get dinner on the table. Instead of reaching for fast food or processed meals, I like to keep it simple with easy, go-to dinners that don't take a lot of time or effort. The fiesta baked cod recipe is one I make often. It's made in one pot just like my skillet lasagna and egg roll in a bowl, so not only is dinner easy to make but clean up is a breeze!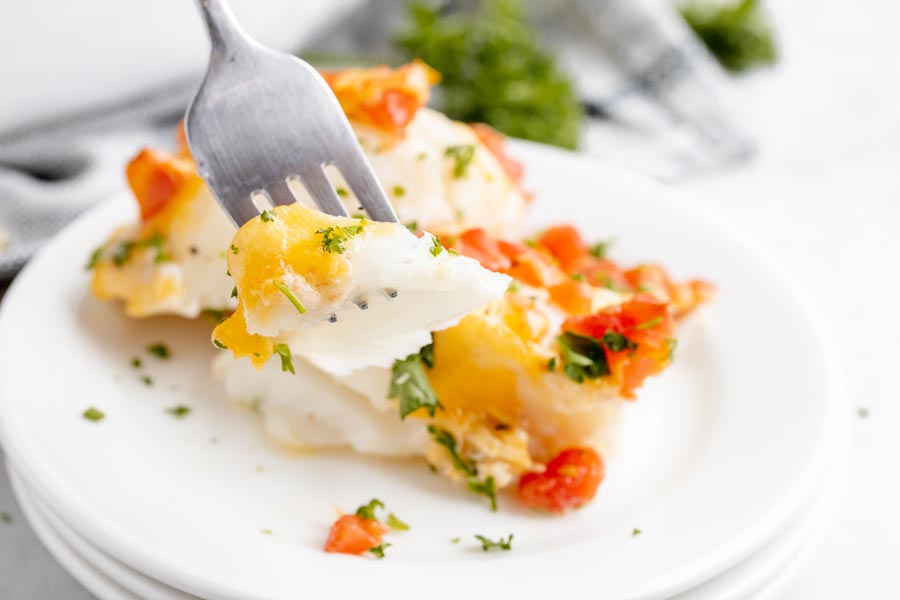 I usually have frozen fish on hand. It's the protein I turn to when I forgot to thaw something for dinner as fish only takes about 20 minutes to thaw if you put it in a cold water bath. Cod fish usually comes in portioned packets to so I don't have to weight or cut the fish filets. Cod is an excellent protein choice if you want a good, lean protein source.
Since I make this easy baked cod recipe quite often, I always have a bottle of balsamic vinaigrette in my refrigerator and a can of tomatoes and chilies (aka Rotel) in my pantry. Give a sprinkle of cheddar cheese right before baking to balance the flavors. No need to mess with panko, breadcrumbs or a garlic butter sauce as this roasted cod recipe has plenty of flavor without the crusted butter layer.
Pat each cod filet dry with a paper towel and season with salt.
Place in a square baking dish. Drizzle olive oil on top.
Pour on balsamic vinaigrette and Rotel.
Sprinkle on shredded cheddar cheese.
Bake at 425 degrees for 10 minutes! Serve with lemon wedges or a drizzle of lemon juice.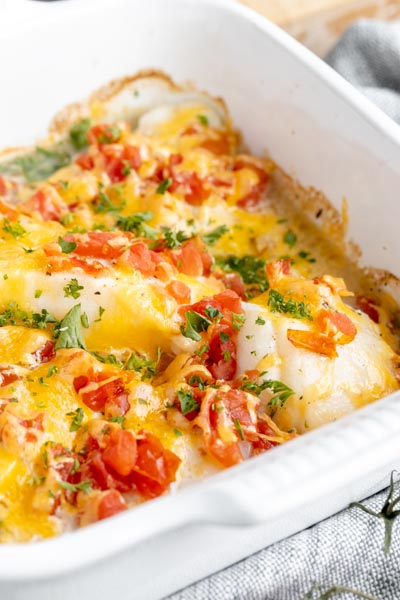 Key ingredients
Cod – Cod is the preferred fish for this recipe, but any white fish will work. Cod is relatively inexpensive and accessible to most people. Tilapia will also work in this recipe.
Balsamic vinaigrette – I prefer the flavors of balsamic vinaigrette but if you only have balsamic vinegar, you can use that instead. The vinaigrette adds a hint of sweet and bold flavor to this dish. If you chose to use balsamic vinegar, just add a drizzle on top of the fish as to not overpower the flavors. Another option is just to use lemon juice. It will provide enough acid for the oven bake cod.
Rotel – Also known as a can of tomatoes with green chilies. This is the go-to pantry item if you want to add umami flavor will a kick.
Cheese – I prefer a sprinkling of sharp cheddar cheese on top to add a bold creamy flavor; however, you can substitute any cheese flavor in this recipe or completely omit if you are dairy free.
Subscribe to the KetoFocus YouTube Channel
With 100s of videos and millions of views, Ketofocus is one of the most popular Keto channels on YouTube.
Fiesta Baked Cod Ingredients
1 pound cod filets
2 tablespoons avocado oil, olive oil or melted butter
1/4 cup balsamic vinaigrette
4 oz Rotel, drained
1/2 cup shredded sharp cheddar cheese
Fiesta Baked Cod Directions
Preheat oven 425 degrees. Pat cod filets dry with a paper towel and add to the bottom of a square baking dish. Seasoning with salt.

Evenly pour balsamic vinaigrette over the cod. Top with Rotel. Sprinkle shredded cheese all over.

Bake in the oven at 425 degrees for 10 minutes or until the fish is cooked through.

Quick Tip
Top with a squeeze of lemon juice, fresh parsley, garlic butter or lemon wedge.