Pizza Bowl
by KetoFocus.com
A simple way to enjoy pizza in 1 minute
All of the saucy Italian flavors of pizza tossed into a bowl and microwaved. Pizza bowls are an easy, crustless way to satisfy those pizza cravings without having to make a pie!
When you want pizza, you don't always want to make a pizza or order out. It's an easy meal when I am short on time. It's in my top 3 go-to time saving meals along with my bell pepper sandwich and pesto pasta.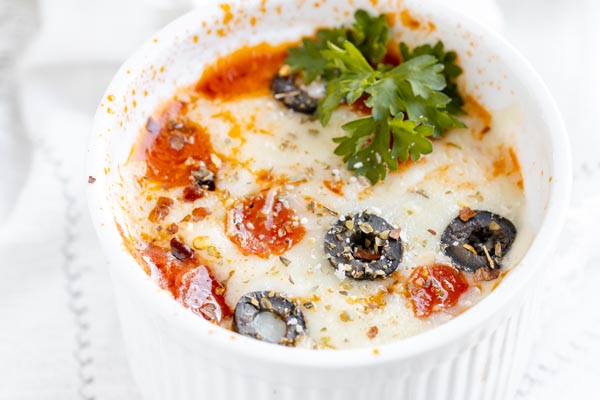 The ideal method for making a crustless pizza bowl is to cook it in the microwave. Once you add all of your favorite pizza toppings to a bowl. It only takes about a minute to cook the ingredients and melt the cheese. It comes out bubbly hot and you get the most incredible cheese pull that get your stomach growling on pizza night.
Grab a small bowl or large ramekin.
Pour in a small amount of marinara or pizza sauce to the bottom of the bowl.
Add you favorite pizza toppings – pepperoni, cooked sausage, olives, mushrooms, bell peppers.
Top with shredded mozzarella or cheddar cheese.
Add a dash of Italian Seasoning.
Microwave for 1 minute or until cheese is melted.
Key ingredients
Pizza sauce – You only need a few tablespoons of pizza sauce or marinara sauce. Tomato sauce can also be used in a pinch. For a white pizza sauce, try using alfredo sauce or even ranch dressing.
Pizza toppings – Add you favorite pizza toppings – as long as they are pre-cooked. Since we are only microwaving our pizza bowl to melt the cheese, it's important for the ingredients to be fully cooked for safety and texture. Consider adding pepperoni, salami, black olives, mushroom, cooked Italian sausage, cooked bacon, meatballs, fresh basil, bell pepper and/or onions.
Cheese – For this recipe, I used shredded mozzarella cheese, but you can add your favorite blend of Italian cheeses like cheddar, Colby Jack, Provolone, Parmesan cheese.
Subscribe to the KetoFocus YouTube Channel
With 100s of videos and millions of views, Ketofocus is one of the most popular Keto channels on YouTube.
Pizza Bowl Ingredients
3 tablespoons pizza or marinara sauce
4 slices pepperoni
1 tablespoon sliced black olives
½ cup shredded mozzarella cheese
dash Italian seasoning
Pizza Bowl Directions
To a small microwave safe bowl or ramekin, add marinara sauce.

Add pizza toppings on top of the marinara sauce.

Quick Tip
Add your favorite cooked pizza toppings here. See above for suggestions.

Sprinkle shredded cheese on top and add a dash of Italian seasoning.

Ingredients

Shredded cheese
Italian seasoning

Microwave 1 minute or until cheese is melted.

Bake in an oven proof container under the broiler on high for 2-3 minutes or until cheese is melted and bubbly.