Zucchini Taco Boats
by KetoFocus.com
Zucchini stuffed with Mexican seasoned beef and cheese
Enjoy taco night with a low carb and healthier alternative, Zucchini Taco Boats. High in protein and packed with vegetables, this healthy keto recipe will be on the table in 30 minutes!
Nutrition Facts
Serving Size:
2 zucchini boats
Who doesn't love tacos? They make a perfect meal (and even snack), anytime, anywhere. It's probably why there's an entire day dedicated to the meal.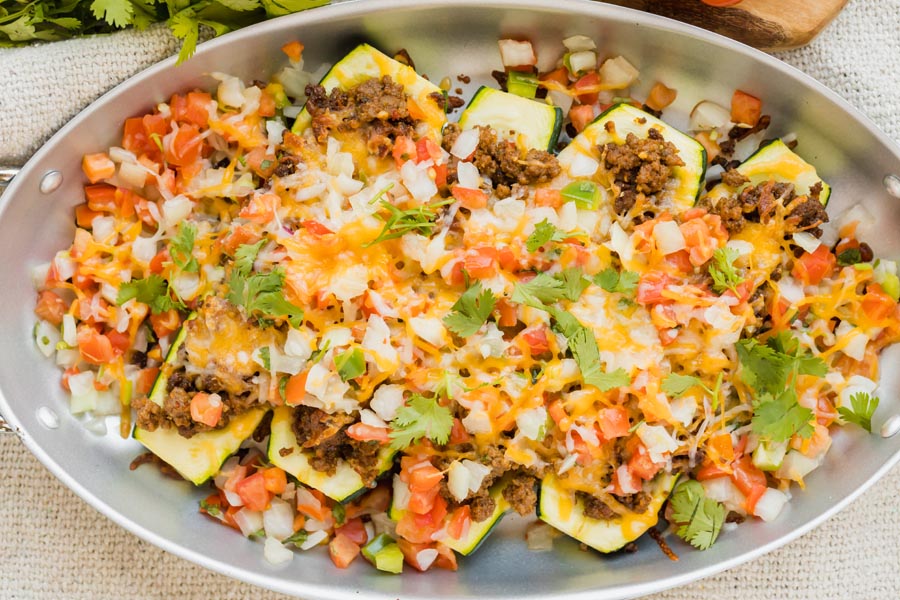 If you want to treat yourself to Taco Tuesday but also want to stick to healthy eating, zucchini taco boats are the perfect replacement for carb-loaded tacos. They're incredibly easy to make, gluten-free, and the perfect way to use up leftover taco meat.
One of my favorite ways to plan easy meals is to make one staple and use it a few different ways throughout the week. A big batch of homemade taco seasoning and taco meat can mean taco salad early in the week and zucchini taco boats towards the end.
The meals are different enough that you won't feel like you're eating the same thing all week, and you can even reuse prepared toppings like onion, diced tomato, cilantro, avocados, tomatoes, or peppers.
How to make zucchini taco boats
Cook the ground beef until browned.
Season ground beef with taco seasoning.
Make taco zucchini boats by slicing the zucchini in half vertically and using a spoon or melon baller to hollow out the center of the zucchini.
Season each zucchini half.
Stuffed zucchini – Spoon the cooked taco filling into the center of each zucchini boat.
Bake at 400 degrees for 15 minutes.
Sprinkle Mexican cheese on top and return to the oven. Bake until shredded cheese is melted.
Add favorite toppings – Onion, pico de gallo, lime juice, cilantro, fresh salsa.
PRO TIP: You can discard the inside of the zucchini or you can dice and add to the taco meat for more filling, fiber, flavor and nutrition in your zucchini boats!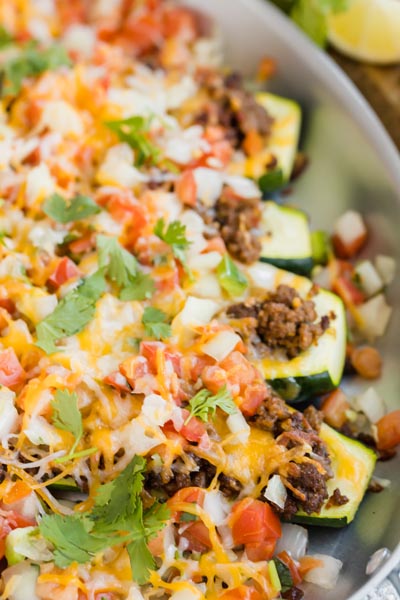 Key ingredients & substitutions
Ground Beef – lean ground beef is perfect for taco meat, look for 80-90% lean. The fat will not only give the meat a juicy flavor, but it will also ensure the meat doesn't dry up. Leaner meats like ground turkey or venison will work but may be drier.
Zucchini – For stuffed zucchini, use small to medium-sized zucchini as they have softer skins. Large zucchinis tend to have tougher skin and a more bitter taste.
Taco seasoning – You can create your own taco seasoning or buy store bought, whatever works best for you. Look out for brands that have added sugar. In a pinch just use plain chili powder.
Shredded cheese – Cheddar cheese goes well with zucchini taco boats but you can also use Colby or mozzarella cheese.
Avocado oil – I use avocado oil, but olive oil works fine as well to brush on your taco boat.
Subscribe to the KetoFocus YouTube Channel
With 100s of videos and millions of views, Ketofocus is one of the most popular Keto channels on YouTube.
Zucchini Taco Boats Ingredients
1 pound ground beef
3 tablespoons taco seasoning
4 medium zucchinis
2 tablespoons avocado oil
1 cup shredded Mexican blend cheese
Zucchini Taco Boats Directions
Preheat oven to 400 degrees. To a large skillet, add ground beef and cook over medium high heat until browned. Add in taco seasoning and ¼ cup of water. Lower the heat to low medium, cover and simmer until liquid has mostly evaporated. Stir occasionally.

Quick Tip
Seasoned ground beef can be prepped ahead of time.

Slice zucchini in half vertically. Using a spoon or melon baller, scrape out the center of each zucchini. Brush each zucchini boat with avocado oil and season with salt and pepper.

Quick Tip
Can either discard zucchini scraps or add into taco meat.

Add cooked taco meat to the center of each zucchini boat. Place on a foil lined baking sheet or baking dish and bake in the oven at 400 degrees for 15 minutes.

Sprinkle cheese & toppings

Remove from the oven. Sprinkle cheese on each and return to the oven to bake for 5 minutes or until the cheese is melted. Add on other taco toppings, like pico de gallo, guacamole, cilantro or sour cream.

Air fry at 400 degrees for 10 minutes. Top with shredded cheese. Return to the air fryer for an additional 2 minutes or until cheese is melted.