Keto Taco Casserole
by KetoFocus.com
Taco flavor in an easy dinner casserole
This easy keto taco casserole is loaded with veggies, flavor, and protein for a foolproof quick and healthy dinner everyone will love!
Busy nights call for easy casserole meals that everyone can dig into and leave the table full and satisfied. In just 30 minutes you can have a filling, low carb and veggie-packed dinner on the table ready to go for your whole family.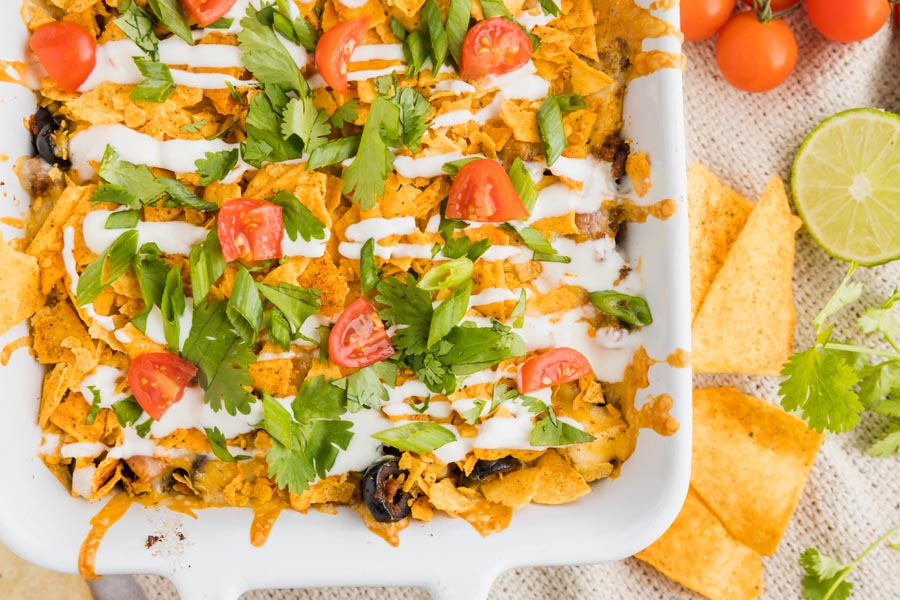 If you've been missing tortilla chips on your keto diet, you've got to try my low carb tortilla chips – crispy, crunchy, and so satisfying. Especially when they're crumbled on top of seasoned ground beef, veggies, and cheese! If you have leftovers, this keto taco casserole recipe makes an delicious filling for my keto taco shells, too!
While I like to transfer the filling from the skillet to a casserole dish to drain out excess liquid, you can absolutely bake everything in an oven-safe skillet to avoid extra dishes and make clean-up even easier with making a one pot wonder like this skillet casserole.
Don't forget to take an extra minute to make the sour cream sauce. Plain sour cream works, but you'll be blown away by the extra burst of flavor that lime and salt add to this taco bake meal!
How to make keto taco casserole
Cook ground beef in a skillet until browned.
Add onion, garlic and taco seasoning. Cook until onion has softened.
Stir in Rotel, diced zucchini, sliced olives and cauliflower rice. Cover and let simmer to soften veggies.
Drain liquid from the taco meat in the skillet or use a slotted spoon to transfer ground beef mixture to a casserole dish.
Top with shredded cheese and bake until cheese has melted.
Top casserole with crushed chips, sour cream sauce, cilantro and green onions.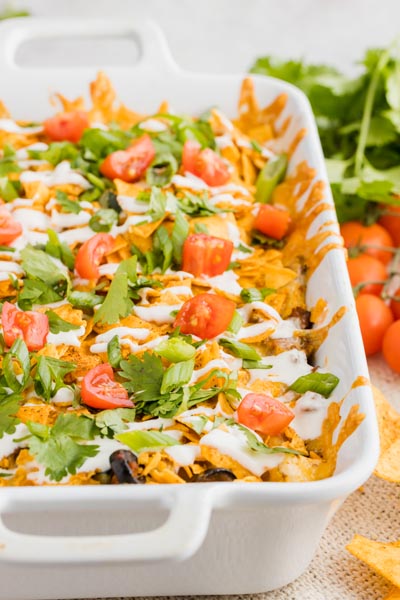 Key ingredients & substitutions
Ground beef – Use 80/20 ground beef for this recipe. You can also use ground turkey, ground chicken, or venison.
Onion – White or yellow onion can be used; however, yellow onion has the lowest net carbs.
Oil – I use avocado oil for this recipe, but another neutral oil like light olive oil or ghee will also work.
Rotel – Use a can of rotel or a can of diced tomatoes along with a small can of diced green chilis. You can also use a can of diced tomatoes or tomato paste and diced fresh green chilis if that's what you have– just add the fresh ones at the same time as the zucchini and cauliflower rice so that it can soften.
Zucchini – Use a medium zucchini, diced. Don't peel the zucchini as the peel will soften when cooked and adds extra fiber and nutrients to the dish.
Black olives – Can omit if preferred.
Riced cauliflower – Either rice a head of fresh cauliflower by pulsing florets in a food processor or use a bag of frozen riced cauliflower or fresh cauliflower rice found in the produce section.
Cheese – Use shredded Colby jack cheese. Monterey jack, cheddar cheese, or a Mexican cheese blend will also work. You could also mix in cream cheese into the taco meat for a creamier option.
Tortilla chips – Make your own low carb tortilla chips or use store-bought ones like Quest Chips or Mr. Tortilla Chips.
Green onions – After dicing the green onions, use both the white and green parts.
Sour cream – If you want to save on fat and calories, use plain greek yogurt.
Seasoning – including chili powder, oregano, salt and garlic; however, taco seasoning is a quick an easy substitute that will add flavor.
Keto Taco Casserole Recipe Video
Subscribe to the KetoFocus YouTube Channel
With 100s of videos and millions of views, Ketofocus is one of the most popular Keto channels on YouTube.
Keto Taco Casserole Ingredients
2 tablespoons avocado oil
1 pound ground beef
¼ cup chopped yellow onion
4 cloves garlic, minced
2 tablespoons chili powder
2 teaspoons oregano
½ teaspoon salt
10 oz can Rotel or diced tomatoes
1 zucchini, diced
2.25 oz canned sliced black olives
8 oz riced cauliflower
8 oz Colby jack cheese, shredded
1 cup crushed low carb tortilla chips, optional
¼ cup chopped cilantro
2 green onions
Lime Sour Cream Sauce Ingredients
2 tablespoons sour cream
1 tablespoon water
1 teaspoon lime juice
pinch of salt
Keto Taco Casserole Directions
Preheat the oven to 375 degrees. In a skillet, add avocado oil and ground beef. Cook over medium high heat until almost browned.

Add diced onion, minced garlic, chili powder, dried oregano and salt. Continue cooking until ground beef is fully cooked through and onion has softened.

Ingredients

Onion (diced)
Garlic (minced)
Chili powder
Oregano
Salt

Lower heat to medium. Add Rotel, diced zucchini, olives and cauliflower rice. Cover and let simmer until cauliflower rice and zucchini have softened. Remove from heat.

Ingredients

Rotel
Zucchini (diced)
Black olives (sliced)
Cauliflower rice (fresh or frozen)

Quick Tip
No need to drain the rotel or olives. This will provide liquid to steam the cauliflower rice and diced zucchini.

Drain or remove excess liquid

Using a slotted spoon or spatula, transfer ground beef mixture into an 8x10 casserole dish, leaving behind as much liquid as possible.

Quick Tip
For a one pot meal, keep the taco meat in the skillet but drain the liquid.

Top with shredded cheese and bake at 375 degrees for 10 minutes.

Ingredients

Shredded Colby Jack cheese (shredded)

Prepare lime sour cream sauce

Meanwhile make lime sour cream sauce by adding sour cream, water, lime juice and salt to a small bowl. Stir to combine. Set aside.

Ingredients

Sour cream
Water
Lime juice
Salt

Quick Tip
If sauce too thick to drizzle on, add more water to thin out consistency. Can add to a plastic bag and cut off one corner to pipe on easily.

Remove baked casserole from the oven. Sprinkle crushed chips (if using), sour cream sauce, chopped cilantro and sliced green onion.

Ingredients

Tortilla chips (low carb)
Sour cream sauce (from above)
Cilantro (chopped)
Green onion (sliced)

Quick Tip
Crush chips by adding to a plastic bag and crushing with hands or a rolling pan. Add diced tomato if desired.