Traeger Meatloaf
by KetoFocus.com
Traeger meatloaf is the perfect meal for a summer BBQ! This smoked meatloaf recipe is cooked on a pellet grill to give the meatloaf a unique, smoky flavor. Once you try this Traeger meatloaf, you will never go back to a traditional meatloaf again.
How to make a Traeger meatloaf?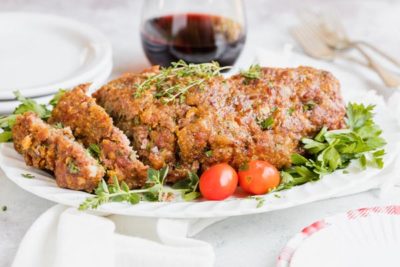 This keto meatloaf is a unique recipe that uses a Traeger pellet grill to smoke the meatloaf.
All you need  is ground beef, ground pork, pork panko, onion, heavy cream, egg, and parsley to make this easy-to-make Traeger meatloaf recipe.
Once you have formed the meatloaf, you simply have to leave it in the grill and let it smoke for a few hours.
This recipe is also low carb because instead of using breadcrumbs, we use pork panko crumbs. The Traeger pellet grill gives this classic meatloaf a smoky flavor finish. If you want, you can even top it off with your favorite sugar-free BBQ sauce.
Traeger Meatloaf Recipe Video
Subscribe to the KetoFocus YouTube Channel
With 100s of videos and millions of views, Ketofocus is one of the most popular Keto channels on YouTube.
Grilled Meatloaf Ingredients
1 pound ground beef
1 pound ground pork
2 cups pork panko
1/3 cup diced onion
1/3 cup heavy cream
1 egg
1/4 cup chopped parsley
2 cloves garlic, minced
2 teaspoons salt
1 teaspoon pepper
Traeger Meatloaf Directions
Preheat pellet grill to 225 degrees with lid closed to capture smoke.

Add ground beef, ground pork, pork panko, egg, onion, parsley, heavy cream, garlic, salt and pepper to a large bowl. Mix with a spoon or clean hands until combined.

Mold meatloaf into a loaf

Mold meatloaf into a loaf shape and place on a perforated grill tray.

Place grill tray with meatloaf in the Traeger with the lid closed and grill for 2-3 hours or until the internal temperature of the meatloaf reaches 160 degrees.

Remove meatloaf from the grill and let sit for 5 minutes before serving.