Sugar Free Condensed Milk
by KetoFocus.com
Deliciously creamy sweetened condensed milk without the sugar!
This sugar free condensed milk recipe is an easy low carb replacement you can make in 30 minutes using ONLY THREE INGREDIENTS! Now you can have a guilt-free way to enjoy all your favorite recipes that call for sweetened condensed milk, from pies to fudge to homemade ice cream.
Nutrition Facts
Serving Size:
2 tablespoons
Traditional home bakers have it easy. If they want to make homemade fudge, easy ice cream or pies, they can simply open a can of sweetened condensed milk they purchased from the grocery store. If you follow a low carb or keto diet, there isn't a ready-made option available to purchase.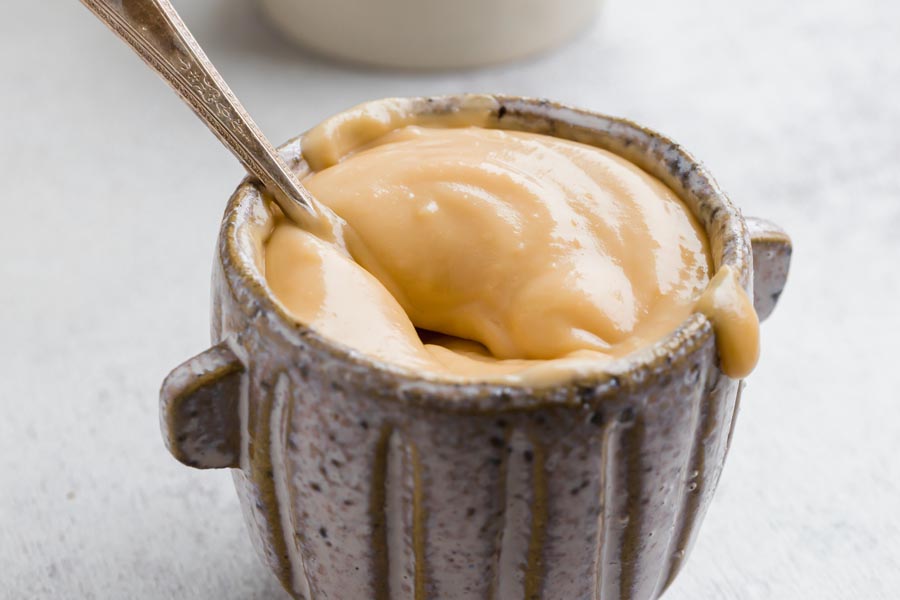 Instead, we have to make our own sugar free condensed milk in order to make our confection favorites like homemade caramels or key lime pie.
Store-bought sweetened condensed milk brands can contain corn syrup, sugar, milk solids or vegetable oils. This version of thick, creamy sweetened milk suddenly doesn't sound all that appealing or good for you.
Luckily, it's easy to make yourself and you don't have to spend hours in the kitchen or buy expensive ingredients. To make homemade keto condensed milk, all you need is some butter, sugar-free sweetener and heavy cream or ultra-filtered whole milk. That's it! Once it thickens up in the refrigerator, it becomes that irresistible, caramel-colored sweetened cream that you can add to pies, tarts, and cheesecakes to add richness and creaminess to the filling. Or try it in your coffee or tea for a creamy, indulgent treat!
How to make sugar free condensed milk
Besides only using three ingredients, this homemade condensed milk recipe is made in one pot. All the ingredients are added in the beginning and you don't have to keep a watchful eye on your mixture while it cooks. 
Add ingredients – Add unsalted butter, powdered sugar-free sweetener and whole milk or heavy whipping cream to a medium saucepan.
Heat mixture over medium heat until mixture boils.
Reduce heat to low and simmer over the stovetop for about 25-30 minutes or until the mixture thickens.
To thicken – Remove from heat. Pour into a mason jar or storage container. Let sit at room temperature for 30 minutes to cool before transferring to the refrigerator to thicken for 2 hours. 
Key ingredients & substitutions
Butter – Unsalted butter is best as salt isn't necessary in sweetened condensed milk. Since this thicken, creamy milk is used as a sweetener to help sweeten and thicken candies and cream, salt should be added to that recipe instead of homemade keto sweetened condensed milk. This way you can control the level of saltiness.
Sugar free sweetener – Use powdered sweetener as it dissolves easily into the mixture. Allulose is the preferred sugar-free sweetener as it doesn't crystalize when it cools unless powder sweeteners made with erythritol.
Milk or cream – For the lowest sugar whole milk, look for one that is ultra-filtered which means that most of the natural lactose sugars have been removed. Fairlife milk is ultrafiltered and has 6 grams of carbohydrates per cup. If using whole milk, you may need to add 1/3 cup of heavy cream to the mixture in order for the condensed milk to cook quickly and prevent scorching.  Heavy whipping cream is another option if making keto sweetened condensed milk. This will increase the fat content of your condensed milk and will still contain carbs. Since 1 tablespoon of heavy whipping cream contains 0.3 g carbs, one cup of heavy cream has 4.8 g carbs. Canned coconut milk is the best substitute for a dairy free keto condensed milk. Instructions are below.
Sugar Free Condensed Milk Recipe Video
Subscribe to the KetoFocus YouTube Channel
With 100s of videos and millions of views, Ketofocus is one of the most popular Keto channels on YouTube.
Sugar Free Sweetened Condensed Milk Ingredients
Sugar Free Condensed Milk Directions
Add butter, sweetener and milk or cream to a heavy bottom saucepan. Bring to a boil over medium heat while stirring occasionally.

Reduce heat to low and simmer the mixture for 25-30 minutes or until the mixture has thickened and can coat the back of a spoon.

Quick Tip
Stir mixture occasionally and scraping the continuously to prevent a milky buildup from forming around the sides.

Remove from the heat and pour into a storage container or mason jar. Let cool at room temperature for 30 minutes before transferring the keto condensed milk to the refrigerator to cool for 2 hours. Mixture will thicken as it cools. If mixture appears chunky, strain through a wire mesh first.

Quick Tip
When ready to use, bring to room temperature. If the sweetened condensed milk is too thick, add a little bit of water to help thin it out.