Keto Caramel Candy
by KetoFocus.com
Homemade soft, chewy keto caramels made without using a candy thermometer
Just like Grandma used to make, these keto caramels are soft chewy and easy to make. No need to use a candy thermometer or make up keto sweetened condensed milk for these sugar-free caramels made from scratch.
Nutrition Facts
Serving Size:
1 square cm candy
When I crave something sweet, I have a few favorites I turn to. These sugar cookies are a classic and not just for the holidays. And these cookie dough truffles are always a hit.
Candy making doesn't have to be frustrating. You don't need to fiddle with a candy thermometer or fuss over making a sugar-free version of sweetened condensed milk first. Homemade caramels can be easy to make with the right recipe and instructions. You need just 5 ingredients and about 15 minutes (plus cooling) to achieve a perfectly chewy caramel candy that is meant for the holidays, gifting to friends and family or to treat yourself.
How to make keto caramel candies
Making homemade candy will be a breeze if you have all of your ingredients prepped and candy molds ready to go. Don't plan on doing anything else. You will want to park yourself up against the stove for about 10 minutes while these candies cook. They need your constant stirring and attention to make sure you get them to the right stage so you are left with soft, chewy caramel chews instead of liquid caramel syrup.
Melt the butter over medium heat. Continue heating until brown butter forms, which is when you get those brown bits at the bottom and a nutty aroma fills the air. Brown butter makes the best flavored caramels.
Reduce heat to low medium and stir in sugar-free caramel syrup, sugar-free sweetener, heavy cream and salt. Continue cooking and stirring until the mixture starts to bubble and boil.
Continue cooking at low medium heat until the mixture starts to foam and froth. It will start to thicken up. Continue stirring until you notice that when your spoon scrapes the bottom of the pan, you can see the bottom of the pan. This will take about 1-2 minutes from the time it starts to foam and froth. Remove the pan from the stovetop.
Immediately pour into candy molds and refrigerate until hardened.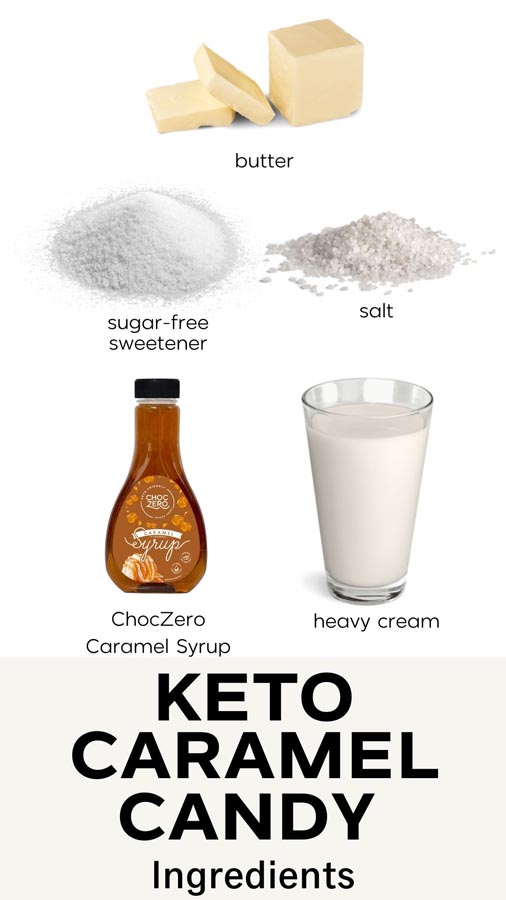 Key ingredients
Butter: To give our caramel flavor and fat, we add unsalted butter. For additional flavor, cook the butter until brown butter forms.
Sugar-free caramel syrup: Some caramel recipes will use corn syrup in order to help produce that tacky, chewy consistency. Corn syrup is loaded with fructose and not keto-friendly. However, in it's place we can use a sugar-free syrup by ChocZero. This is the only syrup that I use for making keto candy. Their syrup is made from soluble corn fiber and it is sugar-free and sugar alcohol free.
Sweetener: Sugar-free sweetener is used for sweetness of course. When making caramels from scratch, you can use a monkfruit blend sweetener or allulose sweetener.
Heavy cream: To make our caramel creamy, we add a little bit of heavy cream. You can omit this if you don't tolerate heavy cream but I highly suggest you add it because this is the key ingredient to get it to taste like Grandma made it!
Salt: To help enhance the sweetness plus to give it that slight salted caramel flavor, we add a pinch of salt.
Subscribe to the KetoFocus YouTube Channel
With 100s of videos and millions of views, Ketofocus is one of the most popular Keto channels on YouTube.
Keto Caramels Ingredients
Keto Caramel Candy Directions
Melt butter in a small saucepan over medium heat. Cook the butter until brown bits start to form on the bottom and the butter gives off a nutty aroma.

Add remaining ingredients

Reduce heat to low-medium. Add sugar-free caramel syrup, sweetener, heavy cream and salt. Stir to combine. Let cook until the mixture starts to boil.

Ingredients

Sugar-free caramel syrup
Sweetener
Heavy cream
Salt

Continue cooking until candy mixture starts to turn thick, foamy and turn frothy. Cook for an additional 1-2 minutes or until the mixture has thickened and you can scrape a spoon on the bottom of the sauce pan and see the pan. Remove from the heat and quickly pour into molds. Refrigerate for 1-2 hours to set.

Quick Tip
For a hard candy caramel chew, let cook for 2-3 minutes past the initial thick foamy, frothy stage.