Keto Key Lime Pie
by KetoFocus.com
A silky flavorful lime filling on a flaky keto pie crust
This keto key lime pie will please everyone - even your non-keto friends and family. We start with a flaky, buttery low carb pie crust and fill it with a creamy, velvety lime filling. We don't have to cheat and use cream cheese for the filling. Instead, we make our own sweetened condensed milk - just like the traditional recipe for key lime pie uses!
I always like to have a few desserts that I can bring for the holidays (like Easter or Mother's Day) or to a summer potluck. This keto key lime pie recipe is one of those that I know will be a crowd pleaser no matter what eating lifestyle they follow. Just like my keto peanut butter pie or my chocolate cream pie.
For this pie recipe, we nailed the combination of tart and sweet making this keto pie absolutely irresistible. Fresh limes are used in the filling. Even though the title says, you don't have to use key limes for this recipe. Large, regular limes can be used. To balance the tartness from the limes, we make our own sugar free sweetened condensed milk – which is quite easy to make and can be made ahead of time.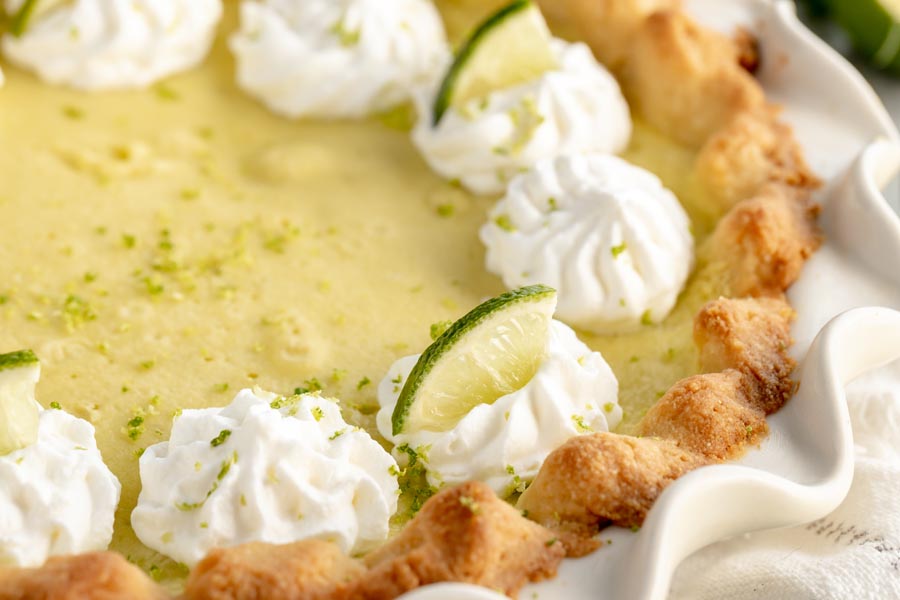 Other keto key lime pie recipes use cream cheese to thicken their lime filling, but that's a stray from the original flavor and traditional recipe. Most classic key lime pie recipes use sweetened condensed milk to help thicken and sweetened the pie. Unfortunately, store bought canned sweetened condensed milk is not keto approved, but it's really easy to make your own.
Key lime pie is one of those sweet indulgences that you will want to eat two slices. It's perfect for the hot summer day or a Spring holiday party.
How to make keto key lime pie
Make keto sweetened condensed milk. Combine butter, powdered sweetener and heavy cream in a saucepan and let simmer for 30 minutes until thickened. Refrigerator for at least 2 hours. This can be made up ahead of time. It will stay fresh in the refrigerator for up to 2-3 weeks or you can freeze it!
Prepare key lime filling. Combine egg yolks with lime zest. Stir in keto sweetened condensed milk. Then slowly stir in freshly squeezed lime juice. Set aside for 30 minutes to thicken.
Blind bake low carb pie crust. Prepare a batch of flaky pie crust. You can also make your own keto graham cracker crust if you prefer that flavor. Bake crust for 8 minutes.
Assemble pie. Pour key lime filling into cooled pie crust and bake.
Refrigerate pie. The lime pie will continue to set as it cools in the refrigerator for 2 hours.
Top with whipped cream. Make your own sugar free whipped cream by combining heavy whipping cream and powdered sugar free sweetener.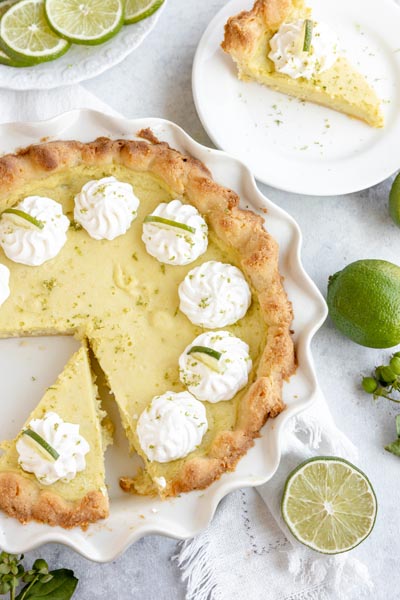 Key ingredients
Sugar free sweetened condensed milk – In this recipe, we start by making our own sweetened condensed milk. It's easier than you think and only requires 3 ingredients – butter, powdered sweetener and heavy cream. This is an ingredient that can be prepped up ahead of time so if you are making this keto pie for a special occasion and want to save time, you can make up a batch a few days before you make your pie.
Egg yolks – Egg yolks are used to help thicken the pie. When combined with the acid from the key lime juice, the filling will solidify after baking and cooling.
Lime zest & lime juice – To maximize the tart lime flavoring, we add fresh lime zest. This allows for that punch of lime flavor without all the extra carbs from the key lime juice.
Keto pie crust – For this low carb pie recipe, we are using my buttery, flaky pie crust; however, another option is to use this basic crust. It taste similar to graham cracker pie crust.
Keto Key Lime Pie Recipe Video
Subscribe to the KetoFocus YouTube Channel
With 100s of videos and millions of views, Ketofocus is one of the most popular Keto channels on YouTube.
Keto Sweetened Condensed Milk Ingredients
Key Lime Pie Filling Ingredients
4 teaspoons lime zest
4 egg yolks
1/2 cup lime juice (from 4 limes or 20 key limes)
Keto Pie Crust Ingredients
Keto Whipped Cream Ingredients
Keto Key Lime Pie Directions
Make keto sweetened condensed milk

To a medium saucepan, add butter, powdered sugar free sweetener and heavy cream. Bring to boil over medium heat. Reduce heat and let simmer for 30 minutes to thicken. Remove from heat and pour into a mason jar or similar container. Let cool at room temperature for about 30 minutes before transferring in the refrigerator for 2 hours.

Ingredients

Butter
Powdered sugar free sweetener
Heavy whipping cream

Quick Tip
Any powdered sweetener will work; however, powdered allulose doesn't crystalize like a erythritol based sweetener might. Keto sweetened condensed milk will keep in the refrigerator for 2-3 weeks or you can freeze it for up to 1 month.

Prepare key lime filling - whisk yolks with zest

In a medium glass bowl, whisk together lime zest with egg yolks. Whisk for about 2 minutes. Add sweetened condensed milk prepared earlier and stir until smooth.

Ingredients

Lime zest
Egg yolks
Keto sweetened condensed milk (prepared from step 1)

Quick Tip
Continual whisking will help bring out the green coloring from the lime zest. If you want a deeper green color, add a drop or two of green food coloring.

Prepare key lime filling - add lime juice

Stirring by hand with a whisk, very slowly stir lime juice into the filling mixture. Set aside for 30 minutes to thicken slightly. Move onto the pie crust.

Quick Tip
**IMPORTANT** Drizzle in the lime juice very slowly while mixing continuously to prevent the filling from curdling. It's best to whisk by hand.

Prepare low carb pie crust

To a food processer, pulse together almond flour, coconut flour, xanthan gum and salt. Add in cubed butter, cream cheese, egg and vinegar. Pulse until just combined.

Ingredients

Almond flour
Coconut flour
Xanthan gum
Salt
Butter (cubed & chilled)
Cream cheese (softened)
Egg
Vinegar

Quick Tip
For the flakiest pie crust, make sure your butter is cold, unsalted and only pulse until combined. Over manipulation of the dough can melt the butter.

Roll out pie crust and blind bake

Roll out pie crust in between two sheets of parchment paper until the crust is a large circle about 1/8 - 1/4 inch thick. Refrigerate dough for 15 minutes. Remove the top layer of parchment paper and place pie plate upside down over the dough. Slide a hand under the bottom layer of parchment paper, place other hand on top of pie plate and flip over. Remove the parchment paper and press the pie dough into the pie pan. Bake at 350 degrees for 8 minutes. Lower heat to 325 degrees and let cool for about 20 minutes.

Pour lime filling into cooked and cooled pie crust. Bake at 325 degrees for 15-20 minutes. Bake until edges are slightly set but the center jiggles like jello. Refrigerate for 2-3 hours or until set.

Quick Tip
Pie will still be very jiggly. Don't over bake or the texture will be wrong. Watch video above for a visual.

In a small bowl, add heavy cream and powdered sweetener. Beat with an electric mixer until stiff peaks form. Top on key lime pie. Top pie with additional lime zest if desired.

Ingredients

Heavy cream
Powdered sugar free sweetener