Sugar Free Banana Pudding
by KetoFocus.com
A simple sugar-free banana pudding recipe that uses only 4 ingredients, requires minimal effort and captures the essence of banana without using actual bananas. Each bite will have you wondering how is this possible?
Nutrition Facts
Serving Size:
pudding only
What is this voodoo?! A banana pudding recipe that doesn't use bananas?? Well…the only way you can truly make a sugar-free banana pudding is to omit the banana.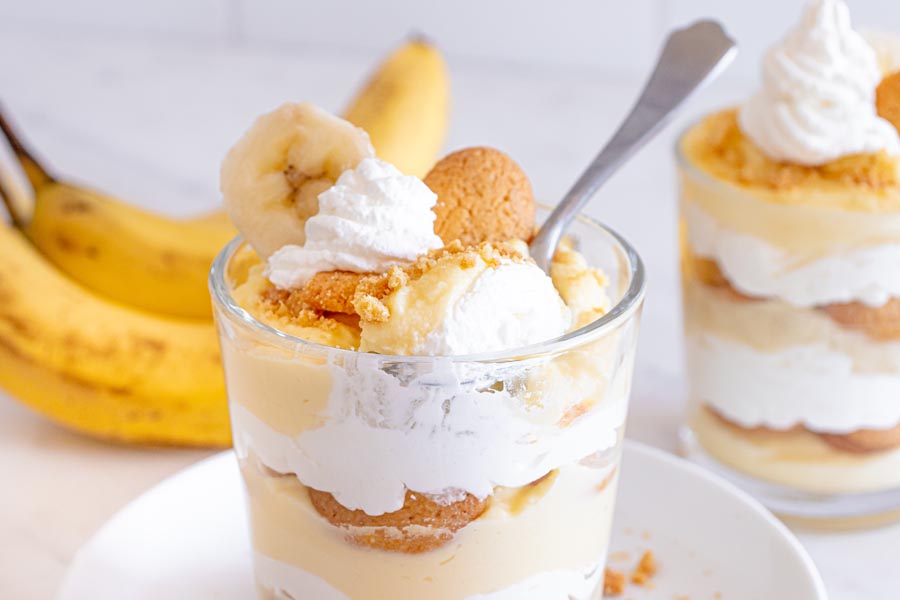 Bananas are not sugar-free. They are actually quite high in sugar. One medium banana has 14 grams of sugar and 27 grams of carbohydrates according to the USDA.
How do we make banana pudding without using bananas but still manage to capture their true flavor? It's easier than you think. It's a trick I used when I developed my low carb banana bread and keto banana cream pie recipe. Using only 4 primary ingredients – egg yolks, allulose sweetener, heavy whipping cream and banana flavor extract, you can create a thick, luscious banana flavored pudding. Layer with keto-friendly vanilla wafers, sugar-free whipped cream and you have a guilt-free treat that tastes of rich banana. 
Looking for sugar-free pudding recipes that don't use eggs? Try making chia pudding, avocado pudding or for a pudding with more protein, add protein powder.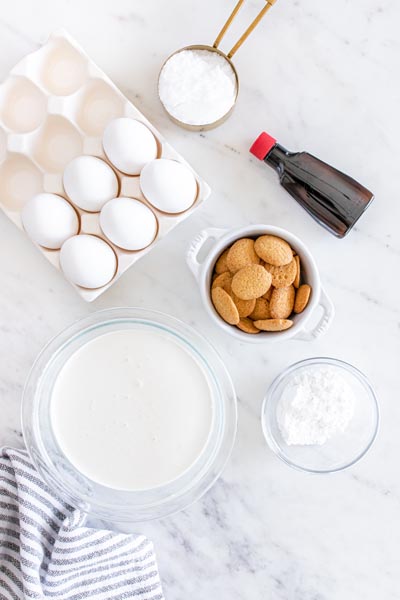 How to make sugar free banana pudding
Through  my various tests of developing this recipe, I found the simplest way to get a thick, creamy pudding is as follows:
Prepare the pudding mixture:

Whisk the sugar-free sweetener and egg yolks until smooth.
Temper the egg mixture by slowly pouring in half warmed cream. This will allow the eggs to come to a warmed temperature without curdling. Then pour in remaining heated cream. If it curdles, don't worry. I go over what to do in the FAQ section below. 
Heat the pudding mixture over low heat until it thickens enough to coat the back of a spoon.
Add in banana flavoring.

Chill:

Transfer the pudding into your desired serving dish or dishes.
Cover with plastic wrap and refrigerate for at least 2 hours or until set.

Serve:

To make a Southern-style banana pudding, layer the pudding in serving glasses with sugar-free vanilla wafers and sugar-free whipped cream.
Garnish with additional wafers or a dollop of whipped cream on top.
Subscribe to the KetoFocus YouTube Channel
With 100s of videos and millions of views, Ketofocus is one of the most popular Keto channels on YouTube.
Keto Banana Pudding Ingredients
Sugar Free Whipped Cream Ingredients
Sugar Free Banana Pudding Directions
In a large mixing bowl, whisk together the allulose and egg yolks until smooth.

Ingredients

1/2 cup powdered allulose
5 egg yolks

Quick Tip
See below on using a different sugar-free sweetener.

Add the heavy cream to a medium saucepan and bring to a simmer on medium-low heat. Once it starts to bubble, remove from the heat and let cool slightly. You want the cream to be warm but not hot for the next step.

Ingredients

2 cups heavy whipping cream

Quick Tip
See FAQ section for suggestions on making a dairy-free or lower calorie version.

Slowly pour half of the warmed cream into the egg mixture while whisking simultaneously. Add the remaining cream and whisk until combined.

Quick Tip
Slowly bring the egg mixture to the temperature of the cream will keep the eggs from curdling.

Transfer the pudding mixture back into the saucepan. Heat on low heat while stirring constantly, until the mixture has thickened enough to coat the back of a spoon (about 5 minutes). Heating the mixture any longer or over higher heat may cause the pudding to curdle.

Quick Tip
If your pudding curdles, see suggestions in the FAQ sections on how to remedy it.

Remove from the heat, stir in the banana extract and pour the pudding into a large bowl. Cover with plastic wrap and press the plastic wrap down on top of the pudding to prevent condensation from forming and dripping into the pudding. Refrigerate for at least 2 hours or until set.

Ingredients

2 teaspoons banana flavoring

Quick Tip
Okay to leave overnight in the refrigerator.

Whip up some whipped cream

In a medium bowl, beat heavy cream using an electric mixer until soft peaks form. Add allulose sweetener and vanilla extract or banana flavoring. Continue beating until stiff peaks form. Remove the pudding from the refrigerator and whisk until smooth and creamy. Spoon a small layer of pudding in a small cup or jar. Layer 4-5 vanilla wafers on top. Pipe or spoon a layer of whipped cream. Repeat the layers until you reach the top. Garnish with crushed vanilla wafers and a dollop of whipped cream.

Ingredients

1 cup heavy whipping cream
3 tablespoons powdered allulose sweetener
1 teaspoon vanilla extract or banana flavoring

Quick Tip
Banana slices in photos are for garnish...keto police.