Keto Lemon Blueberry Chia Pudding
by KetoFocus.com
Enjoy this keto chia pudding as a quick make ahead breakfast or an evening treat. Tangy lemon chia pudding is layered with a fresh blueberry syrup to create this craveable keto lemon blueberry chia pudding with no sugar added.
Chia pudding is a good alternative to eggs and bacon in the mornings for breakfast. They are easy to make and can be made ahead of time.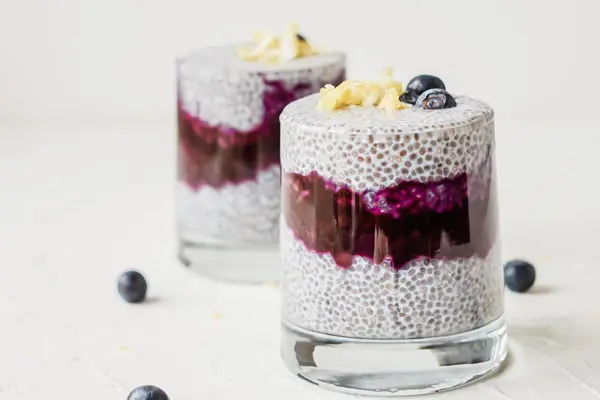 Combining the tartness of a lemon with the sweetness of blueberries creates the most incredible flavor combination. Since this keto lemon blueberry chia pudding uses fresh fruits, you will fall in love with this refreshing flavor combination.
Prep it up ahead of time and eat on the road if you are running late for work in the morning. You can also enjoy this as a mid morning snack! They make a great option to take to work with you.
Keto Lemon Blueberry Chia Pudding Recipe Video
Subscribe to the KetoFocus YouTube Channel
With 100s of videos and millions of views, Ketofocus is one of the most popular Keto channels on YouTube.
Keto Lemon Blueberry Chia Pudding Ingredients
1/2 cup heavy cream or nut milk
2 tablespoons chia seeds
1 teaspoon lemon zest
1/4 cup fresh blueberries
2 tablespoons water
Keto Lemon Blueberry Chia Pudding Directions
Combine heavy cream or nut milk, chia seeds and lemon zest in a small bowl. Refrigerate overnight or until thickened.

In a small saucepan, add blueberries and water and cook over medium-high heat. Cook until blueberries have popped and syrup has thickened and reduced (about 3-5 minutes).

Layer your pudding with chia pudding first, then a layer of blueberry sauce and repeat layers.