Keto Banana Bread
by KetoFocus.com
Tastes just as good as traditional banana bread but without the bananas!
A banana-free, keto banana bread that is spongy, moist and full of walnuts and banana flavor.
Keto banana bread has been a long requested recipe for many of us on a keto diet. When you have excess in bananas, you make banana bread. Just like you make zucchini muffins when you have too much zucchini or pumpkin bread when you have too many cans of pumpkin puree!
It's hard to find a recipe that is similar to the traditional quick bread recipe that containing ripe banana. This keto banana bread recipe is easy to make and it doesn't contain any bananas! We use a replacement for that iconic banana flavor from overripe mashed bananas. The texture is spongy and moist since it is almond flour based. Plus there are only 2.6 grams per 60 gram slice.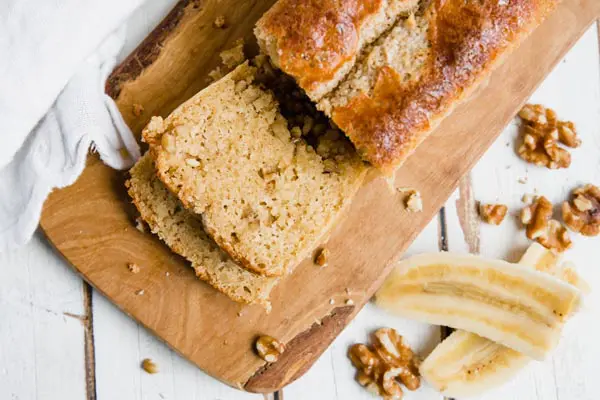 Enjoy a slice of this keto banana bread with your morning coffee as a quick breakfast or an afternoon treat. This moist, low carb bread is keto comfort food at it's finest!
How to make keto banana bread
Mix dry ingredients – almond flour, protein powder (or coconut flour), baking powder, cinnamon and salt. For optimal texture of your keto banana bread, use a sifter to mix ingredients together and break up clumps of almond flour.
Cream the butter and sweetener.
Mix in remaining wet ingredients – eggs, banana extract and sour cream.
Mix dry ingredients with wet ingredients. Mix in chopped nuts or chocolate chips if desired.
Fill loaf pans lined with parchment paper and bake.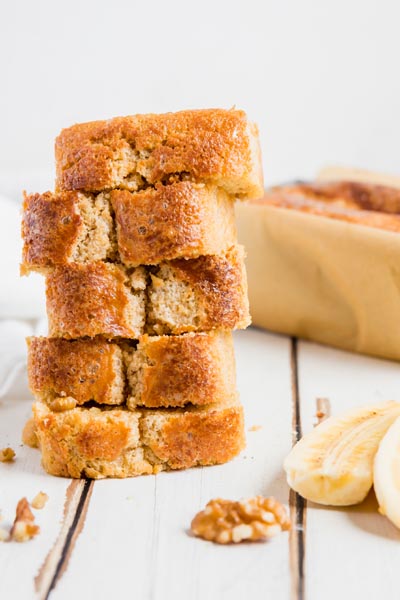 Key ingredients
Almond flour – The primary keto flour for this keto banana bread recipe. Almond flour works similar to all-purpose flour but does require some help with texture and structure from our next ingredient – protein powder!
Protein powder – This ingredient helps to form a protein matrix to trap air bubbles to keep our banana nut bread spongy and fluffy.
Butter – Used to provide moisture and flavor to keep the almond flour banana bread recipe spongy.
Eggs – In order to help our quick bread rise, we use eggs which contribute to our protein matrix to help trap air bubbles released from the leavening agent – baking powder.
Banana extract – Instead of use ripe mashed bananas, we add a few drops of banana flavoring to turn this keto bread into banana bread!
Sour cream  – Added in this recipe to provide moisture to the banana bread and give a little tangy to balance the sweet flavor. Coconut flours, protein powders and keto sweeteners can produce dry, dense baked keto goods. The sour cream will help add fat and moisture to the keto banana bread and help balance out those effects from low carb baking. The sour cream yields a creamy flavor too.If you don't want to use sour cream in your sugar free banana bread, you can use a full fat greek yogurt or heavy cream.
Keto Banana Bread Recipe Video
Subscribe to the KetoFocus YouTube Channel
With 100s of videos and millions of views, Ketofocus is one of the most popular Keto channels on YouTube.
Keto Banana Nut Bread Ingredients
1 ½ cups almond flour
2 scoops unflavored or vanilla protein powder or 1/4 cup coconut flour
2 teaspoons baking powder
1 teaspoon cinnamon
1/2 teaspoon salt
2 1/2 sticks of unsalted butter, softened
1/2 cup sugar free sweetener
4 eggs
1 tablespoon banana extract flavoring or 2-3 dropperfuls banana flavoring
1/3 cup sour cream
1/2 cup chopped walnuts, divided (optional)
Keto Banana Bread Directions
Preheat oven to 325 degrees. Spray two 3x6 inch loaf pans with cooking oil or line with parchment paper.

In a small bowl, sift together almond flour, protein powder or coconut flour, baking powder, cinnamon and salt. Set aside.

In a large bowl, cream butter until light and fluffy. Add monk fruit and mix together for several minutes until light in color and fluffy. Reserve ¼ cup of butter mixture for later.

Mix in eggs one at a time, stirring in between until combined. Add in banana extract and sour cream. Mix until combined.

Slowly add dry ingredients while mixing continuously.

Add ¼ cup chopped walnuts. Mix until fully combined.

Spoon batter into the loaf pans filling with batter to almost the top of the loaf pan (about 1/2 inch from the top) The batter won't raise a whole lot.

Combine reserved butter with remaining 1/4 cup of chopped walnuts and spoon over the top of each loaf.

Bake at 325 degrees for 30-35 minutes or until set. Remove from the oven and let cool before serving.